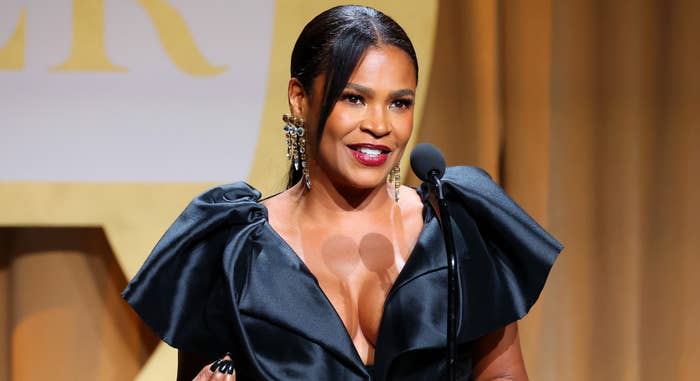 During a recent appearance on the Drew Barrymore Show, Nia Long opened up about jumping back into the dating world following her split from fiancée Ime Udoka.
Back in December, Long and the Boston Celtics head coach ended their 13-year relationship after it was discovered that Udoka had a consensual, improper relationship with a team staffer.
While speaking with Barrymore, Long revealed she has her "eye on one person."
"I'm not saying," she added. "I'm never telling."
When Barrymore revealed that she enjoys dating, Long admitted she's nervous about finding a new man. "You do? I'm so nervous," she said. "Are you on the dating apps? We gotta talk about this." 
Long also maintained that she's single for the time being.  "I'm so single," she said.
Earlier this week, Long and Omarion sparked dating rumors after the pair attended the premiere of her new Netflix film You People.
Long's relationship status came up recently when the Shade Room shared a video of Long and the R&B singer walking the red carpet. In the clip, the pair was seen taking photos together, and Long grabs the singer's hand.
The two look happy, with TSR noting that in the original post's caption, "The smile on Omarion's face says it all!"
Long then came to clear the air. She commented, "Everybody simmer down… I'm single AF."