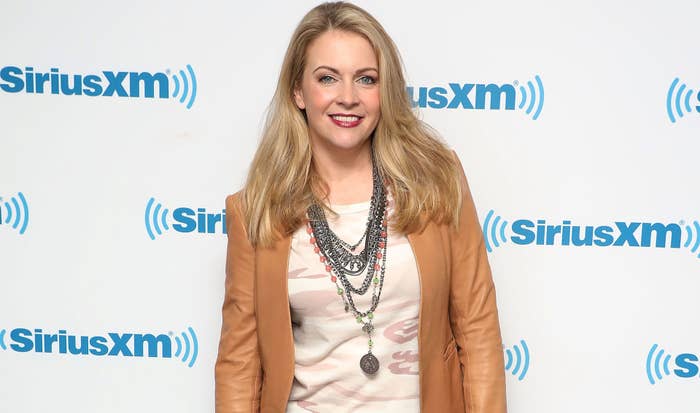 Melissa Joan Hart is opening up about nearly getting fired from her starring role in the 1990s ABC sitcom Sabrina the Teenage Witch.
The 47-year-old actress shed light on the incident during an appearance on the latest episode of a Boy Meets World podcast hosted by three of the series' cast members, Danielle Fishel, Rider Strong, and Will Friedle.
In 1999, Hart parlayed her Sabrina success into a starring role in the teen comedy Drive Me Crazy. On the night of the movie's premiere, Hart landed in hot water with ABC executives after they found out the then-23-year-old actress had posed for the cover of Maxim. While celebrating her new film at a party at Planet Hollywood, Hart learned she was being "sued and fired" from Sabrina the Teenage Witch.
"While I'm at the party, my lawyer shows up and goes, 'You did a photo shoot for Maxim magazine?" Hart recalled. "I'm like: 'Yes, I did.' They're like: 'Well, you're being sued and fired from your show. So don't talk to the press, don't do anything.'"
She continued, "So I get a phone call on my cell phone from my mother, my producer, who was like, 'What did you do?' And I was like, 'I don't know, whatever my publicist told me to do...at the photo shoot. I did a photo shoot for Maxim! It's Maxim, of course you're gonna be in your underwear."
According to the network, Hart was in breach of her contract with Archie Comics, which owned the rights to the ABC series, because she had signed an agreement that she "would never play the character [of Sabrina] naked."
"So here they were thinking I'm in breach because I'm playing the character. No, that was supposed to be me promoting my movie, it wasn't supposed to be a character. I had no control over what they wrote on the cover," she explained. The cover line, below, read "Sabrina, your favorite witch without a stitch!"
After penning an apology for the mishap, Hart continued her role as Sabrina until the show's cancellation. In hindsight, she credited the backlash against the Maxim cover for the success of Drive Me Crazy.
"Can Melissa be sexy? She's 23—is she allowed to be sexy? What's going on here? Is it allowed? Is it OK? Why is she being fired from her show?" she recalled about the backlash. "It made for Drive Me Crazy to come out and be a huge success."
Listen to Hart's full interview on Pod Meets World.