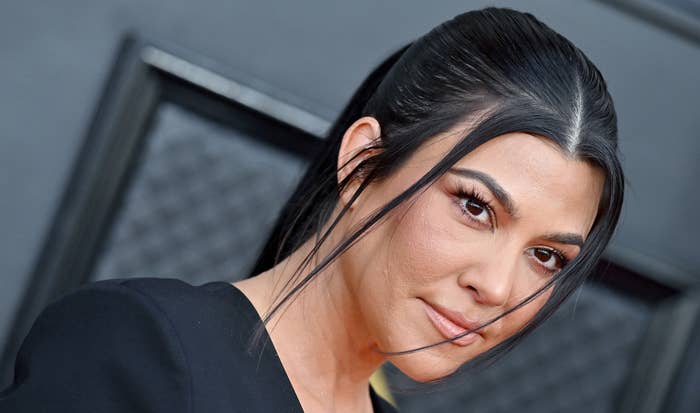 Kourtney Kardashian has addressed the infamous group chat referenced on the latest episode of Hulu's The Kardashians.
The Season 4 premiere of the hit reality series saw Kim Kardashian reveal that her and sisters Khloé, Kendall, and Kylie have a group chat called "Not Kourtney," which includes Kourtney's friends and is used as a way to complain about the Poosh founder.
"All of your friends call us complaining," Kim said. "Whether you think they're the ones going to you, they're all coming to us on the side, saying the opposite to us. We're all confused, and we're on a group chat labeled 'Not Kourtney' so we know, and have to funnel what your friends are saying to us, and have to figure out why you're such a different person and why you have this vendetta."
On Friday, Kourtney took to Instagram to share photos of her recent baby shower.
"Baby shower of my dreams," Kourtney captioned a series of photos from the celebration, before thanking mom Kris Jenner for "turning your home into the happiest place on Earth, instilling my love of all things Disney, and for throwing this baby shower to celebrate me and your thirteenth grandchild."
A fan jumped in the comments section to ask Kourtney if the friends pictured in her post are the same ones Kim mentioned as being members of the "Not Kourtney" group chat.
"Are those friends on the 'Not Kourtney groupchat,'" the fan asked. "Cause if so, we don't need them there."
Kourtney denied that they were, adding that only her sisters are active in the aforementioned chat. "No. The members of that chat are namely Kim, Khloé, Kendall and Kylie. Case closed," she replied.
Check out Kourtney's post above, and her response to said fan below.