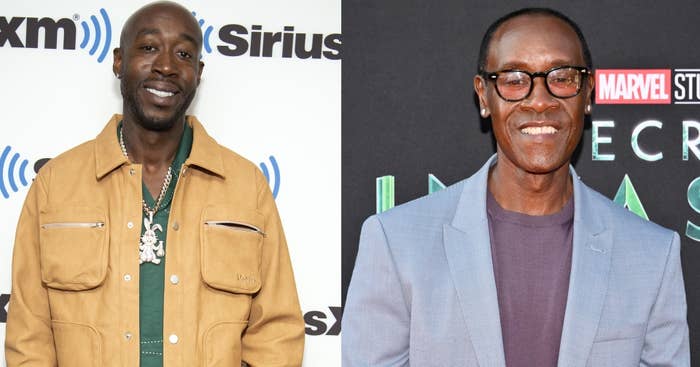 Freddie Gibbs and Don Cheadle recently linked up and addressed jokes about them looking alike.
The interaction took place Sunday night after the Los Angeles Lakers game, which both the rapper and actor attended. After the Lakers' win over the Houston Rockets, Gibbs hopped on Twitter and posted a video in response to a fan who mentioned that the Lakers broadcast showed Freddie at the game.
"That was big bro. That wasn't me," Gibbs replied alongside a video of him and Cheadle joking about them being lookalikes.
"We're two different people," Cheadle added. "He's him and I'm me."
Gibbs responded, "He was in his seat. I was in my seat," before Cheadle reminded fans that they're two different people.
The clip of Gibbs and Cheadle together arrives nearly a year after the pair exchanged jokes on Twitter about them resembling one another. Gibbs and Cheadle's back-and-forth began when a Twitter user jokingly wished the rapper a happy birthday alongside a photo of the actor.
Gibbs replied, "Happy birthday to The Don, my mentor @DonCheadle."
Cheadle played along, responding, "We gonna get it in one of these days, fam," before Gibbs hit back with, "I challenge you."
From there, Gibbs and Cheadle exchanged jokes in the comments section of the former's tweet. "You misunderheard my tweet, daddy-o!!" Cheadle wrote, with Gibbs replying, "My bad," alongside several laughing emojis.
Check out the clip of Gibbs and Cheadle addressing the long-running joke in the tweet up top.