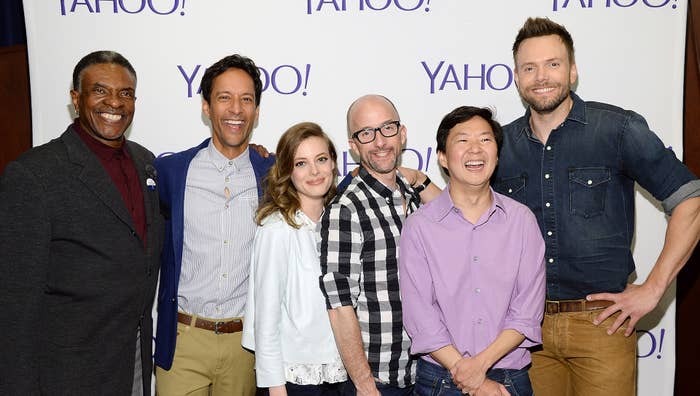 A full-length Community movie is in the works.
VarietyreportsPeacock has ordered a film based on the hit comedy, which aired on NBC for five seasons, from 2009 to 2014, before it moved to Yahoo! Screen, where its sixth and final season aired in 2015.
Slated for a 2023 release, Community: The Movie will be helmed by series creator Dan Harmon, and is set to star original cast members Joel McHale, Danny Pudi, Alison Brie, Gillian Jacobs, Jim Rash and Ken Jeong. Meanwhile, Chevy Chase, Yvette Nicole Brown, and Donald Glover are not listed among the movie's cast.
"'Six seasons and a movie' started out as a cheeky line from Community's early seasons and quickly ignited a passionate fan movement for this iconic, hilarious, and cool (cool, cool) NBC comedy," NBC Universal Television's Chairman of Entertainment Susan Rovner said in a statement. "We're incredibly grateful that 15 years later, we are able to deliver fans this promised movie and can't wait to get to work with Dan Harmon, Andrew Guest, Joel McHale, Sony and our partners at UTV to continue this epic comedy for Peacock audiences."
In addition to the announcement, Peacock has acquired the six seasons of Community, which are currently streaming on Netflix and Hulu.
Back in August, Harmon hinted at the possibility of a film during an interview with Newsweek.
"The fan that Instagrams every day about Community, how can you tell them, 'Yes, it's definitely going to happen, but it may be between one and eight years from now' — which is how the industry works, especially when you factor in pandemics and whatnot," Harmon said. "It just feels like psychological torture, from a fan's perspective, to keep looking into the backseat of a station wagon and saying, 'Who wants McDonald's?' And to just keep driving down the freeway. I don't want to be guilty of causing that sensation. It just takes so long sometimes."
Sign up for Peacock
to stream NBCU shows