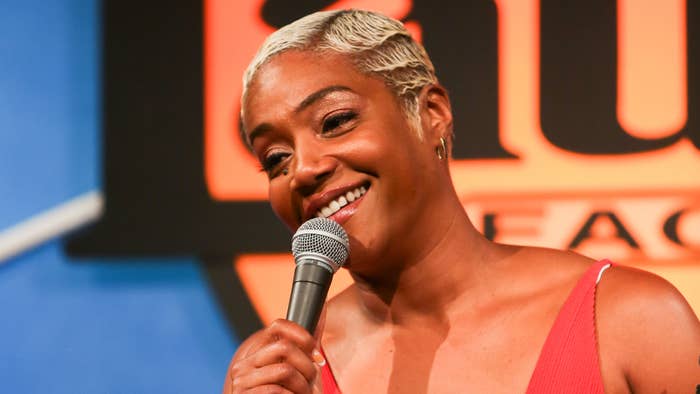 In an interview with Paris Hilton on the I Am Paris podcast, Tiffany Haddish suggested her late dog Dreamer had the ability to detect when a man had a sexually transmitted disease or infection.
"I believe she came to me to just let me know who has an STD," she told Hilton during the podcast, per People. "She let me know what dudes to deal with, and what dudes not to deal with." When Hilton pressed her to explain how Dreamer would let her know, Haddish said there was a process she would get introduced to a new man.
"If a dude came in the house she would walk up to him immediately," Haddish said. "Greet them, she'd smile—like, she's a blue-nosed pit bull so she has this big ol' smile—and then she'd instantly smell their genitals." She added that she would also smell their butt and would return to her moments after. "If she ... just sat there and just like, kind of smiled, it's all good." If something was wrong, however, she would start sneezing.
"I'm like, 'Oh, he's sick,'" she continued. "I would say something. I would be like, 'When's the last time you got a check-up? When's the last time you went to the doctor?' And they would be like, 'What?'" Following such an encounter, she said she would tell the guy he would need to get a check-up if they were going to hook up. She suggested that Dreamer was never wrong on this, too, because the men would usually leave and would find out they "have stuff" after being confronted.
"She knew," Haddish said. "She could smell it. She was an STD-sniffing dog."
Earlier this year, Haddish opened up about her relationship and subsequent break-up with Common, whom she dated for about a year from August 2020 to late 2021. In a conversation with The Washington Post, she said that their relationship was one of the "healthiest" and "funnest" she's ever had, but the breakup wasn't mutual."
Elsewhere in the interview with Hilton, she confirmed that she's still single, but she does have what she referred to as "associates," whatever that means. "I want to be in love, but I date. I have friends," she said. "Before fame, I could have some, you know, ho moments. I can't have no ho moments."
Listen to the full episode of I Am Paris here.