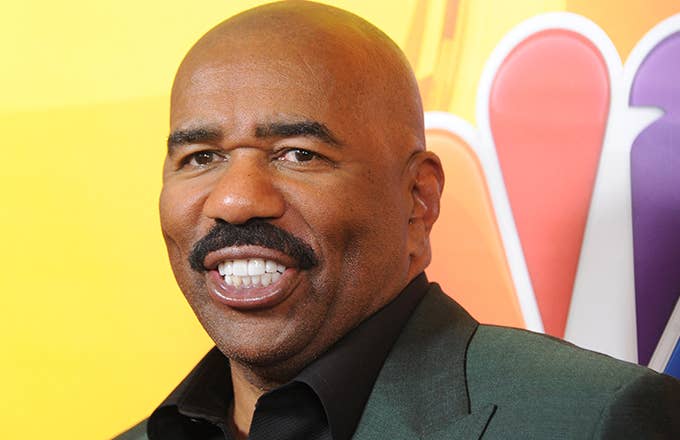 A year ago today, one of the biggest mistakes in Academy Award history took place.
During the 2017 Oscars, Warren Beatty and Faye Dunaway announced the winner of Best Picture, but they didn't initially announce the right winner. Announcing that La La Land had won the award, only for Moonlight to be announced as the actual winner just moments later as the cast and crew of La La Land had just taken the stage. It was a genuinely shocking moment, and Steve Harvey says it was a happy time for him in particular.
The Hollywood Reporter talked to a lot of the people that got caught up in the mess of that night, including host Jimmy Kimmel, La La Land producer Jordan Horowitz, and Mara Buxbaum from Moonlight distributor A24. Steve Harvey turns up for a quick comment, too, detailing why he couldn't be happier to see a flub bigger than the mistake he made when he crowned the wrong Miss Universe winner in 2015. 
"I was watching live and I probably knew what had happened before anybody else — 'cause I saw the panic-stricken look on the producer's face," he explained. "When [Horowitz] walked out there and snatched that card out of Warren's hand, that's when I knew redemption was mine."
He says it freed him from the burden of that night, and that it was cause for him to celebrate. "I was finally off the hook. Yeah, OK, I had to live that down: 'Oh, how could he,' 'That's a bonehead,' 'Nobody's ever done that in the history of Miss Universe.' But the Oscars is the biggest night in Hollywood, and when they did it, I lit a cigar and drank a glass of scotch and celebrated. I was free! Thank you, God!"
Of course, it helps that Moonlight deserved the award a lot more, too.