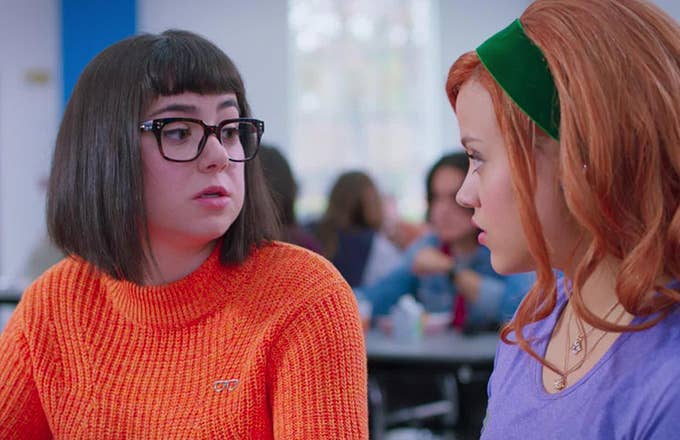 Much to the surprise of pretty much anyone who noticed, Warner Bros. Home Entertainment released the first trailer for Daphne & Velma, an upcoming live-action Scooby-Doo movie exploring the early stages of the two's friendship. Who needs another superhero origin story when you can find out how Daphne and Velma became friends?!
As Entertainment Weekly points out, the new film will arrive on digital distribution platforms, Blu-ray, and DVD on May 22. It was announced fairly quietly in November—strikingly not-long-ago—and comes from Warner's digital studio, Blue Ribbon Content, and Ashley Tisdale's Blondie Girl Productions.
Watch the Daphne & Velma trailer if that's what you would like to do right now:
The film is set to follow the two best friends as they arrive at Ridge Valley High, which bills itself as "an incredible tech-savvy institute with all the latest gadgets provided by the school's benefactor, tech billionaire Tobias Bloom." Because it's a Scooby-Doo spinoff, things quickly get mysterious, with Daphne and Velma subsequently investigating the strange occurrences around the school. Kids keep getting "zombified" and there's some secret passages.
As to be expected from a live-action straight-to-video release, it doesn't exactly look like it had much of a budget. Starring Sarah Jeffery and Sarah Gilman, who play Daphne and Velma respectively, Daphne & Velma will unsurprisingly receive a G-rating. 
Meanwhile, there's also a Scooby-Doo and Supernatural crossover on the way, which looks a lot more fun and actually includes Scooby himself. It also has swearing in it, which is weird.