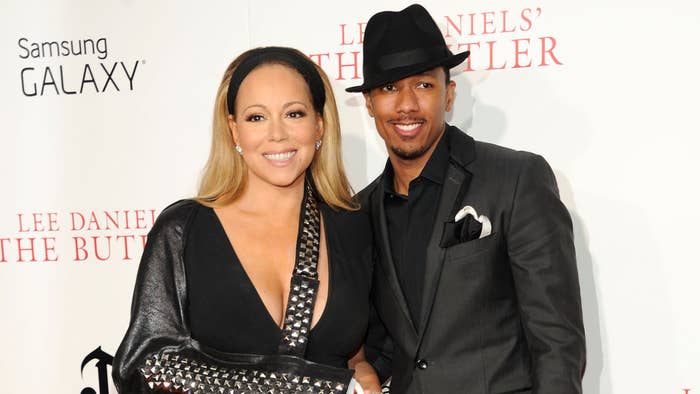 Nick Cannon denied that he "fumbled" his ex-wife Mariah Carey on a recent episode of Daily Cannon Show.
The actor and The Masked Singer host was accused of "fumbl[ing]" Carey by his co-host Courtney Bee Bledsoe, but he didn't take too kindly to the suggestion. "Did I? Explain to me how I fumbled Mariah," he replied. Bledsoe said she was just "playing" with him, and added, "I don't know… I just know you're not with her, so that's a fumble." Cannon replied, "Maybe she fumbled me."
Cannon and Carey married in 2008, and they welcomed twins in 2011. They separated after six years of marriage in 2014, and the divorce was finalized in 2016. In the years since Cannon has made headlines for fathering 10 other children with various mothers, often within the same year.
Just last month, he admitted that he considers Carey his first love. "When I found that out about how remarkable she was, that woman is not human. She's a gift from God," he said of the mother of their 11-year-old twins, daughter Monroe and son Morooca. Carey is reportedly looking to file a full-custody arrangement for the children. They currently have co-custody. 
Last year, he suggested that he would be open to getting back with Carey. "I truly respect the relationship that she's been in for quite some time," he said about Carey and her boyfriend, Bryan Tanaka. "Dude is amazing with my kids … I truly respect that. But, come on, that's my fantasy love … I will never have a love like I had with Mariah, and I appreciate that."