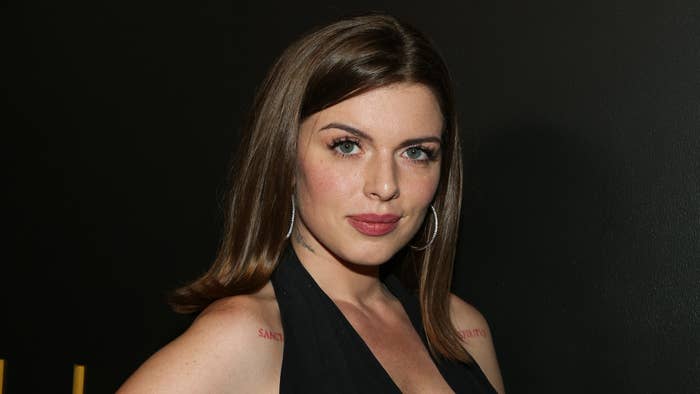 Julia Fox and Azealia Banks have engaged in a very public online feud following Fox's split from Kanye West.
Upon confirming her relationship with Ye had come to an end, Fox called herself "a #1 hustler" in a since-deleted post. She also said that fans who want the "full tea" will need to "buy the book when it comes out."
Banks, who recently suggested Kanye "publicly bullied" his daughter North over his TikTok concerns, caught wind of Fox's comments and let her opinion on the matter needed be heard. As HotNewHipHop points out, Banks re-posted Fox's comments on her Instagram Story, criticized her "threatening" to release a tell all book, and called the short-lived relationship "a weak pr stunt."
"What did u hustle him for? A bag and some Lucien's?" Banks wrote. "You can kiss your days as a low rate escort goodbye sis."
Fox has been open about her history of drug abuse, talking about it as far back as January 2020 with the Hollywood Reporter. Still, Banks suggested that Kanye "probably had no clue about" her past. Banks called Ye's ex "a liability" who could influence the outcome of "any custody battle that may arise in court during divorce proceedings." 
Banks hasn't released a studio album since 2014's Broke with Expensive Taste, but she claimed that Kanye tried to sign her to G.O.O.D. Music "four times." "I've repeatedly rejected him," she wrote. "Kanye has a crush on ME, but I like his white friends more tbh." Even more strange, she said her and Kanye could "put an egg and a sperm in a dish and unleash havoc onto the world."
After all of her comments, Banks shared a series of text messages she received from Fox, in which the actress slammed her for speaking ill of her son, and said that Banks has a history of transphobia and  homophobia. She also suggested it was ridiculous for Banks to compare herself to Beyoncé and Rihanna. 
"Okay, your son is a crackbaby," Banks wrote over the screenshot of the text, later sharing a photo that allegedly shows Fox injecting drugs. Fox, meanwhile, shared a message on her Instagram Story addressing her history with drug abuse.
"I'm open about my issues with addiction because I want to destigmatize it!" she wrote. "Not all addicts are 'junkies.' That is so horrible to say. It's a real fucking disease. And I've also been open about my recovery journey!! But nobody wants to mention that right… If this troll says one more thing about my parenting or my son… I was too nice to her cuz I felt sorry for her but now I realize there's a reason why she spends all the holidays alone. Nobody wants that energy sis!!!"
Fox also shared a screenshot of messages from Banks in which she asked for a "molly and percocet" plug. Another message showed Banks asked for paparazzi contacts, so she could be photographed next to Fox fresh off the release of Uncut Gems. 
Banks denied that the drugs were for her, and claimed it was for a man she wanted to have sex with that needed some pain medication of some kind. 
Ye and Fox's relationship was short-lived, but immediately made headlines amid his divorce from Kim Kardashian, who is currently dating Saturday Night Live cast member Pete Davidson. While in a relationship with Fox, Ye publicly pleaded for his family to get back together and referred to Davidson as "Skete" in a series of since-deleted posts.