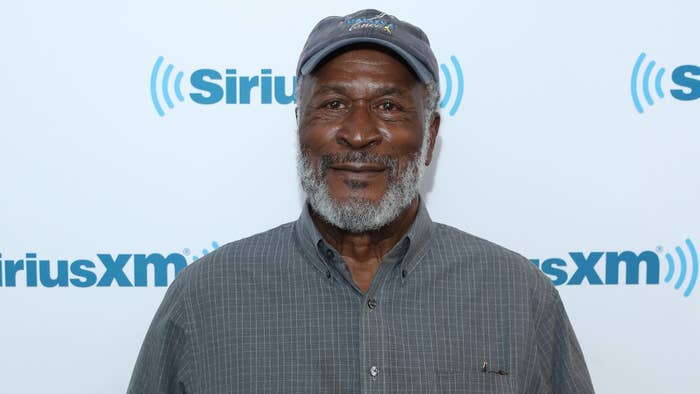 Prolific actor John Amos was reportedly hospitalized following what his daughter has alleged is elder abuse. The 83-year-old subsequently told TMZ that his child is lying.
The outlet initially reported that the Good Times star was hospitalized on May 14 as revealed by daughter Shannon Amos, who was told he had been placed in intensive care. She said she was able to speak with him briefly on FaceTime when she heard the news, but he had since been unable to speak with her because his pain had worsened. He allegedly suffered "elder abuse and financial exploitation," according to Shannon.
While she did not detail what exactly happened to her father, Amos' daughter said a "caregiver" is responsible for the alleged abuse. "His home had been violated, stripped of anything valuable," she added.
TMZ updated its story to reveal it spoke with John Amos, "who tells us the details laid out by his daughter Shannon Amos are a lie...no one is abusing him and he hasn't been fighting for his life."
Amos' rep Belinda Foster told TMZ he'd been hospitalized "because his lower body was filling with fluid, all the way to his abdomen, and causing issues with his heart." Foster added that professionals drained the fluid "and John's recently started to feel 100 percent."
Nonetheless, the Colorado Bureau of Investigations and local police are already investigating the reported abuse against Amos, who most recently appeared in the Kevin Hart and Mark Wahlberg comedy Me Time.
Shannon Amos set up a GoFundMe campaign to raise money for her father. "To catch and prosecute the alleged perpetrators, we now require legal assistance, hoping they face the full weight of the law," the page reads. "Meanwhile, our priority remains my father's medical needs and providing him a safe haven. His home had been violated, stripped of anything valuable. The cruelty inflicted upon my dad leaves me questioning what kind of human could commit such acts."
So far 125 donors have given $6,372; the goal is $500,000. Amos added that there is a "daunting road to recovery ahead" after her father's hospitalization, "unstable housing situation," and unspecified health challenges. "Together, as John's family and closest friends, let us help him overcome this traumatic experience, restore peace and security, and send a powerful message against elder abuse," she concluded.
In denying Shannon's claims, John Amos said he was unaware why she would start a fundraiser for him. After his remarks to TMZ, Shannon wrote on her Instagram Stories, "I will only stand in the truth."