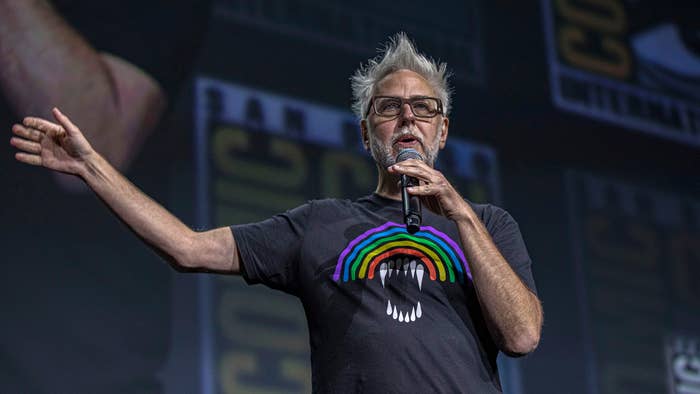 Following a report from the Hollywood Reporter that DC plans to scrap Wonder Woman 3, DC Studios co-head James Gunn took to Twitter to clarify a few things.
"So. As for the story yesterday in the Hollywood Reporter, some of it is true, some of its is half-true, some of it is not true, & some of it we haven't decided yet whether it's true or not," Gunn tweeted on Thursday. Gunn was named co-head at DC Studios, the newly formed division that will replace DC Films, in October alongside producer Peter Safran. A recent report indicated that there's already big changes on the way for DC's upcoming slate of films, including the fact thst Wonder Woman 3 under director Patty Jenkins is no longer part of its plans.
"Although this first month at DC has been fruitful, building the next ten years of story takes time & we're still just beginning," Gunn continued. "Peter & I chose to helm DC Studios knowing we were coming into a fractious environment, both in the stories being told & in the audience itself & there would be an unavoidable transitional period as we moved into telling a cohesive story across film, TV, animation, and gaming." 
It's no secret that DC films at Warner Bros. have been a mixed bag, with some critical and financial successes as well as a number of less-than-stellar returns. While Gunn has accepted there will be some hard decisions with him at the helm of DC Studios, he said he's not put off by the "drawbacks of that transitional period" because it offers a chance to "build upon what has worked in DC so far & to help rectify what has not."
"We know we are not going to make every single person happy every step of the way, but we can promise everything we do is done in the service of the STORY & in the service of the DC CHARACTERS we know you cherish and we have cherished our whole lives," he added. "As for more answers about the future of the DCU, I will sadly have to ask you to wait. We are giving these characters & the stories the time & attention they deserve & we ourselves still have a lot more questions to ask & answer."
Deadline reports that the decision to scrap Wonder Woman 3 following a rejection of Jenkins' pitch didn't come from just Gunn and Safran, but top executives at Warner Bros. as a whole. Ultimately, Jenkins decided to opt out after getting notes on how to change the project, and there's still interest from Warner Bros. to do a third film in the future. It remains unclear if lead actress Gal Gadot will be attached, when and if such a sequel is to surface.