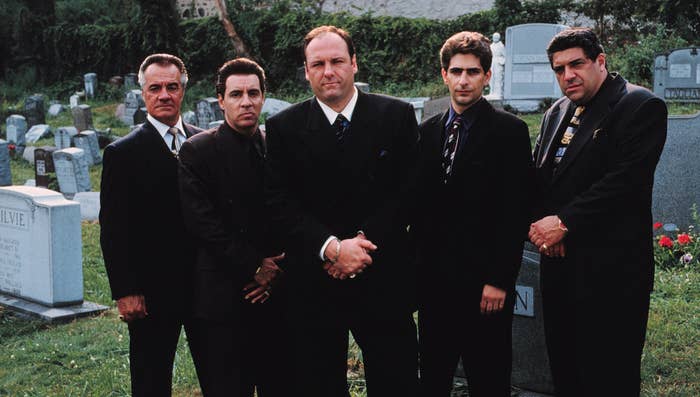 After some of The Sopranos cast reunited for a Chevrolet ad during the Super Bowl, HBO has cast doubt on hopes for a spinoff series from creator David Chase.
In a statement shared with Deadline, HBO and HBO Max chief content officer Casey Bloys indicated the commercial was not a sign of things to come.
"I don't think David has any interest in doing anything more with The Sopranos," Bloys said. "The Sopranos is a terrific and classic show. I don't think there's any reason to open that back up. I think maybe the Superbowl ad…was an indication that someone's going back. As far as I know, I don't think [Chase] has any plans to do that."
Bloys' comments on the matter come after Ann Sarnoff, chair and CEO of WarnerMedia Studios and Networks Group, said the company was in talks about a potential Sopranos series for HBO Max. Sarnoff spoke about those discussions following the release of The Many Saints of Newark, the 2021 prequel movie starring James Gandolfini's son Michael as a young Tony Soprano.
Chase said in November that he'd rather do another Sopranos movie over a TV series. "I'm not that anxious to do it," he explained, noting WarnerMedia wanted him to do another series set between the end of the movie and the start of the original show. "I would do one more movie. … I have an idea for that that I'd like to do. But I don't think they want that."
Bloys remained just as vague on whether fans can expect another Sopranos movie from Chase. "In terms of The Many Saints of Newark, I'm not exactly sure if they're thinking [about] another movie," said Bloys. "I really don't know what he's thinking but one thing I can say is I just don't think anything with The Sopranos family is on the cards."
Chase signed a five-year first-look deal with WarnerMedia for TV and film last year. He has expressed interest in working with Terence Winter, who wrote and directed numerous Sopranos episodes, but it appears nothing is on the cards at the moment.