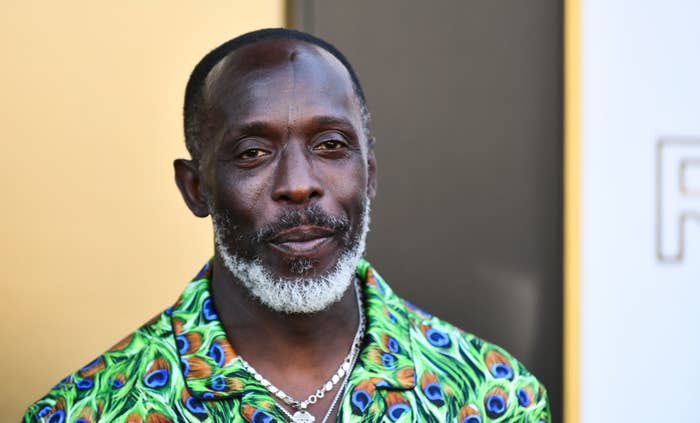 UPDATED 3/2, 2:52 p.m.: All four men arrested in connection with Michael K. Williams' overdose pleaded not guilty on Wednesday to charges of narcotics conspiracy resulting in death.
The New York Post reports that Irvin Cartagena, Hector Robles, Luis Cruz, and Carlos Macci are facing maximum sentences of life in prison if convicted for selling Williams the fentanyl-laced heroin that killed him. They will remain in jail for now and have another hearing on June 10. "Prosecutors said they will provide cell phone records, lab reports, social media posts and records from the medical examiner ahead of trial to prove their guilt," per the NYP.
The outlet writes that the suspects allegedly ran a "drug-dealing operation in front of a Williamsburg, Brooklyn apartment building and sold fentanyl-laced heroin in broad daylight that they stashed in nearby garbage cans."
See original story below.
The Department of Justice has confirmed that four individuals have been arrested in connection with Michael K. Williams' death by drug overdose last year.
Per a press release from the DoJ, alleged drug dealer Irvin "Green Eyes" Cartagena, Hector "Oreja" Robles, Luis "Mostro" Cruz, and Carlos "Carlito" Macci were arrested for their involvement in supplying the actor with heroin laced with fentanyl. The four have been charged with conspiracy to distribute and possess with intent to distribute fentanyl analogue, fentanyl, and heroin.
Williams was found dead at age 54 in his Brooklyn apartment in September, 2021. According to New York City's Chief Medical Examiner, his cause of death was acute intoxication due to a lethal combination of fentanyl, p-fluorofentanyl, heroin, and cocaine. U.S. Attorney Damian Williams said that Cartagena is the man alleged to have sold the fentanyl-laced heroin to the actor, and screenshots of security camera footage show their drug transaction on September 5, 2021, the day before he was found dead.
Per the Daily Beast, authorities treated Williams' death as a homicide, and were able to track down the suppliers through the use of license plate readers. After backtracking where he went in New York City before his fatal overdose, security camera footage showed him meeting with a man believed to be Cartagena, and others. Detective Mark Gurleski, who worked on the case, said that it appears as though Williams "didn't even know these guys beforehand."
In the footage, Williams and Cartagena appeared to exchange numbers and detectives later confirmed a call between their numbers that same day. The last known footage of Williams alive showed him exiting the elevator in the building he lived in. The four men arrested and charged in connection with his death continued to sell drugs, even after they learned of the actor's death. 
Cartagena was arrested in Puerto Rico on Tuesday, while the other three were arrested in NYC on Tuesday. They are all scheduled to appear in Manhattan federal court this week.
"This is a public health crisis. And it has to stop," said U.S. attorney Damian Williams. "Deadly opioids like fentanyl and heroin don't care about who you are or what you've accomplished. They just feed addiction and lead to tragedy. The Southern District of New York and our law enforcement partners will not give up. We will bring every tool to bear. And we will continue to hold accountable the dealers who push this poison, exploit addiction, and cause senseless death."