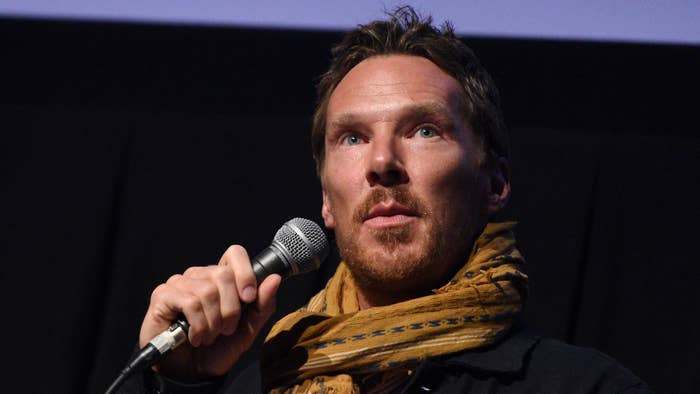 Benedict Cumberbatch is the latest MCU actor to offer his thoughts on Scarlett Johansson's lawsuit against Disney, calling the situation "a bit of a mess."
In a new cover story for the Hollywood Reporter, Cumberbatch was asked about the ongoing lawsuit, which was filed shortly after Black Widow premiered in theaters and as a premium VOD option on Disney+. 
"It's sad what's going on between the lawyers," Cumberbatch said when asked for his take on the situation. "Just the verbiage and the accusations of, 'Put it in a global pandemic context.' The whole thing's just a bit of a mess. We're trying to understand what the revenue streams should be for artists that contribute to the billion-dollar business that is Disney. And it has to be contractualized."
According to ScarJo's lawsuit, her contract was breached when Marvel released it on the streaming service. She claims an agreement was made with Marvel Entertainment that guaranteed a theater-only release, and her salary was based "in large part" on traditional box office performance.
In Disney's initial response to the lawsuit—which many people criticized for being too harsh—the company said there was "no merit" to her claims. "The lawsuit is especially sad and distressing in its callous disregard for the horrific and prolonged global effects of the Covid-19 pandemic," the statement read.
"How does an artist's normal compensation with box office bonuses, how does it work?" Benedict continued. "It's a new paradigm, and it's a very complex one. No one saw this coming, and no one should use hindsight to say, 'Well, it should have been done.' That was the first of these films that was going to get a cinematic release during the pandemic and got stalled and stalled and stalled. It's very new territory."
Elsewhere in the interview, Cumberbatch spoke about what it was like to have Sam Raimi on board to direct the next Doctor Strange film. Raimi, who is best known for his work on the Tobey Maguire-starring Spider-Man trilogy and the Evil Dead series, replaced Scott Derrickson over creative differences on the sequel. 
"He was an assured pair of hands, who knew that world," Cumberbatch said. "He's got certain Raimi traits. The smashed-zoom close-up. The mixture of just on the level of horror and just on the level of camp. There's fun in there, but there should be some real thrills as well." 
He also revealed that Raimi encouraged him to improvise on set. "There was a lot more freedom this time around. I guess, because we were… not literally making it up as we go along, but sometimes it feels like that," he added. "Marvel has this amazing ability to come into production: 'We really just have to start shooting now. It doesn't matter that the third act is not quite where you want it to be.' You really do things on a wing and a prayer sometimes."
Read the full feature with Cumberbatch here.