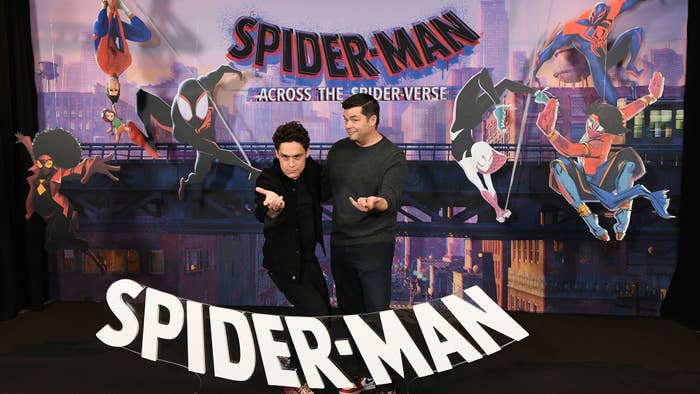 A new report from Vulture details some of the chaotic and brutal working conditions the hundreds of artists who worked on Spider-Man: Across the Spider-Verse were subjected to.
According to those who worked on the animated superhero movie, which is a sequel to 2018's Into the Spider-Verse, the work culture on the $150 million project proved to be unsustainable. Crew members described the experience as "arduous" and "relentless." The production proved to be so difficult that more than 100 artists left before the movie was finished, and producer-writer Phil Lord was named as one of the key reasons for the problematic work culture.
"Over 100 people left the project because they couldn't take it anymore. But a lot stayed on just so they could make sure their work survived until the end—because if it gets changed, it's no longer yours," said an artist under the pseudonym Stephen. "I know people who were on the project for over a year who left, and now they have little to show for it because everything was changed. They went through the hell of the production and then got none of their work coming out the other side."
The movie was originally scheduled to release in April 2022, but it was delayed twice before eventually hitting theaters in June this year. At the time, it was reported that "pandemic-related delays" were the reason behind pushing Across the Spider-Verse back, but four crew members said that many animators weren't given work to do for three to six months in 2021 because Lord was still changing his plans for the movie. When they finally received work to do, they were forced to work over 11 hours a day, seven days a week, for a year.
Creators were also forced to constantly revise their work due to Lord's nonstop tinkering. Insiders said Lord wanted final approval on every shot in the film, overshadowing the project's directors, Joaquim Dos Santos, Justin K. Thompson, and Kemp Powers. According to one of the animators, many with knowledge of the production don't think the third installation in the series, Beyond the Spider-Verse, will make its release date of March 2024. "There's no way that movie's coming out then. There's been progress on the pre-production side of things," said Stephen. "But as far as the production side goes, the only progress that's been made on the third one is any exploration or tests that were done before the movie was split into two parts."
An animator going by the pseudonym Charlie said that Lord struggled to "visualize layouts," meaning he had difficulty imagining what the finished project will look like. According to Charlie, Lord has a bad reputation: "I know a ton of people who never want to work on a project with him again." Another animator, who goes by Nathan, praised Lord's ideas and creative talks, but said his process is "not inspiring." Nathan suggested Lord's process is similar to "getting a whole bunch of construction workers to make a building without a blueprint."
The latest report on the working cultures in the animation and VFX industries comes a year after Vulture published a deep-dive on what it's like to work on a project in the Marvel Cinematic Universe. Generally speaking, many in the industry are underpaid and overworked by these major studios who are pushing out projects faster and faster. Marvel even has a reputation for asking major changes to be made for "the entire third act" just months before the movie comes out.
As for the Vulture report, Sony has denied underpaying animators and former Sony Pictures Entertainment chairperson Amy Pascal denies any bad blood between Sony and Lord. As for whether Spider-Man: Beyond the Spider-Verse will be delayed in 2024, the studio had no comment.