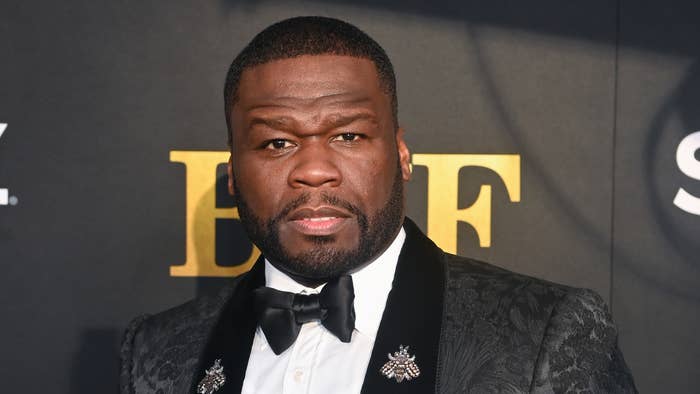 50 Cent has shifted his focus these days to TV and film, and he thinks it would be "fun" to star in a rom-com opposite Nicki Minaj.
In an appearance on Jalen Rose's Renaissance Man podcast, Fif spoke at length about his acting and producing career and brought up the idea.
"You know who would probably be fun to work with? Nicki Minaj would be fun to be in a romantic comedy with," he said at the 43:00 point of the podcast, noting that they both grew up in New York's South Jamaica, Queens. "I kinda understand her a little bit more than the other people. When she's being an asshole it's because she's telling you, 'You're not going to take advantage of me.'"
50 remarked that the environment Nicki grew up in shaped her personality, which he can connect with. "I feel like she's being attacked in a different way publicly," he said of recent controversies, like Minaj saying her cousin's friend in Trinidad got swollen testicles after getting the COVID-19 vaccine. Her husband Kenneth Petty's accuser also opened up about the alleged rape in 1994 for which he served prison time.
"It's because of…choices [like] who you decide to be with," 50 Cent said, referring to criticism Nicki has faced for allegedly pressuring Petty's accuser to recant her story. "C'mon bro. … That's her personal life, and she's decided her personal business is personal. Why do you care?"
50 Cent has also faced criticism recently, too, coming under fire for his comments about the late and great Michael K. Williams.
This isn't the first time 50 has defended and praised Nicki Minaj, calling the Queen rapper the "alpha female" of hip-hop during an episode of Young Money Radio last year, per the Rap-Up.
"I love me some Nicki. This n***a actually happens to come from my neighborhood. It happens to be a girl, but that n***a is tough!" he said. "She be harder than the n***a she fuck with. She be harder and she's an alpha female! That motherfucker tough. … You got to watch her or she'll go—she'll do something that's pulling a move to assert herself."
50 Cent has plenty to celebrate when it comes to his TV career right now, as the Hollywood Reporter confirmed on Thursday that Starz has renewed his show Black Mafia Family for a second season. Executive produced by Fif, the series follows two brothers from an infamous crime family in Detroit, based around the likes of Big Meech and Southwest T.