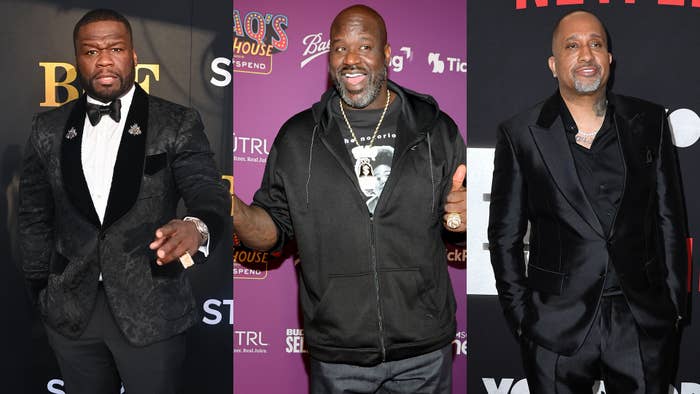 A month after Diddy confirmed his interest in buying BET, TMZ reports that 50 Cent, Shaquille O'Neal, and Kenya Barris have expressed interest, too.
According to sources familiar with the entertainment company, Fif and Barris were seen at the Paramount offices in New York City this week to talk about a potential bid for the network. The two, and Shaq, are in talks to make an offer with the help of investment firm CVC. A deal has been agreed upon just yet, but a source said the parties are "deep" in conversation. It's unclear how much Paramount Global Inc. is asking for BET, but reports first surfaced in March that the company was looking to possibly sell.
Fif has been notably vocal regarding his feelings on BET in the past. A few months back, he shared his thoughts on BET's former CEO's revelation she had an affair with the network's founder. In 2019, he took aim at BET after he accused the network of ripping off his own work. 
In a since-deleted post shared on Instagram in March, Diddy said that he's vying to purchase the company from Paramount. "Media is the most powerful industry in the world but it's the industry where we have the least amount of ownership, influence and control!" Diddy wrote. "It's time for @BET to be Black-owned again so we have the power to tell our own stories, control our own narrative! This is not about me it's about WE!!!!" Since he has deleted the post, and there are more names in the mix now, it's unclear if Diddy is still interested.
Other names that have expressed interest in purchasing a majority stake in BET include Tyler Perry and Byron Allen. If Diddy were to go through with a purchase, one insider said that he was interested in merging BET with his own network, Revolt. 
The news of 50 Cent's interest in BET comes as he's announced The Final Lap Tour to celebrate the 20th anniversary of his debut album, Get Rich or Die Tryin'. He will be joined by Busta Rhymes on all dates of the worldwide tour, while special guest Jeremih will be present for the US dates.
Check out the dates for Fif's The Final Lap Tour below.