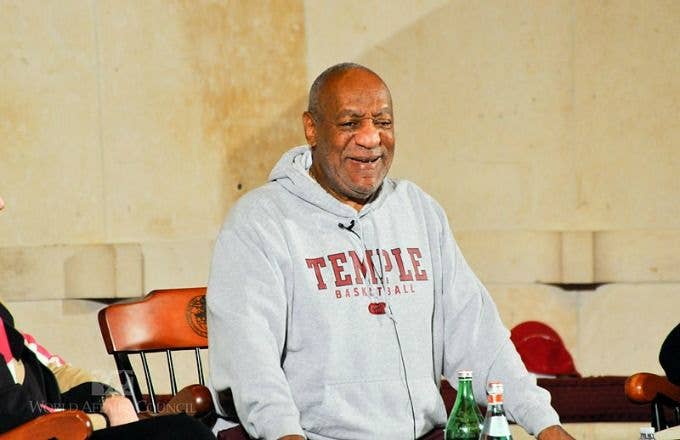 Bill Cosby's lawyers have requested Philadelphia's Supreme Court throw out the comedian's criminal sexual-assault case, according to a report from the Associated Press. Cosby's lawyers argue the current district attorney must follow through on his predecessor's word of not charging Cosby over a testimony in a related case involving his accusers.
"When a district attorney acts for the Commonwealth and assures a criminal defendant that he will never be prosecuted for a particular event, that promise must be enforced," Cosby's lawyers wrote in a brief on the court's website. "And it certainly must be enforced where, as here, the defendant detrimentally relies on that assurance in waiving constitutional rights, including his right against self-incrimination."
Late last year, Cosby was arrested after a deposition in his 10-year-old case became public and Montgomery County prosecutors reopened the case. Cosby is charged with felony sexual assault by Temple University employee Andrea Constand, the first of many women to accuse him of rape.
More than 50 women have come forward with similar stories of sexual assault by the comedian. Hoping to get ahead in the entertainment industry, Cosby's victims looked to the comedian to help them with their careers. They claim Cosby used his position of power to take advantage of them.
Cosby was quickly released after his arrest in December of last year after paying the million dollar bail.
Unless the Supreme Court grants Cosby's lawyers' appeal, he will have a preliminary hearing May 24. Cosby has denied all allegations brought against him, many of which cannot be tried as the statute of limitations have expired.