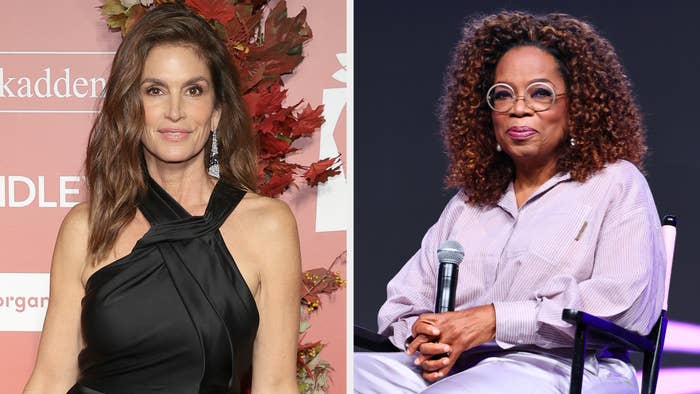 Cindy Crawford is looking back at an uncomfortable moment with Oprah Winfrey.
During a 1986 interview, Winfrey asked the supermodel, who was 20 at the time, to show off her body to the cameras, saying, "Stand up just a moment, now this is what I call a body."
On the new Apple TV+ documentary series The Super Models, Crawford reflected on the encounter saying it made her feel like a "chattel." "I was like the chattel or a child, be seen and not heard," says the model, now 57, in the series.
She continued, "Oprah's like, 'Stand up and show me your body. Show us why you're worthy of being here.' In the moment I didn't recognize it and watching it back I was like 'Oh my gosh. That was so not OK, really.' Especially from Oprah."
Winfrey has not responded to Crawford's comments on her social media at publishing time.
Despite Crawford's comment, she doesn't seem to have any bad blood with Winfrey. Since that 1986 interview, Crawford had appeared on an episode of Oprah's Master Class and currently follows the former talk show host on Instagram.
The Super Models chronicles the careers of modeling stars Naomi Campbell, Linda Evangelista, Christy Turlington, and Crawford. The women dominated the modeling world in the 1980s on catwalks, magazine covers, and infamously appeared in the late George Michael's music video for his hit "Freedom! 90."