Since making his big screen debut in 1954, Godzilla has always been a franchise that, much like its star, survives just about everything. Its dozens of iterations have included reboots, sequels, animated series, Godzuki (aka kid Godzilla), introduced a roster of irradiated adversaries (followed by robot versions of those same characters), a trip to space and two American versions of the property; Godzilla has done it all.
Gareth Edwards' 2014 Godzilla introduced the shadowy Monarch Corporation who's spent years stashing Titans in their facilities all around the world and served as the flagship film for the expanding MonsterVerse, which includes 2017's Kong: Skull Island.
Five years after San Francisco, the world knows Titans exist and Monarch Corp has been working overtime attempting to prevent mass extinction. Much like Edwards' entry and the 60+ movies before it, Godzilla: King of the Monsters tries to make audiences care a bit about the humans in the middle.
Historically, that's been the problem with these films; there isn't a real reason to give a shit about humans. Their presence breaks up the rush from Titan on Titan action, creating a speed bump rather than an accelerant. Even with a stacked roster which includes Stranger Things' Millie Bobby Brown, Vera Farmiga, Kyle Chandler, O'Shea Jackson, Jr., and Ken Watanabe—who returns as wide-eyed scientist Dr. Ishiro Serizawa—the characters don't fully pull you into their scenes unless it involves Titan mythology. Bradley Whitford's Dr. Rick Stanton breaks up the stilted group dynamic with tin foil hat conspiracies reminding viewers this is a movie with radioactive monsters. The thing is, it's not their fault, that's just how things go with monster movies. Their interactions feel wooden, and at points, it feels like cue cards are just off-screen.
Once the characters get over themselves and it's established that these Titans are only increasing in power with fewer fucks to give, they take a firm backseat and the film dives headfirst into what we came for. With the voice like God on high, Dr. Serizawa utters the line, "Let them fight." And they do. And it's awesome.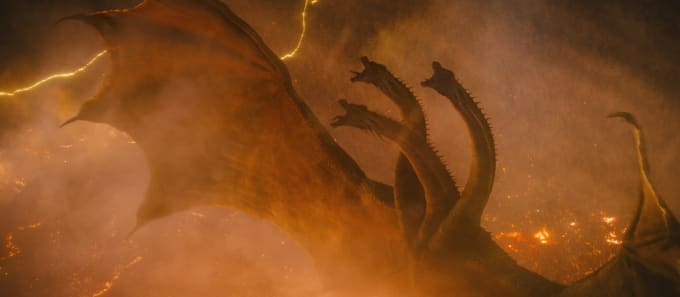 The Saturday morning monster movies of my youth were hyper-realistically slapping the royal shit out of each other: its UFC meets WWE with Tokyo's finest. The Easter eggs nod to the movies of the past, overtly updating some of the gadgets and gizmos used in the early Godzilla films. Their introduction fully embraces how truly ludicrous these movies can be.
The Toho Company opened up their archives to director Michael Dougherty (Trick R Treat, Superman Returns), who eagerly dug into Godzilla's deep history, breathing new life to three iconic kaiju: the hydra Ghidorah, peaceful Mothra, and the doom-bird Rodan. Marquee moments for the three are all perfect lock screen images centering wild destructive chaos, improbable escapes and finishers that will leave you breathless.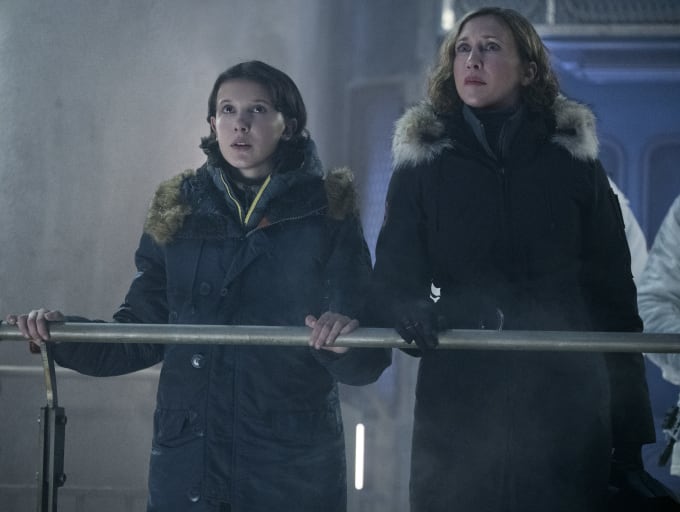 During a press trip to Tokyo, Toho Co. shared decades old props, still wearable suits and the original storyboards from the first Godzilla movie; all pieces that Dougherty had drawn his inspiration from. Walking through the soundstage at Toho Studios was surreal; everything we were shown feels directly reflected in Godzilla: King of the Monsters, giving the film a deeper, special feeling due to its reverence for the source material. 
These movies are meant to fill us with childlike city wrecking glee. By taking advantage of the technology available, they've set up what is sure to a complete face punch of a Monster universe come Skull Island: 2 Kong 2 Furious. Despite the clunky character exchanges and comic book-level villainy, those special touches were what made Dougherty's take feel welcoming to new fans while paying homage to Toho's Monster mythology.