On an empty Utah highway skirted by an old cemetery, actor Lakeith Stanfield and I are pulled over on the side of the road, waiting for a cop to come to the door. According to the officer, I was driving 22 mph over the speed limit (he was probably right). He asks for my ID, but curiously, he also requests identification from Stanfield, who's sitting in the front seat and whose only infraction seems to be existing as a black man. The actor's white manager, Colin Stark, who is sitting behind Stanfield, offers his ID to the officer but is rejected. Instead, the officer asks for Stark's name and age, and then walks back to his squad car. Just before we were pulled over, on our way back from a snowmobiling excursion along the nearby Mid Mountain trail, Stanfield was happily describing his new Los Angeles apartment, the first place of his own after two years of living with Stark, where he can record music, paint, and "scratch my balls" without worrying about disturbing anyone. Now, the mood is decidedly less light.
"Believe me, if we were all black this would be a different trip," Stanfield says. 
What the officer won't see when he runs Stanfield's ID is that he is one of Hollywood's most promising rising stars. Since his first feature film and breakout role in 2013's Short Term 12 (based off of a 2008 short film in which he also appeared), Stanfield has been piling up an impressive list of credits as a supporting actor. In Atlanta—Donald Glover's "Twin Peaks for hip-hop" that premieres on FX in September—he plays Darius, the bizarre and philosophically probing right hand man to the series' budding rapper, Paper Boi (played by Brian Tyree Henry). In 2014, Stanfield appeared in Ava DuVernay's Selma as a civil rights protester murdered by the police. Last year, he played a Blood in the coming-of-age comedy Dope and a young Snoop Dogg in the critically acclaimed Straight Outta Compton. In 2016 alone he's earned credits in the Miles Davis biopic Miles Ahead, Oliver Stone's Snowden, and the Brad Pitt-starring War Machine. It's the IMDB page that all the young actors waiting tables in Los Angeles dream of, but with Stanfield you get the sense that this portion of his resume will soon be buried. Even in his smallest parts, he's too transfixing not to land as a consistent lead. He's finally snagged his first starring role: In an untitled film written and directed by Matt Ruskin, Stanfield will play Colin Warner, a young Brooklynite who was wrongfully convicted of murder and spent 20 years in prison before being exonerated. 
But despite all of his past and upcoming successes, right now, Stanfield is just another black man in America.
"They never show up for the important shit!" Stanfield says of the police. "I never see them except for this very stupid shit. They come after somebody's already dead. I don't get it." 
Minutes pass and the cop returns with a speeding ticket. I consider asking why he took Stanfield's ID and not Stark's, but I know the answer, and I don't want to create any trouble. We're already holding up soundcheck for the first of Stanfield's two concerts in Park City, Utah, where, on top of promoting a few of his acting projects, he is also performing as one half of Moors, a hip-hop duo in which he raps over beats by the Los Angeles-based producer HH. Earlier, while waiting for the officer to return, Stanfield half-joked that the situation would be worse if the officer knew he was a rapper: "He'll be like, 'Oh yeah? I fucking hate rap,'" Stanfield said. "But his kids probably went to see Straight Outta Compton." 
Navigating such racial divides has informed Stanfield's creative pursuits since he was young. Born in San Bernardino, Calif., Stanfield says he learned to how to act by codeswitching in his everyday life. 
"I could hang out with the white guys, who were considered by the hood to be corny dudes," Stanfield says later, while sipping on a whiskey coke at a Park City sports bar. "I could go chill with the gangbangers. I could go chill with anyone and fit right into whatever mold because I knew how to switch. That was something I realized early on. Like, 'What is my identity?' And I realized my identity is in all of those. I learned how to survive that way, and it's been valuable for my career." 
In San Bernardino, Stanfield's childhood was marked by poverty and violence, which he discusses candidly. "I was used to being hungry after a while." he says. "Baloney sandwiches with no mayo and no cheese. And that was it, but it was cool. I learned to be strong. I learned to be a hustler, a fighter. I learned to never give up." 
"[Cops] never show up for the important s**t! they come after somebody's already dead. I don't get it."
When he was barely a teenager, Stanfield saw his mother's boyfriend at the time beating her. "At the time I didn't have anything to compare it to," Stanfield says. "It's like, 'This is happening right now.' I couldn't be like, 'This is horrible.' It was just like, 'What is happening?'"
The first time Stanfield called 911, the man was arrested. But the second time, both his mother and her abuser were put in handcuffs. Stanfield learned it wasn't worth it to call the police anymore. And when the man beat him because he was the only one of his mother's five children—two of his brothers are autistic—who would stand up to him, Stanfield learned to lie to Child Protective Services. On one occasion, Stanfield was beat with the buckle end of a belt after playing with some paint he'd found in the garage. 
"He just went off—it was crazy," Stanfield recalls. "So the CPS got involved. I thought they were going to try and help or something. Turns out they were just trying to take us all away from my mom. I didn't want that shit to happen. I had to learn to lie, just be like, 'Everything's all good,' regardless of whether it was or not." 
Eventually, Stanfield's family moved to quieter Victorville, Calif., where he got into some trouble, although he never got in too deep. "I was never really good at crime," he says. "There's a lot of stories there." 
For example, when Stanfield was hungry, he would order a sandwich at, say, Subway, snatch it, and run out of the store. "That's one I was good at, actually," he says laughing. "But when it got into some of the bigger ones, that's where I got into some trouble. Like taking bottles [of beer] out of Stater Bros. [a California grocery chain]. I found out you can't really outrun a helicopter, no matter how much you think you can. I found out early on that that spotlight has a large radius."
In high school, Stanfield began to realize he had a different talent: While he failed in every other class, he excelled in drama. So at 16, he paid $60 for some amateurish head shots, did a stint at modeling school, and eventually landed an audition for the short film Short Term 12. Writer and director Destin Daniel Cretton cast him as Mark, a boy at a group home for troubled youth. The short premiered in 2009 at Sundance and won a Jury Award for U.S. Short Filmmaking, but it didn't lead to the immediate success Stanfield expected. Instead, he worked at a marijuana growery and then at AT&T as a door-to-door salesman—until the company found out about one of his childhood run-ins with the law and fired him.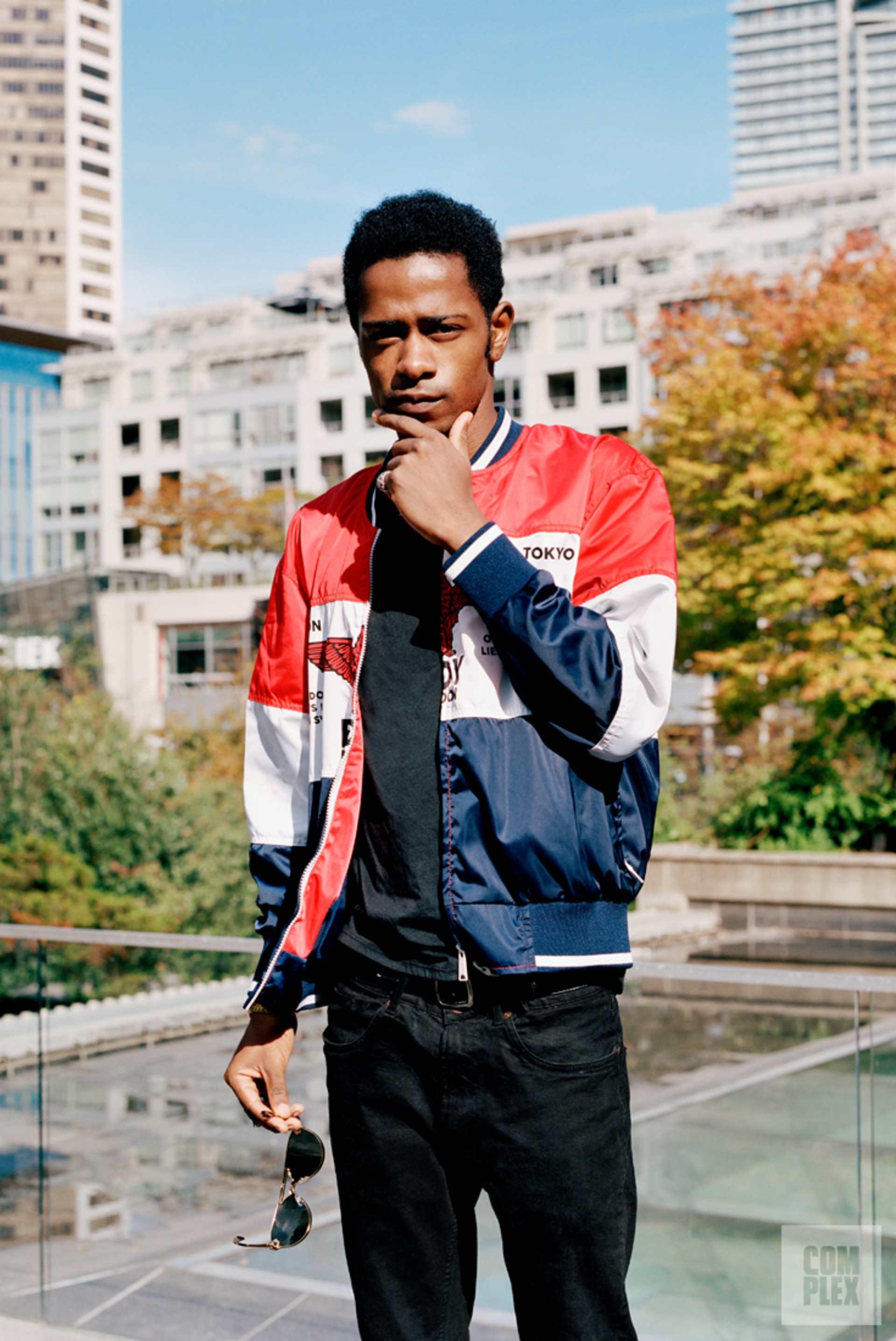 Fortunately, soon after, Cretton was working on a Short Term 12 feature-length and had been trying to get a hold of him to revive his role as Mark (renamed Marcus). Cretton set up an audition in his living room. "Halfway through the first scene he was doing, he had me in tears," Cretton tells Complex. "It just felt so real."
Stanfield's heartbreaking performance earned him widespread acclaim. The Hollywood Reporter called it an Oscar contender. "From day one he was committed," co-star Brie Larson says. "He politely told me that he would be keeping a distance from me because Marcus didn't trust anyone, and he didn't want to create a connection with me. Even on the last day of shooting, I tried to sit next to him at lunch, and he immediately got up and walked away. Through doing press for the film we became friends—he's a gorgeous human being." 
His performance scored him a nomination for Best Supporting Male at the Independent Spirit Awards. During the brunch for the award show, he met director Ava DuVernay and offered to take a photo with her. "I was a fan, but I guess he thought I was a selfie-taking fan," she tells Complex with a laugh.
That encounter eventually led to his role as Jimmie Lee Jackson in Selma, which gave him yet another harrowing scene in a critically acclaimed film. "He feels like a real guy who has some weight on his shoulders, and yet you look in his eyes and see this vulnerability and this sweetness," DuVernay says. "For me that really encapsulates the vibe of so many African-American men that I know and love. But in film and television we either see the alpha or the emasculated. He represents this beautiful hybrid of all that complexity." 
A year later, another random run-in helped him land his next breakout role. 
"I was at one of those Hollywood parties, which are generally kind of sucky," Stanfield recalls. "So I spent most of my time just getting extremely drunk... I'm dancing, and I stumble into this guy, and it's Childish Gambino! I'm like, 'What's up man? You're fucking dope.' And he's like, 'I had you in mind for this TV show.' I was ecstatic."
In the Atlanta pilot, Glover's character, Earnest Monks, is trying to manage the rap career of his cousin, Paper Boi, and assuage Stanfield's Darius, who's already acting as Paper Boi's de facto manager. But Darius exists in his own world; each of his exchanges are abnormally direct—"like Twitter," Stanfield explains. In one scene, he greets a stranger at the door with a knife in one hand and, when he realizes he's not a threat, offers up a cookie with the other. He's not concerned with weirding anyone out. "I'm really similar to the character," Stanfield says. "I exist in my own world no matter where I'm at or who I'm around. To me, it's a paradise; it may look completely ridiculous to someone else. I imagine I looked like an idiot on that dance floor doing all those old-ass moves, but that's probably just the very thing Donald needed for the role."
In an August press tour, Glover said the show's thesis is to show America what it's really like to be black. "I don't think anyone can ever fully understand what it's like to be black," Stanfield says, "but this will give people another perspective."
"In film and television,
we either see the
alpha or the emasculated. lakeith represents this beautiful hybrid."
—ava duvernay
Prior to our police encounter, Stanfield and I stood 9,500 feet above sea level at the top of Mid Mountain Trail, taking a moment to pause from our ride. Stanfield gazed out at the second largest aspen grove in the world, set beneath a pearl blue sky. It was peak Instagram bait, but Stanfield's phone was nowhere in sight. 
"It's nice to remember that there's another side to the world," he says. "Some people will never be able to see the mountains of Utah. I know that because of where I came from. Once you see how beautiful this world is, it humbles you and makes you go after things you never thought you could go after. I almost started crying on my way up here. It's fucking beautiful."
We hop back on the snowmobiles to trek down the mountain, back to the more familiar side of the world. On this day, for Stanfield, that means promoting his film projects, rapping as Moors, sucky Hollywood parties, and yes, dealing with bullshit from police. The ride has barely begun.