The 2016 presidential race has been, to put it in the simplest of terms, a routinely disturbing display of the absolute worst in human behavior. Thankfully, we have dudes like Eric André who are more than willing to point out the absurdity of it all, particularly surrounding last week's doom-and-gloom vibes at the Republican National Convention in Cleveland.
"I went to the RNC," André told Colbert Thursday, revealing he had just popped some Cialis before joining him for a Late Show chat. "I jammed out with Alex Jones from InfoWars. He's on a war against info. He doesn't want any 'mation,' just the info!" Peep the beautiful results of the Man Seeking Woman star's RNC visit below:
"That was an open carry state, Ohio, everybody had guns and knives," André said, meaning he was actually pretty terrified. "I was like, 'Oh, I'm gonna die! This is where my life ends.'" When Colbert reminded him that he apparently misjudged the crowd (i.e. dude's alive!),  André apologized before revealing one of the biggest difference between the RNC and DNC crowds: the presence of weed.
"It was a little more mellow," the Eric André Show host said of his decidedly chill DNC experience. "They smoke a little more weed at the Bernie rallies than at the Hell's Angels for Trump rallies." To cement his loving relationship with Colbert in the wake of nearly dying at the RNC, André then presented him with this touching gift: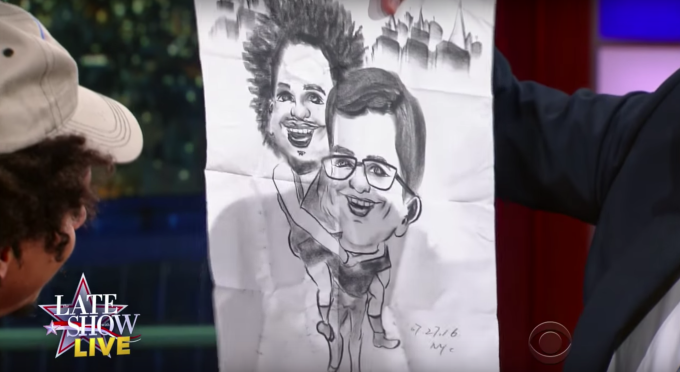 The Eric André Show returns Aug. 5 on Adult Swim.