ComplexCon returns to Long Beach Nov. 6 - 7 with hosts J. Balvin and Kristen Noel Crawley, performances by A$AP Rocky and Turnstile, and more shopping and drops.
Secure your spot while tickets last!
While Starz hasn't received nearly enough hype for their original programming, that's all about to change with The Girlfriend Experience, a 13-episode drama that's loosely based on the Steven Soderbergh film about a call girl working in the midst of the 2008 financial crisis.
This reimaginig, co-created by indie filmmakers Amy Seimetz and Lodge Kerrigan, narrows its focus on a single young woman played Elvis's granddaughter Riley Keough and explores the ins and outs of her various preoccupations. She's a second-year law student, holds an internship at a hyper competitive firm, and soon enough finds herself immersed in the world of high-end escorting. After witnessing the success of her friend, Avery (Kate Lyn Sheil), Keough's Christine finds herself entering the game, joining an agency, and providing men with, as the title suggest, the "girlfriend experience."
Before the show premieres on April 10, I decided to speak to a friend, who, in addition to being a full-time student, found herself creating an account on SeekingArrangement, which hooks up sugar daddies with sugar babies. While these dynamics differ in several aspects from escorting, something about how my friend is a highly educated, driven, and open person mirrored The Girlfriend Experience's main character. I had my friend watch the series to not only compare and contrast, but to paint a grander image of what The Girlfriend Experience appears to be attempting. Her identity is anonymous for her comfort and security. 
There's obviously a difference between something like SeekingArrangement and being an escort, but did you recognize a lot of similarities watching this show?
I found a lot. I felt bad when there was a guy who liked her, who wanted to keep seeing her, but he didn't have enough money so he asked her to lower her price. That's happened to me before. Watching her it felt like I was watching from the outside—she seems too heartless. I was like, "Is that how I am?"
Do you think in order to survive doing something like that, you have to turn off your emotions?
If you're an escort, you need to turn off your feelings. If you're doing more of a seeking arrangement, a monthly type thing, you should actually start to like the person and enjoy being around them. But if I were seeing a different guy every night, there's no way I could mentally handle that. It would probably just have to go in one ear and out the other.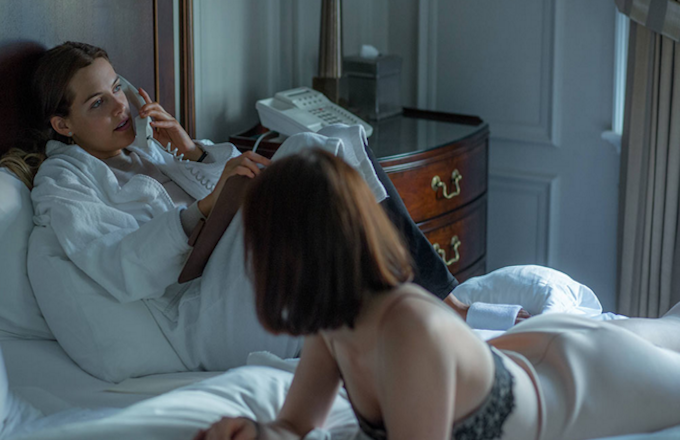 Did you get into this solely for money? I think the show is interested in the idea that it's also very much an experience and an experiment for her.
I don't even think it's about money. Yeah, that's great, but you could have a regular job and get money. If someone is looking from the outside, you'd say the girl has no power. But in it you feel like you have all the power—you're calling all the shots. It's like, "These are my standards. This is my rate, and this is what you have to give me. Then I'll do this." You're making the rules. I feel like a girl feels more empowered doing it.
Was there a storyline from the show that you related to?
There's that whole thing with the guy who became obsessed with her. I ended up seeing this guy last summer and saw him again when I was in New York this year. He became obsessed. I even met his mother and his friends.
How did that happen?
He lived in Queens and he said, "Come to Queens tonight. I want to go on a double date with my friend." I said, "What are you going to introduce me as?" He said, "I want to say you are my girlfriend." I was like, "That's going to be extra." In my head, everything was a business deal. But he actually wanted me to be his girlfriend. It was to the point where he was texting me all the time. I'm not getting paid to text you. I'm paid when I'm with you. That may be fucked up, but that's how it is.
Anyway, he ordered me an Uber to his mom's place where he was staying. I got there and met his mom and was introduced as the girlfriend. It was odd. We took a selfie together.
Did that freak you out?
It really freaked me out.
Is that when you ended it?
We saw each other again and we didn't have sex or anything. He gave me $400 and we just ate and went to different bars. That's when I knew there were feelings. He just wanted to hang out with me. He was lonely. He did like me and wanted my company, but it was too personal at that point. That's when I finally blocked him on everything. For me, there needs to be a sexual aspect. I can't get personal like that.
Have other men wanted to be exclusive with you?
There's a guy I see who says we are exclusive, but he's never in town. I've seen him twice and we've had sex once. He offered me a wing to his nine-bedroom house that he lives in with just his cousin. The whole bottom floor, which is two bedrooms, a living room, a full kitchen, and a full bathroom. I said, "I don't need this." He said, "If you ever need a getaway you can come here."
He wants to be exclusive—he doesn't know I see other guys. [But] I can't be exclusive if he's never here. I'm not making money.
What would you say the major difference is between SeekingArrangement and escorting?
It's the relationship you develop, the way the show makes it look is, she goes to dinner with them, she stays over and talks to them. In my head, an escort is coming in for sex and leaving. 
If I want to start an arrangement with someone, the first few times will be different, so it will seem like an escort situation. There's no trust there. It's not like he's just going to PayPal me for the month right away.
I was wondering the difference.
It's the exclusivity of it—having one sugar daddy who you spend your time with. A lot of them, on the site, they talk about wanting to be a mentor, someone you could go to for advice. A lot of them say, "I want to be able to teach you things."
Why do you think guys do this?
The site is setup for guys who don't want to publicly go out and look for a girl. Some guys want to be on it specifically because what they want is not normal, per se, to society.
Have you had a really bad experience?
I came across a guy who was into BDSM. I get to his house, the elevator opens up to his two story apartment. Everything is beautiful wood floors, high ceilings, marble. We started and came up with a safe word. He was twisting my nipples. It really hurt. He was doing all of these things—when I'm in bed I want to be treated like a queen. I was being really naive, I guess. When we were having sex, I said the safe word and we stopped. I was like, "OK. I'm fine now. We can go again." He's like, "No. You said it. We are done." He was being really mean. I was like, "OK. Please give me my money. I'm going to go now."  He's like, "I'm not giving it all to you. I'll give you some, but we didn't finish." I was like, "Alright. Whatever. I want to leave." He gave me money and I left. I felt horrible and ended up crying.
How do you prevent situations like that from happening again? 
The whole point of the site is to be really honest. If not, it's not going to work. The girl needs to say how much she expects and the guy needs to say what he expects from her. Every time anyone has been completely honest before we even met, even if it's a little awkward talking about money and all of that, it's so much better.