Dwayne "The Rock" Jonhson's massive muscles, shiny bald head and positive life outlook are more than just the human machinery that sells millions in movie tickets, they're also the inspiration for a 7-year-old cancer patient to keep on fighting.
The boy, who has been battling neuroblastoma for half of his life, says he actually shares a lot in common with Johnson. For starters, he also has a cool nickname: "Tater."
In a photo shared this week by the Children's Hospital at Erlanger, a sign explains exactly what other qualities Tater shares with the action star.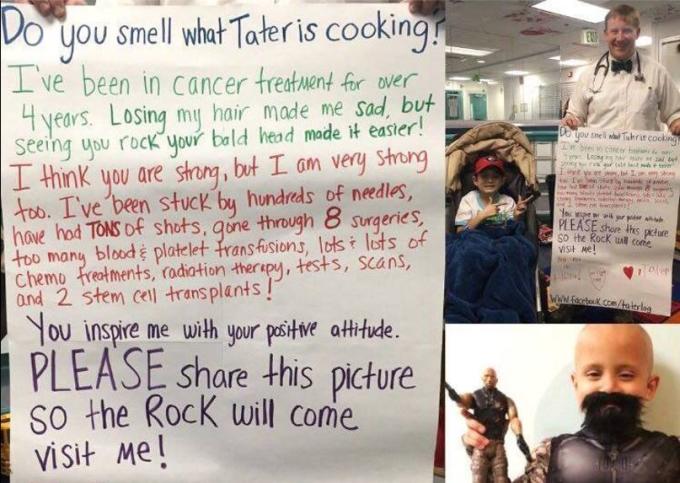 Do you smell what Tater is cooking?
I've been in cancer treatment for over four years. Losing my hair made me sad but seeing you rock your bald head made it easier. 
I think you are strong, but I am very strong too. I've been stuck by hundreds of needles, have had tons of shots, gone though eight surgeries, too many blood and platelet transfusions, lots and lots of chemo treatments, radiation therapy, tests, scans and two stem cell transplants!
You inspire me with your positive attitude, please share this picture so The Rock will come visit me!
The photo has over 3,000 shares as of this writing, but Tater's Facebook page and the hospital are asking people to keep sharing it in the hopes of grabbing Johnson's attention and getting Tater a face-to-face meeting.
"He's strong and brave," Tater told WCRB-TV of his hero. 
Tater's mother told the news station that she started the fascination showing her son Johnson's (great) Instagram account.
"He was kind of embarrassed about his bald head," she said. "So I would pull up The Rock's Instagram account and I'd say, Look! The Rock is bald and he's so strong and he's awesome. You're just like him."