Now that we're all a few days removed from the year known to common people as 2015, we can finally dissect the past 12 months with some much-needed scientific prowess. By "scientific prowess," I of course mean a big batch of statistics from the esteemed purveyors of culture over at Pornhub. Following similar data dumps in 2013 and 2014, Pornhub just unveiled their impressively thorough exploration of the world's porn viewing habits with their usual pomp and circumstance: With the United States once again taking the top spot in terms of overall traffic, Pornhub is reporting another laptop-overheating year of global activity. In fact, 2015 saw 21.2 billion worldwide visits with a total of 4,392,486,580 hours of porn consumed across the globe. That, as simple math surely shows, is a whole lot of fucking. Props are also due to Mia Khalifa, who saw a huge enough increase in searches in 2015 to place just below Kim Kardashian for their so-called "Top Pornstars of 2015" list: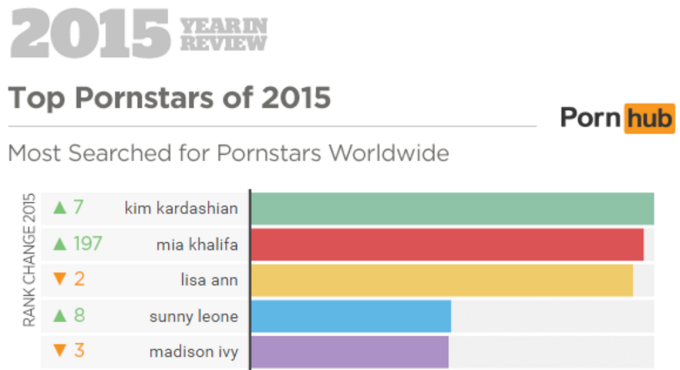 Before full-blown patriotism starts to kick in, ultimately inspiring you to start wearing American flag-emblazoned t-shirts whenever you next consume some Pornhub creations, consider one very important thing: The Philippines are absolutely crushing it when it comes to sheer stamina. America, as one can clearly see in the meticulously crafted chart above, isn't placing first when it comes to pacing one's porn consumption experience. Bummer. However, before you cancel that bulk order of patriotic American flag t-shirts, consider this: Good morning, Hawaii! So, yeah, maybe cancel that big order of America flag tees and instead order a bunch of Hawaii-honoring attire because 10 minutes and 40 seconds is practically an eternity. Though not quite Philippines-level, that's an undeniable marathon of self-controlled pleasure. Well done, Hawaii.
As for the most-searched word on Pornhub for the year colloquially known as 2015, that great distinction goes to the word that may very well automatically show up in your browser whenever you type the letter L: The most exciting development in the world of increasingly popular searches, however, comes in the form of something quite large indeed. The wonderful world of "giantess," which of course refers to larger-than-life women engaging in acts with noticeably tiny partners (duh), garnered a massive 1,091 percent increase in search frequency in 2015. "Man eating pussy" and "celebrity sex tape," respectively, also saw dramatic gains in the year of our savior (porn).
Since we've given all appropriate shine to the Philippines for their astronomical year of disciplined porn viewing, the inner patriot in us all now begs for this article to end on a very 'merica-esque note of delusional pride. In that spirit, pat yourself on the back for helping the phrase "step mom" officially dethrone "lesbian" (the aforementioned global champ) as the most-searched type of action on Pornhub: We should probably start working on our stamina now.