Join me, if you will, on a journey of discovery, a journey littered with so much intrigue and so much gritty detective work that it'd completely cure Nic Pizzolatto's blue balls of the heart. It's a tale that will, after much trepidation, twists and turns, reveal what the Illuminati looks like IRL, the interconnectedness of life, and what Leonardo DiCaprio will look like at 65. And it all begins, as so many mysteries in the 21st century have, with a picture on Instagram.
This morning I found myself on model Kelly Rohrbach's Instagram page. If you don't know, Rohrbach is the model Leonardo DiCaprio is currently dating, so the best way to see what Leo's been up to, is to see what she's been up to. She/they have been balling, fucking up commas on Leo's yacht from Saint-Tropez to Corsica to Sardinia. No surprise there. But among the photos of Rohrbach lounging on the deck in designer bathing suits, is one group photo, and that is where our journey begins: No big deal—a standard photo any model associated with Leonardo DiCaprio would take, right? Along with Rohrbach, there are several other models/women of the fashion world (Sabina Gadecki and designers Emilie von Hofsten and Nikki Erwin, if Instagram tags mean anything) and Kevin Connolly of course, infamous member of Leo's Pussy Posse. Everything checks out as par for the course. But who then, is that older man with the coke white hair and beard? Who is that man basking in, inebriated by, the glow of blonde beauty? How did he get there?
Thankfully for a true detective like me, he was outed, seemingly by his own kin:

Revealed to the world, he responded:

Hold on, we need to slow down and take in the facts—let's take it one step at a time. This white-bearded wizard, who rightly refers to himself as "Dos Equis Man," "popped into" what is probably Leonardo DiCaprio's yacht for "a cup of tea and a cucumber sandwich," where he ran into "that Kevin dude?" WHO ARE YOU, SIR!? The investigating continued...
It was easy to learn that "Dos Equis Man" is really David Ward, and that his snitch-daughter is Emily Ward, who just so happens to be married to Black Keys drummer Patrick Carney: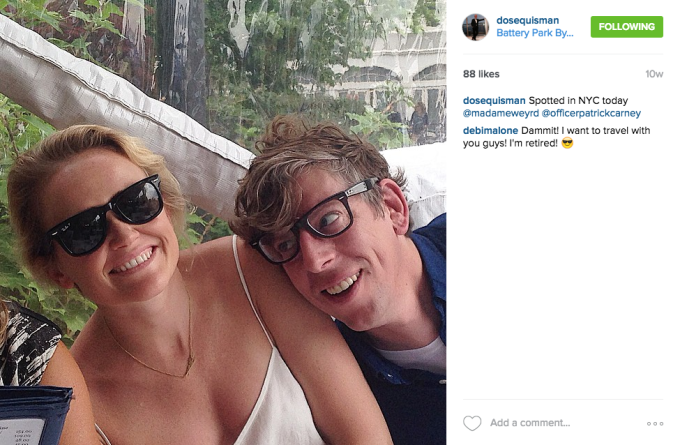 That connection didn't answer how Mr. Ward found himself snacking on Leo's cucumber sandwiches however, so the digging continued... which really only clouded the picture. He was at SNL 40: He was front row at a Clinton Global Initiative gala: He went skiing with Tobey Maguire: He was hanging out with Dakota Johnson, and supporting Fifty Shades of Grey in general: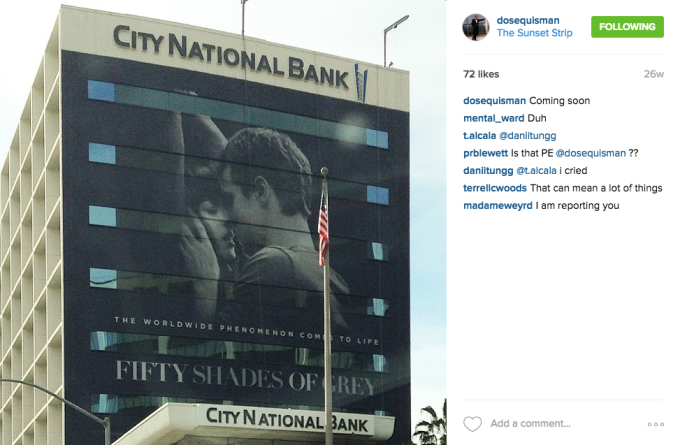 And he was more or less everywhere Leonardo DiCaprio was. As he hung out with Kelly Rohrbach recently, he also spent time with Toni Garrn, Leo's model girlfriend circa 2014: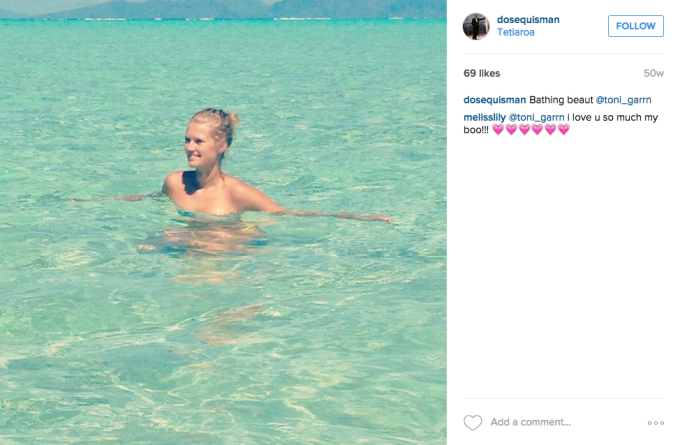 AND! He has a dog named Django (like that movie Leo was in):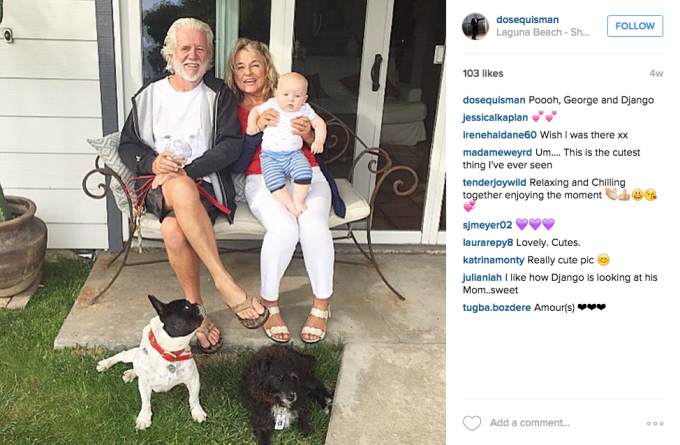 So what gives? This man of the world, this real-life Dos Equis Man—how did he come to have so many friends in so many high places? How was he at literally every important event in the last year? How was he living so lit? Was this the Pussy Posse's true founder and de facto dad? The leader of the Illuminati?
I finally found my answer, 84 entire weeks into Ward's Instagram timeline: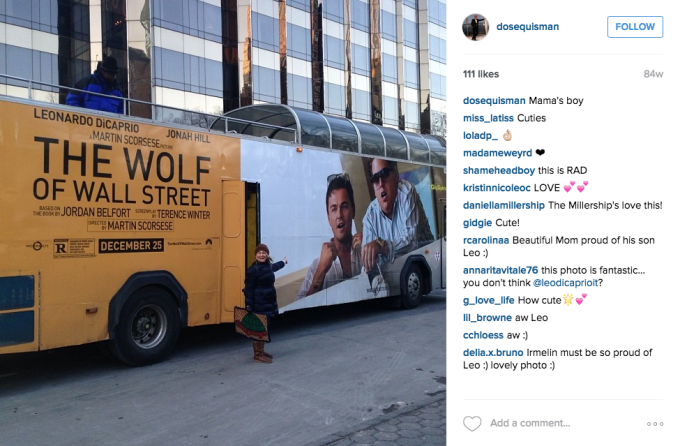 A picture of a woman standing next to a bus with Leonardo DiCaprio's face on it, with the caption "Mama's boy?" That makes this woman, who I would soon realize is featured extensively on Ward's account, Irmelin DiCaprio, née Irmelin Indenbirkin, a.k.a. the mother of all that is dope in the world. I found the key, and the door was unlocked. THIS IS LEO'S ALMOST-STEPDAD AND OMG EVERYTHING MAKES SENSE.
Ward and Irmelin met on a blind date, set up by none other than Leo and Ward's aforementioned daughter, Emily Ward, according to Page Six. "They've been together ever since," a source told the gossip mag. And that Fifty Shades of Grey connection, the one that threw me off the scent and muddled the puzzle? Well, turns out Emily Ward is the best friend of Anastasia Steele herself. Dakota Johnson calls Emily her "best friend in the whole world," and Vogue describes their relationship thusly: "so winning and conspiratorial and so very, very funny together that you find yourself wishing that you might be their second-best friend in the whole world."
With everything connected and come full-circle, allow me to leave you with some further reflection on how much of a gawd David Ward truly is. Homeboy is a BEEKEEPER IN HIS SPARE TIME: His sock game is out of control: And he has this ill shell-phone: Praise be to this very prosperous, joy-filled man. And honestly, seeing how this guy lives sheds so much light on how Leo is entering the mid-life—with a beard, and with arms wide open (usually because he's about to hug up on a model). I understand and feel so much closer to Leo now, so this whole thing was a net-positive.
Case closed.