"This is making me sweaty," says Ilana Glazer on stage at The Sinclair in Cambridge, Mass. It's early November, a couple hours until she and Abbi Jacobson, her co-star on the Comedy Central series Broad City, kick off their "Broad City Live" national tour and they're running through the beats of their sold-out show. It's unclear whether Glazer is feeling nerves, the hot stage lights, or exertion from trying to stay upright on roller skates while shooting a T-shirt gun into rows of empty foldout chairs. In response, Jacobson rips the cannon from her hands and yells, "Say hello to my little friend!" before accidentally firing a tee into the stage lights. "Oh shit."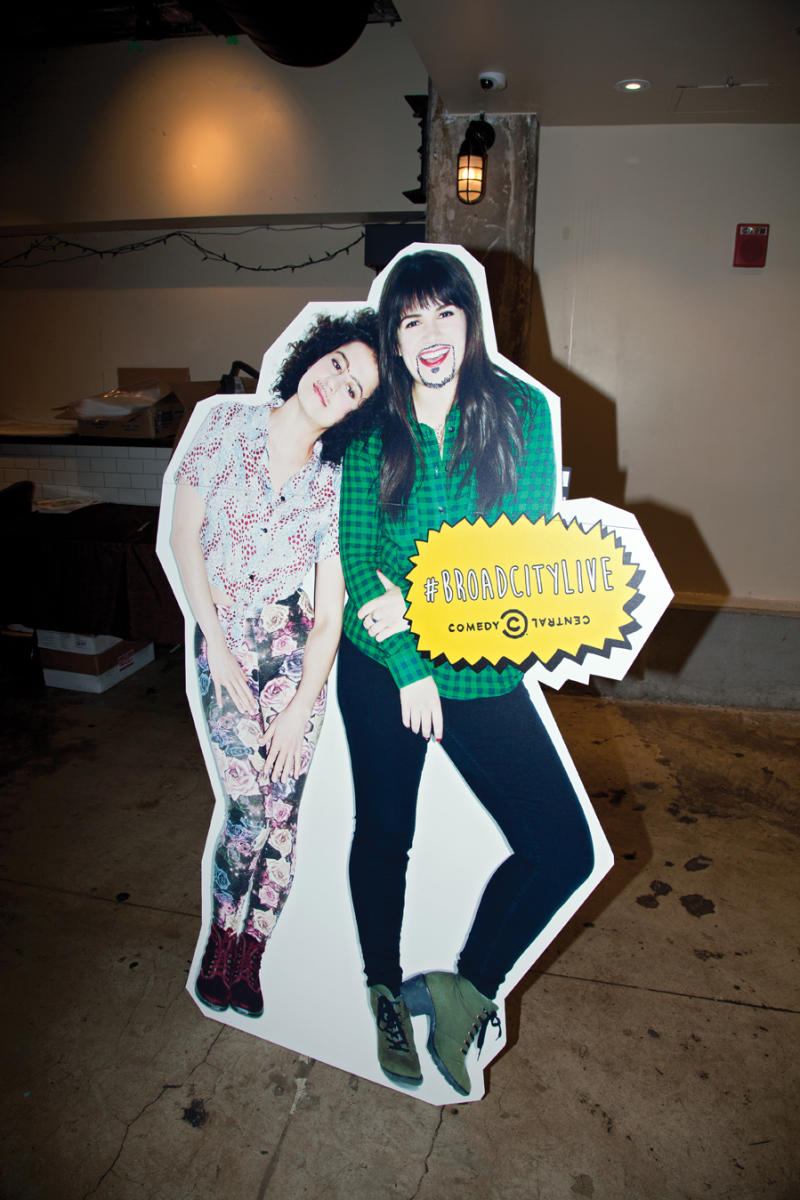 Jacobson, 30, and Glazer, 27, are still adjusting to life in the spotlight (the metaphorical one at least). They met in 2007 while performing together in Secret Promise Circle, an improv practice team at the Upright Citizens Brigade. Unable to land the UCB roles they auditioned for, they broke out and started Broad City, the cult hit web series based on their struggle lives in NYC that ran from 2009-2011. Amy Poehler, whom they met in 2011, became a fan. She made a cameo on the series finale and signed on to produce the television version, which debuted in January 2014 and premiered its third season in January.

So far, a co-sign from a huge comedy star, a second season renewal, and sellout crowds don't appear to have inflated Jacobson's and Glazer's egos much, if at all. "How about we draw mustaches on ourselves?" asks Glazer when a roadie displays a life-size cardboard cutout of the women in front of them. "Yeah, it's going to happen anyway," agrees Jacobson. Scribbling on her upper-lip with a Sharpie, Glazer recalls seeing a woman in Wal-Mart with a full chin-beard. "But hey, she owned it."
"THE MUNDANE THINGS THAT 'BROAD CITY' IS ABOUT, LIKE HOW TO GET FREE SHIT, HOW TO HACK THE SYSTEM, THOSE THINGS ARE A LITTLE BIT EASIER NOW. I DON'T NEED FREE SAMPLES FOR DINNER ANY MORE."
Prepping for the show, the partners stress over every aspect of the experience they're providing their fans. Jacobson, who designs much of Broad City's art, has a panic attack over tour posters that arrive. "We need to send these back," she tells their manager, Samantha Saifer. "Look at all the white space. This makes me look sloppy! It looks like I don't care." Glazer is hands-on with the night's set list, going over every detail with the stage manager. "We should put the mics by the cake," she says, moving the mic stands in front of a pair of inflatable cake props that decorate the stage. "That way it looks like we're going to pop out of them."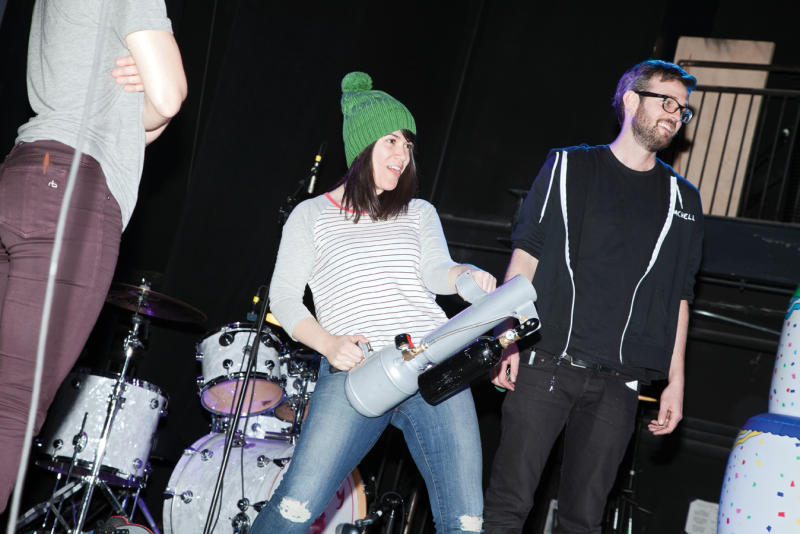 For Jacobson and Glazer, an important part of adjusting to the hustle of successful showbiz life is simply not losing themselves. Before rehearsals, Jacobson splits to spend a rare free hour with an old friend. Glazer makes a point to FaceTime her boyfriend. "It's important to diversify our experiences," Glazer says. "It always goes back to: The happier you are, the more productive you are. We see and talk to our parents and families a lot. We each have some really fucking dope best friends from home and from college who live in New York." Which is not to say that Jacobson and Glazer are mere business partners. Before Jacobson runs off to meet her friend, she turns back to give Glazer and Saifer hugs. When she bursts back into the venue, beaming, and announces, "I met a handsome guy who I invited to the show!" Glazer throws her hands up in the air and shouts, "Get it, girl!"
But keeping touch with old friends and taking mini breaks from Broad City aren't the only ways they've consciously stayed grounded. Before the girls get on stage, they take a moment to discuss how they stay close to their characters despite their now comfortable existence:
Jacobson: This is a small thing, but we change offices through different parts of the process. We have a writer's room somewhere, and then production is all over the city. We made a conscious decision to make ourselves have a commute because the commute feels like such an important, shitty part of living in New York. Right now I hate going to midtown. I get off at Grand Central to go to this edit, but it makes me feel normal, you know?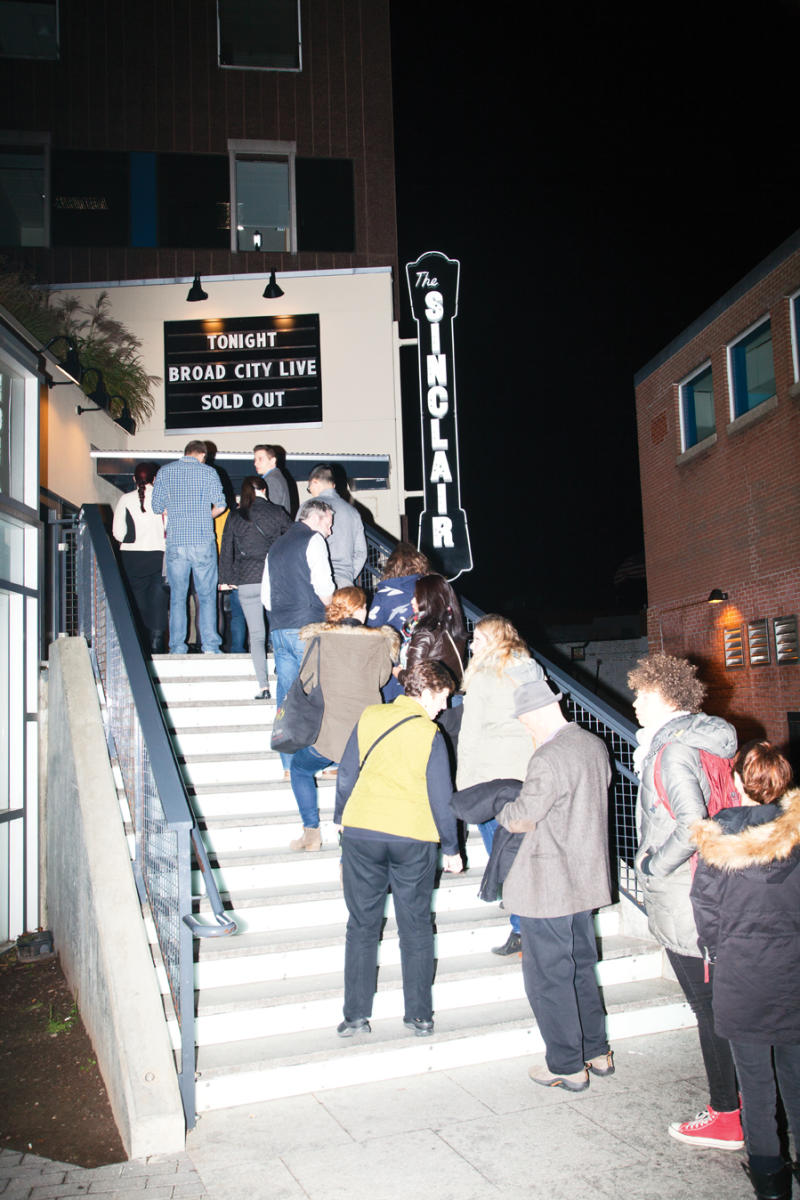 Glazer: I bike, too. It's such a shitshow. Biking to midtown is disgusting. Like, am I a messenger? I should just be dropping something off because I'm already making this trip.
Jacobson: The writer's room, too: there was an option of having it in Brooklyn near me, but I didn't want it there. Even though it would've been so much more convenient, that getting to work and schlepping kind of thing adds to getting to watch people and being stuffed onto the subway. The subway is a big sausage chain.
Glazer: Ew, yeah. That's disgusting.
Jacobson: It's like a link of sausage.
Glazer: And we're each like a fat cell.
Jacobson: Like, stuffed in there.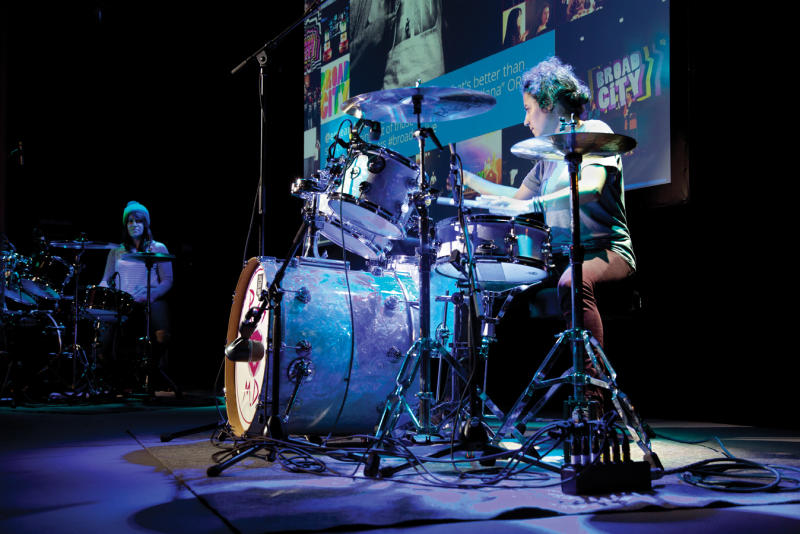 Glazer: I live in Alphabet City, and there's nothing. There's not a fucking train. I take a bus to the L, and then another train at Union Square. And you have to let two trains go before you can step in. You're like, "I'm just gonna do it even though these trains are the same as the other two that I let pass." Also, we're not, like, child stars. We write the material. It's not like we're swept up by some "brilliant" writer-director and then we find out that it's a piece of shit. It's us.
Jacobson: That is a thing, the mundane things that Broad City is about, like how to get free shit, how to hack the system, those things are a little bit easier now. I don't need free samples for dinner any more. I drop my laundry off, which is crazy. But also, we've only told twenty stories. There's so many more.
Glazer: I've been in New York like ten years, and Abbi's been here nine. We've been on TV for less than a year. We have a lot of material left to explore, but we have to also consider the fact that as we grow, our material will change, Broad City or otherwise. The next thing we do after Broad City, individual or together, could be a fucking douchefest! It could be a douchefest, but it'll probably go gradual and then we'll be douches at the ends of our lives. [Laughs.] Well, it's not hard for the characters to stay the same. It's really their relationship to New York that we talk about. It's still so close to us that it's not hard to draw from that still.
Jacobson: It can rain in New York and we're all equal again. [Laughs.]
As showtime approaches and jitters lead to silent pacing, phone tapping, and mirror checks in the green room, Saifer clears everyone else out because Abbi and Ilana need time alone to hype each other up.
"THE NEXT THING WE DO AFTER 'BROAD CITY' COULD BE A FUCKING DOUCHEFEST! IT'LL PROBABLY GO GRADUAL AND THEN WE'LL BE DOUCHES AT THE ENDS OF OUR LIVES."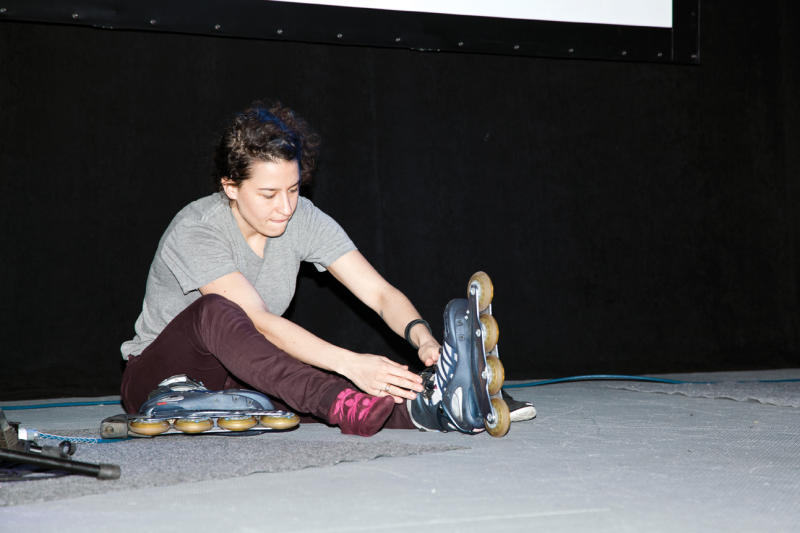 When Broad City twerks onto stage to "Hot Stepper," the pair is sufficiently hyped. So is the crowd, which whistles during the show-starting shout-outs. In the night's longest bit, "The Soundtrack of Our Lives," each woman sings a song to represent a major life moment, which flashes on the screen behind them. They include "Being Birthed," "Hair Removal," and "Getting Pumped for Brunch." Jacobson's rendition of "O Holy Night," in reference to "Oral (Receiving)," sends the crowd into an hysteria that's only rivaled by the fever pitch reached when the duo jumps into the crowd to take selfies. After being clawed at like members of One Direction, they close the show with an epic drum battle. Jacobson dicks around, but Glazer stuns everyone with her skills on the kit. "What the fuck?! Did you know she could play?!" one audience member asks his friend.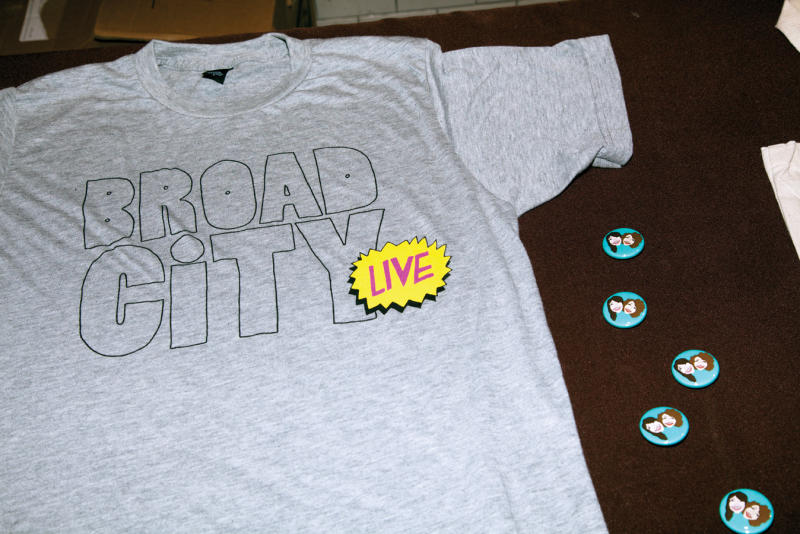 Backstage, after chopping it up with friends who came out to see them, Jacobson and Glazer tend to each other with genuine affection. "Are you tired?" Glazer asks. "I'm so ready to knock out," Jacobson replies. "How did you think it went, though?" "I feel like it went well," Glazer reassures her. "The crowd was the most chill, the least douchey." "Yeah, you're so right." Whether it's on the web, on TV, or IRL, the Broad City show just works. No sweat.
kydTh3cjppG1EyPkYHv459f1KuZs4v8F