Still Alice
Director:
Wash Westmoreland and Richard Glatzer
Starring:
Julianne Moore
,
Kristen Stewart
,
Alec Baldwin
,
Kate Bosworth
,
Hunter Parrish
,
Shane McRae
,
and Stephen Kunken
Screenwriter(s):
Richard Glatzer and Wash Westmoreland; based on the book by Lisa Genova
Duration:
99 minutes
PT1H39M
Release Date:
January 16, 2015
Julianne Moore is a ferocious crier. About one-third into Still Alice, the tear bomb hysterics we've seen in Boogie Nights, Magnolia, Short Cuts, Hannibal, Far From Heaven—seemingly, every Moore film except The Big Lebowski and Children of Men—​start coming. Alice Howland (Moore) has just told her husband, Dr. John Howland (Alec Baldwin) that she has an upcoming series of tests to determine if she has early onset Alzheimer's disease.
Not to make light of that horrific familial situation. I bring up many of Moore's previous tears because for about half the runtime of Still Alice, you feel bad for her because, as a moviegoer, you've probably established a relationship with Moore and grown to love her in a way. We're not given a deep understanding of who Alice is before she starts losing her facilities, but we're drawn to watch as they all escape her.
Alice is a renowned linguistics professor at Columbia University. She and John have three children. Anna (Kate Bosworth) is a perfectionist lawyer expecting a child with her husband (Shane McRae). Tom (Hunter Parrish) is a doctor who's constantly dating someone new. Lydia (Kristen Stewart) is an actress whose first gigs have been for a pay-to-play-in-a-play theater group ("It's Los Angeles," she says).
When Alice's sight goes fuzzy during a run on campus, and later she cries to John about feeling like thoughts are dropping out of her head, we're watching Moore, including her trademark mega-sob. But by the time Alice starts losing more memories, and becoming a more distant, shell of herself, I no longer saw Moore, and I started to sob. A lump in my throat felt permanent. To call Still Alice a tearjerker would do it a disservice. It's a punishing film, made more horrific because Moore, whom we trust and love, is able to make us feel Alice's futile attempts to focus on thoughts that are drifting further and further away.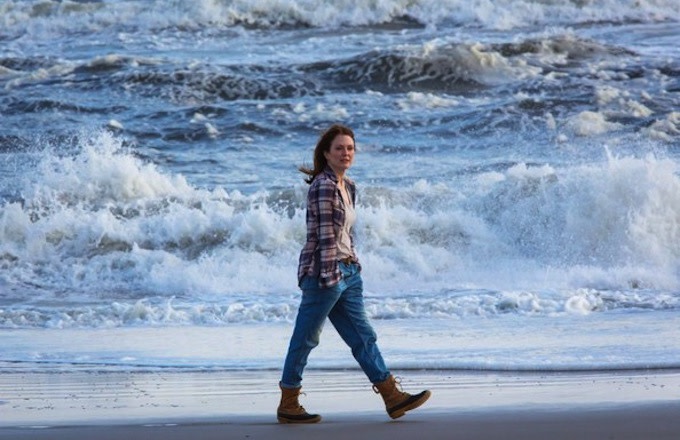 Still Alice is akin to putting a movie star in Amour, but while Alice is less handsomely shot than Michael Haneke's film, it has a lot more actual "amour." In fact, "love" is the last said word in Wash Westmoreland and Richard Glatzer's film. And it's earned. Each family member is present, but struggles with how to cope with Alice's continual losses. It's Lydia, the more inquisitive, the youngest, the child gone solo, who doesn't shrink but actually begins to grow in her relationship with Alice.
Amour was about how long can someone watch a loved one suffer. In a way, through Lydia, Still Alice is more concerned about the balance of knowing exactly what someone is suffering feels like, and being present with them during it. And although it's a little clunky and one-note with the set-up, Still Alice achieves an almost perfect landing on all the harder second and third acts: Alice's feeling of being trapped by her mind, Anna and her husband's sense of being trapped by her illness, and Lydia's ability to communicate with her mother in ways she couldn't before. It makes sense that this is where the film feels equal in both dread and hopefulness. The writing-directing team is a married couple. One half of the duo (Richard) was diagnosed with ALS in 2011, just after they'd been hired to adapt Lisa Genova's bestselling book. Throughout adapting, Richard lost more and more motor skills, and had to communicate through an iPad voice system.
Perhaps it's their personal reverberation from their real life relationship change that elevates Still Alice from being a disease movie of the week. But it also helps to have a beloved performer like Moore take the audience's hand. She lets go when she's ready to lose herself completely.
Brian Formo trades books every year with his mom, and last year she sent him Still Alice; her mother had Alzheimer's disease. Real talk: you can donate to the Alzheimer's Association here.