Clouds of Sils Maria
Starring:
Juliette Binoche
,
Kristen Stewart
,
Chloë Grace Moretz
,
Lars Eidinger
,
Angela Winkler
,
Johnny Flynn
,
Hanns Zischler and Brady Corbet
Screenwriter(s):
Clouds of Sils Maria
Release Date:
March 27, 2015
Kristen Stewart can act, despite what Internet trolls say. Just watch The Runaways, Adventureland, and On the Road. However, pitting her against one of cinema's all-time great actresses, Juliette Binoche (Blue, Code Unknown, Certified Copy, Godzilla), in a wildcard French auteur's dissection of art and celebrity, was going to be a test. After seeing Clouds of Sils Maria, it's clear: the two stand together.
Stewart is Valentine and Binoche is Maria Enders. Their relationship in Olivier Assayas' film is not dissimilar to Ingmar Bergman's two muses who fuse personalities in Persona after discussing a manage-a-quatre, an abortion, and an a shared inability to be moved by the Holocaust. Though, Clouds of Sils Maria is much lighter and more playful than that. 
Enders is a movie star who began her career on the stage. She's now in her 40s, going through a messy divorce, and requesting that her rumored comeback in an X-men-type film be removed from her IMDb page. Valentine is her assistant, and her friend. They are dependent on each other for rewarding mentions of each other's intellect and beauty. After the death of her playwright friend, Enders decides to take a part in the new stage production of his play that made her famous, The Maloja Snake. The play, it turns out, is a dissection of sexual power in an office, carried out between a 20-year-old femme intern and her forty-something female boss. Enders rose to fame for playing the ingenue, but now she's tasked to take on the older character, one she sees as pathetic.
There are plot points, such as the casting of teen-wreck-but-superhero-box-office-gold, Jo-Ann Ellis (Chloë Grace Moretz) opposite Enders. Ellis' fling with a married novelist (Johnny Flynn) threatens to overtake the buzz of her stage comeback. But Clouds of Sils Maria is mostly a play within a movie about a play—with movie scenes. It's a meta-truffle that's more fun to unpack after viewing.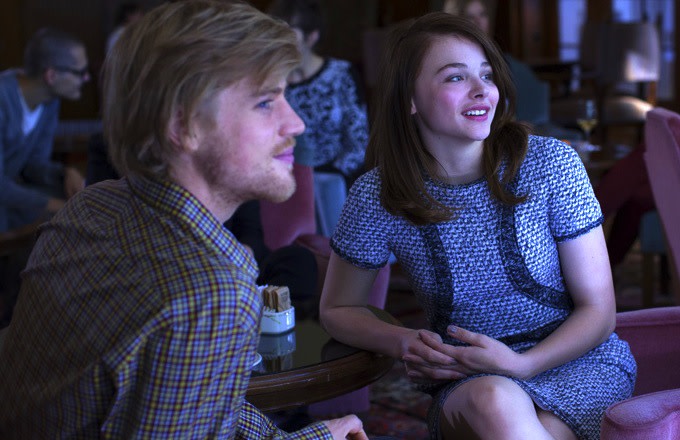 The Maloja Snake is full of intense, melodramatic lines about lust, power, and age. Enders and Valentine test Enders' new character lines in a secluded Swiss mountain town. They disagree about her character's pathetic qualities, and they discuss age and grace in scholarly ways. They go to town to see Ellis' newest space flick, in which Ellis utters intense, melodramatic lines about rape and power, before using her superhero power to de-materialize her foe. It's essentially, though loosely, a sci-fi version of Snake. 
And that's the story. What makes Clouds of Sils Maria enjoyable is the chemistry between Binoche and Stewart. It's their giggle fits, their drunken gambling; it's Valentine's concern while handling Enders' phone calls because she knows which news is bad news because they're so intertwined. Their fully-formed relationship settles and rests like the fluffy clouds that snake through the Sils Maria mountains. Their talk about the play ends up being bullshit. Their real life is more entertaining, natural, and dramatic. 
Clouds of Sils Maria is a solid, but imperfect film. Ellis' TMZ section is over-the-top and Moretz, as an actress, seems to be out of her weight class with Binoche, and now Stewart, who brings the perfect amount of subtlety to the role. But if you're at all familiar with Assayas (Summer Hours, Carlos, Irma Vep), Moretz's seeming ineptitude might be deliberate.
Assayas is a deceptively playful filmmaker. Here, he shows Valentine's attachment to Maria by having her drive away to see a boy—Assayas sets her drive to a foul trip-hop song—only to get dizzy, pull over, and vomit on the side of the road. His Ellis-starring mock space film appears to still need special effects (or perhaps no one cares anymore—just slap a costume on and give a girl a raygun and rake in the money).
Like Irma Vep (which itself is a remake of a film, within a film), Assayas saves his best visuals for the end: first, the beauty of the titular clouds of Sils Maria; next, the innovative set design for the play, which is staged with multiple colorful glass cubicles that are adorned with angular glass grooves. 
But Sils Maria ends with a hidden smile. Every woman in the film is struggling with different aspects of their age, and they desire approval from other women, not men. The smile comes, but only when a woman isn't defined by her age. Perhaps its best to see the film for the conversations about art and identity that you'll have afterward. If there's one thing clear in all of Valentine and Enders' conversations, it's that Assayas wants you to talk more about them.
If you're an R-Patz fan and are readying you're K-Stew hate, please see that Brian Formo is also a big supporter of Cosmopolis.