The Voices
Starring: Ryan Reynolds, Gemma Arterton, Anna Kendrick, Jacki Weaver
Screenwriter(s):
Michael R. Perry
Duration: 103 minutes
Release Date:
No release date yet
Here's the thing about Ryan Reynolds—even when his movies have sucked, he himself has never been bad. And the guy's been no stranger to movies that suck harder than toddlers gripping sippy cups.
From 2005 through 2008, Reynolds was one of Hollywood's most versatile and likable actors, volleying between quirky indies and mainstream comedies. In '05, he nailed the Stifler-like alpha party male in the gross-out comedy Waiting and anchored the underrated Just Friends with a performance equal parts cool-guy and knucklehead pushovers; two years later, he worked drama into the mix with the psychological genre mash-up The Nines before somehow transforming sap into rom-com gold in the delightful chick flick Definitely, Maybe.
Reynolds was the rare combination of Will Ferrell's playfulness and George Clooney's debonairness and charm, all wrapped in a hunky leading man who could go wink for wink in front any stud-loving woman alongside the likes of Jake Gyllenhaal and Ryan Gosling. But then, perhaps due to poor guidance by his handlers or ill-fated delusions of grandeur, Reynolds decided he wanted to become a tentpole-friendly action hero, which led to 2011's Green Lantern, the worse entry in film's modern-day superhero wave, and a vapid role next to a paycheck-cashing Denzel Washington in the wannabe-Tony-Scott flick Safe House (2012), and then, gasp, last year's catastrophic comic book adaptation R.I.P.D., a Men in Black knockoff that cost $130 million but grossed $33 mil domestically. That triple play of underwhelming popcorn cinema nearly squandered all of Reynolds' 2005-2008 goodwill, despite the fact that, even in Green Lantern, he's clearly a gifted movie star doing everything in his power to make the respective project work. He just proved to have crappy taste in big-studio offers.
Which is why it's a relief to see Reynolds retreat away from pricey CGI and gunfights and slide back into the indie world, where eccentric scripts and unique characters have been awaiting him. And as the amazingly demented The Voices shows, Reynolds is ready to get weird. And sick. And covered in women's blood.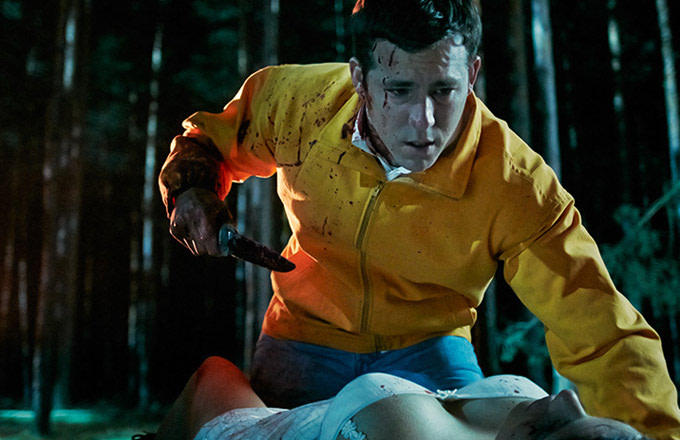 If his earlier good movies found him embodying Will Ferrell's and George Clooney's best attributes, The Voices finds Reynolds channeling someone much older and much less safe: Anthony Perkins in Alfred Hitchcock's seminal horror movie Psycho. Instead of the name Norman Bates, Reynolds' best character in nearly a decade is called Jerry Hickfang. He's a stockroom worker at a factory in the fictional, picturesque town of Milton. Jerry is peppy, tender, and harbors a huge crush on one of the company's accountants, the gorgeous British import Fiona (Gemma Arterton), a longing that keeps him oblivious to Fiona's colleague Lisa's (Anna Kendrick) deep-seeded attraction to Jerry.
Outside of work, Jerry lives above an abandoned bowling alley with his two beloved pets, a dog named Bosco and an orange cat cutely named Mr. Whiskers, except Bosco and Mr. Whiskers also talk to Jerry (in two unrecognizable voice-acting contributions from Reynolds' himself). The former always encourages him while the latter calls him things like "fuckface" and acts as the devil on his shoulder. And there's Jerry's therapist (Jacki Weaver), who keeps telling him that he needs to take his meds, because if he doesn't, memories of the time he killed his mentally unstable mother will come back to haunt him. Little does his shrink know, though, that Jerry's already been killing women, cutting off their heads, and keeping the heads in his fridge, and then talking to them, too.
Yes, Jerry Hickfang is a homicidal maniac, but in director Marjane Satrapi's (Persepolis) unconventional and madcap character study, that psychosis is treated with as much humor as it is darkness. The Voices thrives on the old "unreliable narrator" point-of-view trick, where most of what you see isn't actually there, but the movie never pulls fast and/or cheap ones on the audience. Whenever he's shooting the shit with Bosco and Mr. Whiskers, or sharing his morning cereal with the decapitated Fiona's oddly pleasant face, Jerry's apartment looks like it's straight out of Leave it to Beaver, all Norman Rockwell cuddliness and no signs of nightmarishness, save for Fiona's body-less head. But when Jerry does take his medicine, there are brief glimpses of what the apartment really looks like, and the neglect his timid, trapped pets are feeling, and it's both horrifying and sad. Satrapi uses that awareness to her advantage—by giving viewers a small taste of Jerry's horrible reality, she and screenwriter Michael R. Perry undercut the story's blackest-of-black comedy with heartbreak.
Reynolds deserves just as much, if not more, credit for that, too. Possibly in direct response to the agents and producers who've tried to make him the next Tom Cruise, Reynolds sheds all hints of his recent tough-guy masculinity to give Jerry a sad-sack frumpiness. He's the goofy loser whom even Norman Bates would want to bully around. Instead of coolly hugging Fiona, he sticks his clenched fist out, waits for her to "pound" it, and then makes one of those childish hand explosions your dorky uncle would do on his lamest day. He enthusiastically joins in a conga line at his company's holiday party while the other male employees do so with the verve of death row inmates walking green miles. He actually named friggin' cat "Mr. Whiskers." Yet you never want to laugh at Jerry, nor—when he's stabbing ladies, chopping their limbs up, and packing their organs in Tupperware containers—does he ever seem threatening. Reynolds makes every hack, slash, and dismemberment seem even more painful for Jerry to do than for anyone to watch. There's an innocence to his performance that you don't typically see in movies about serial killers. He treats the character as if Jerry's a flesh-and-blood puppy dog reluctantly stuck inside a splatter movie.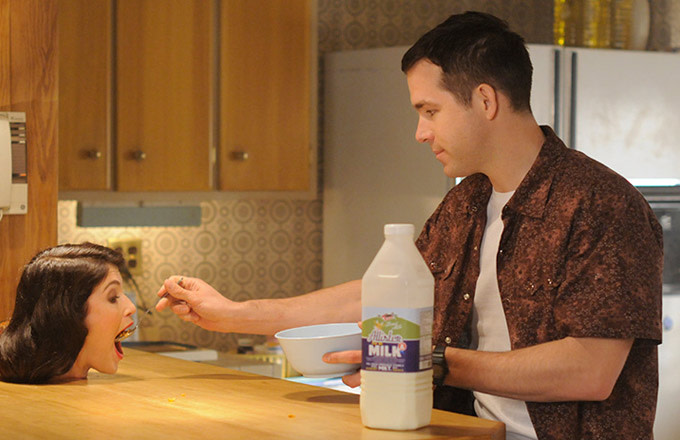 It's a shame, then, that Reynolds probably won't receive the glowing accolades he deserves. The Voices is currently without distribution, having premiered at the Sundance Film Festival in January and now trying to entice buyers here in Toronto. Its chances of a wide release are Stephen-Hawking-guarding-LeBron-James bad. It's most likely too gory and twisted for the 10 or 12 people who voluntarily paid to see Reynolds in Green Lantern and R.I.P.D., and it's too wackadoodle to work as a piece of horror counter-programming playing on 2,000-plus screens.
All that said, The Voices is also home to the best performance of Ryan Reynolds' career. With each drop of blood and every profanity-laden argument with Mr. Whiskers, Reynolds reconnects with the actor he was before DC Comics' Hal Jordan sent him down a path of box office failures. It's enough to make you hope he kills those dreams of making a Deadpool movie and stuffs them in the back of a refrigerator.
For more of Complex Pop Culture's coverage of the 2014 Toronto International Film Festival, click here.