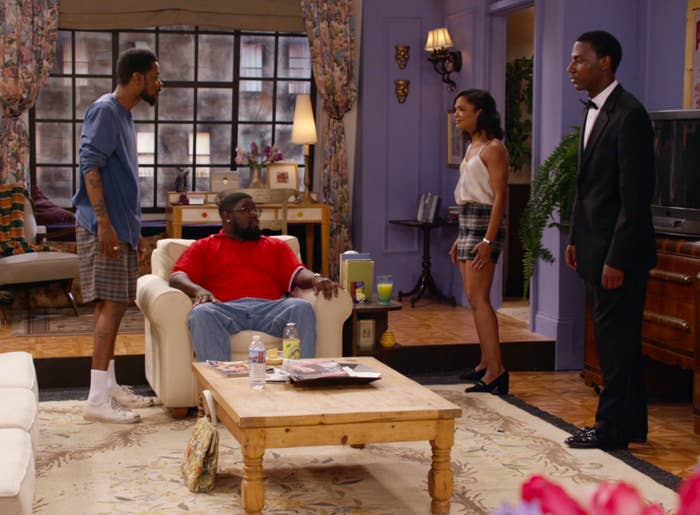 Music has always been a big part of Alan Yang's life. From learning piano as a child, to traveling around the suburbs of Boston with his punk band Model Kit, music has followed the 33-year-old writer and co-creator of Master of None.
So when he got a call from his agent saying Jay Z wanted to meet with him in Los Angeles, he was ready. That West Coast meeting resulted in Yang signing on to direct the video for Jay Z's song "Moonlight," from his thirteenth studio album, 4:44.
The video—which is a shot-for-shot remake of a scene from the sitcom Friends—features several popular African American actors and actresses, including Jerrod Carmichael, LaKeith Stanfield, Issa Rae, and Tessa Thompson.
"It's just such a dream cast for me personally," Yang says. "I listed possible actors in my treatment, and so many of them ended up being in the video. It's crazy."
We caught up with Yang and heard about the process of working with Jay Z, how the video went from a 21-minute episode of Friends to the final product we see today, and what he hopes the video represents in regards to diversity.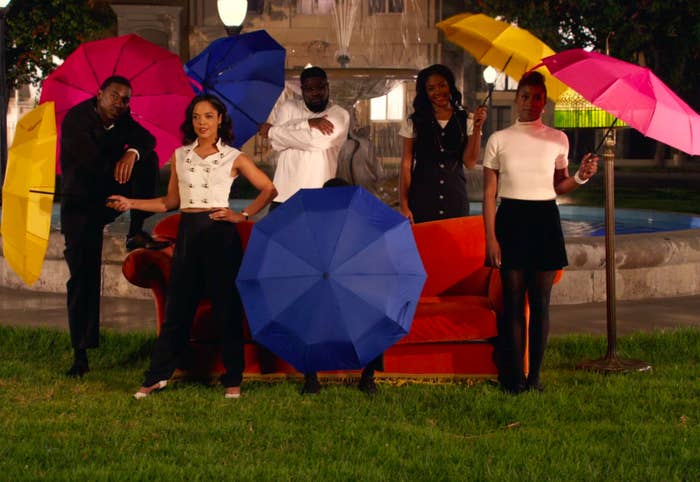 Where did the idea behind "Black Friends" come from?
You know, I can't pinpoint a specific moment. I listened to the song, and I thought about all the stuff that has happened in representation on television and film in the past few years— Moonlight and LaLa Land included—with Moonlight winning the Oscar. And in the context of some of the stuff we've been doing on our show [Master of None]. We did this episode called "Indians on TV" in season one. And one of the things that always stuck in my mind from that episode was when we came up with this idea of, "Let's start the episode with a montage of horrible, racist Indian caricatures in film over the course of history."
Legally, we didn't know what kind of ground we'd stand on. So we thought we'd just use the clips. We literally just took the DVD's and ripped the actual movies. We sent it to our lawyers and our lawyer at Universal, Jeanine Stern, was so supportive. She was like, "This is really exciting guys. This is clearly fair use and I love this. I will fight for it."
it's a glimpse at how far we have come as a culture. And how far we have yet to go.
That phone call always stuck in my head, because there's something about the actual text, the actual movie, the actual show, and seeing them. There's something about seeing Zack Morris from Saved By The Bell do a racist Indian impression of a guy at a 7/11. There's something shocking about seeing that, because it's not that old. It's in my lifetime. I saw Saved By The Bell as a kid, and that stuff just soaks into your brain.
There was something interesting about recasting Friends because it's a show that's in our lifetime, and yet you still watch it now. And by the way, the video is not a slam on Friends. Friends is a great show. I've met Marta Kauffman. She's delightful and it's a very well-crafted show. To me, it's more of a glimpse at how far we have come as a culture. And how far we have yet to go.
I don't want to be didactic and tell people what to think of the video, but one thing that Jay and I talked about is the importance of making your own stuff. I know that sounds trivial, but it really is just owning and making your own stuff. And that applies to movies, music, TV shows, art, whatever it is you're making. It's important to be the author of your own material.
How involved was Jay with the production?
He was involved in that he gave me notes. So I sent him the idea, and honestly, the original idea was even more insane. The original treatment was that we would shoot the entire episode shot-for-shot [laughs]. So the entire 21 minute episode. Eventually it became clear that we probably shouldn't do that.
The other second, even more insane aspect—and I'll let you have this weird, dumb exclusive—but the initial concept was that by the end of the episode, all of the other characters would have turned into skeletons. That was really in the first treatment. That was how insane the first treatment was. I had some ideas behind why that would happen, and then Jerrod would walk off set and go through the door and that was the same.
the initial concept was that by the end of the episode, all of the other characters would have turned into skeletons.
I remember getting a call from Jay. It was the first time we talked about the project. He called me and the first thing he said was, "So what's the deal with these skeletons you love so much?" [laughs]. And we had already gone down the road; We had gotten the guy who did the Daft Punk video with the skeletons in it—"Prime Time of Your Life." He had already made the skeletons and we were already exploring it. [Jay] sort of talked to me about what he liked about the idea, and he got me off the skeletons idea, which was probably correct. I think he helped make it better.
The other contribution that I'm really indebted to him for is that we couldn't really clear the Friends theme song, like it just seemed dicey to do legally and who knows. So he suggested the song by Houdini to play over the credits, which I think is really funny and great.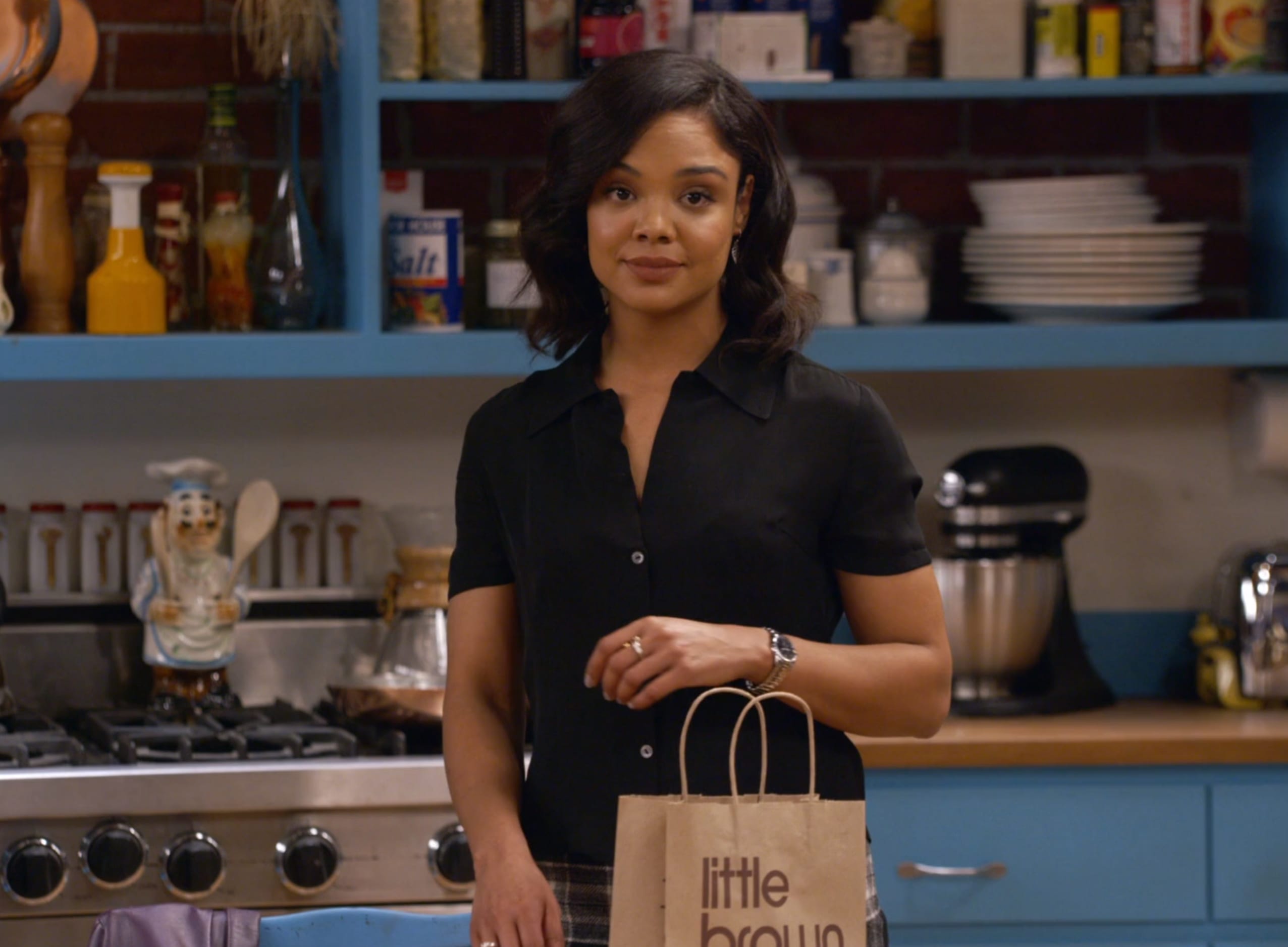 How was the process of casting such a star-studded cast?
To me, the people we ended up with...it's just such a dream cast for me personally. I listed possible actors in my treatment, and so many of them ended up being in the video. It's crazy. It's such a dream for me.
To me, it's just such a great example of how deep the roster of African-American talent is in comedy acting.
From the beginning, Jay and I both wanted Jerrod [Carmichael]. He knows Jay a little bit, and I've honestly been friends with Jerrod for years. It's cool, we met years and years ago through mutual friends, and we would have dinner in L.A. when we was developing his show and I was developing Master of None. So we reached out to him, and the schedule was kind of tough. He was doing all of this stuff for Transformers and he happened to be in New York on one of the days. I was like, 'Holy shit, Jerrod is just in New York. Let me text him, and we'll just have dinner.' He came over to my apartment and we went down to Pasquale Jones and I just tried to sell him hard on the idea. Because it's a little weird. It's a weird idea. I just did my best to reassure him that I want it to be interesting, but certainly not an angry piece. It's more, "Let me put this out here. Let us make this and people can draw their own conclusions." So Jerrod signed on, and that really helped.
I kind of did the same thing for a couple of the other actors. I called Tessa Thompson, and tried to convince her that the idea was a valid one. And getting Issa, LaKeith, Tiffany, and Lil Rel—Lil Rel was so cool. He was on board immediately. I called him, and he was like, "Yeah man I want to do this! Why would I not want to do this? This is amazing!" He was really great.
It's such a great cast. To me, it's just such a great example of how deep the roster of African-American talent is in comedy acting.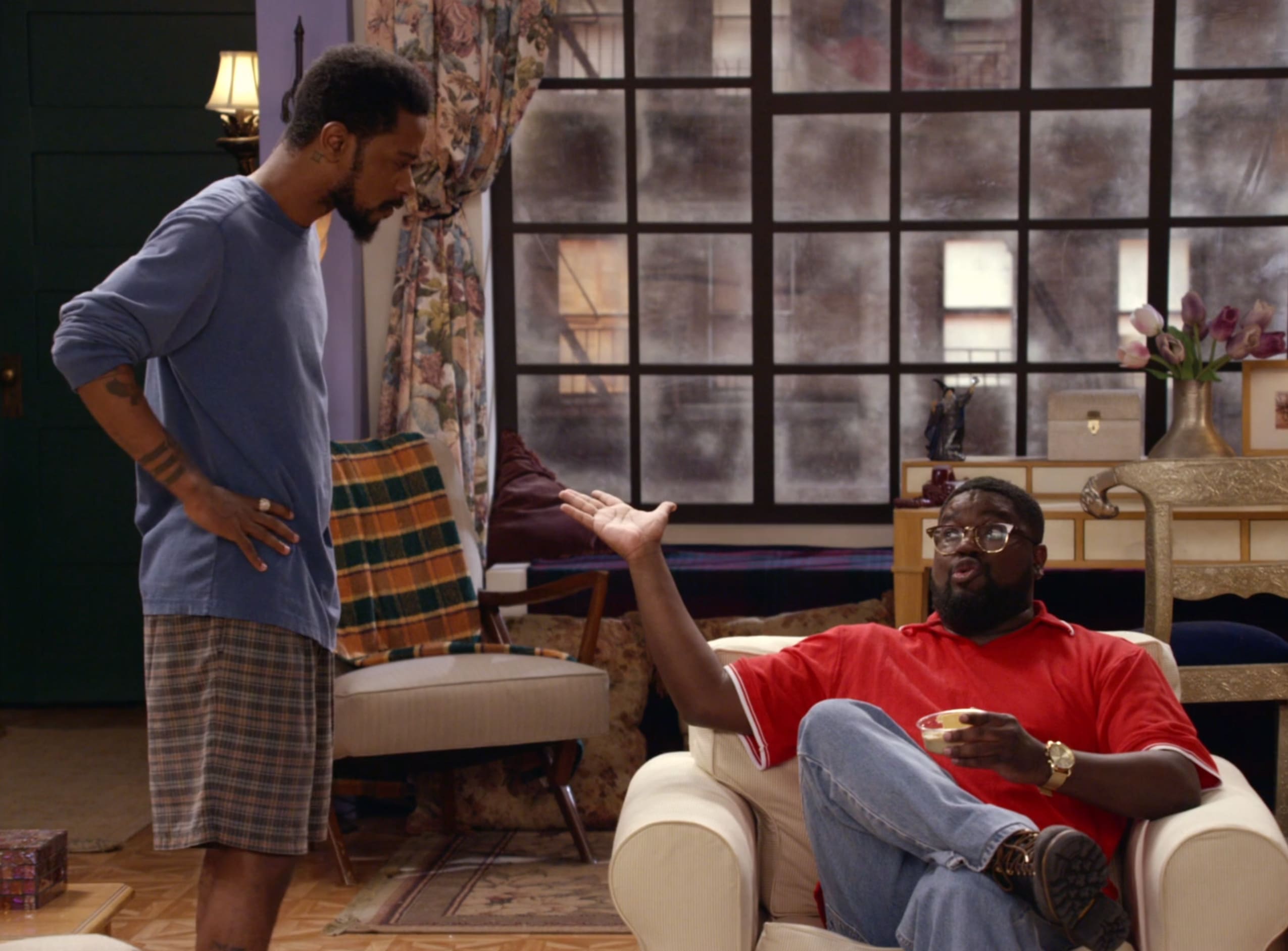 In an interview with The Hollywood Reporter last year, you said you would like to see someone make a black Sideways. With the video, you sort of did that. Is that concept of recasting movies and shows with black actors a concept you've had for a while?
[Laughs] So that quote is actually metaphorical. I didn't want to remake Sideways. It's an analogy. Let's see different kinds of characters who are different races. Let's not have every Asian show be about people working at a laundromat, or a guy who's good at math. You know, it's like, let's go for true diversity in terms of personality and character and role. And not just diversity in terms of tokenism or we're checking off boxes. Let's show literally, legitimately, different kinds of people. That's always been in the back of my mind. The video touches on that a little bit I think.
The ending of the video is really powerful. When Jerrod and Issa walk off the set, the music starts playing, and the video ends with him looking up at the moon. Was there some sort of message you were trying to convey there?
I'd really like to leave that sort of more up to the viewer. The thing I will say is, it's not an accident that he's looking up at that full moon. Obviously I was a huge fan of Barry Jenkins' movie Moonlight, and so that allusion is definitely, definitely intentional.
In terms of what it's conveying, I kind of want to leave that up to the viewer. Not just "Hey this is-" and spit out a dumb reason that I thought of it. I'd rather have people come up with their own interpretations, because I've seen so many great ones already. Depending on the context of who those actors are, and where we are right now as a society, I've seen really interesting interpretations. I did have that final image—the wide shot and the slow dolly back of Jerrod sitting on that bench—in the initial treatment.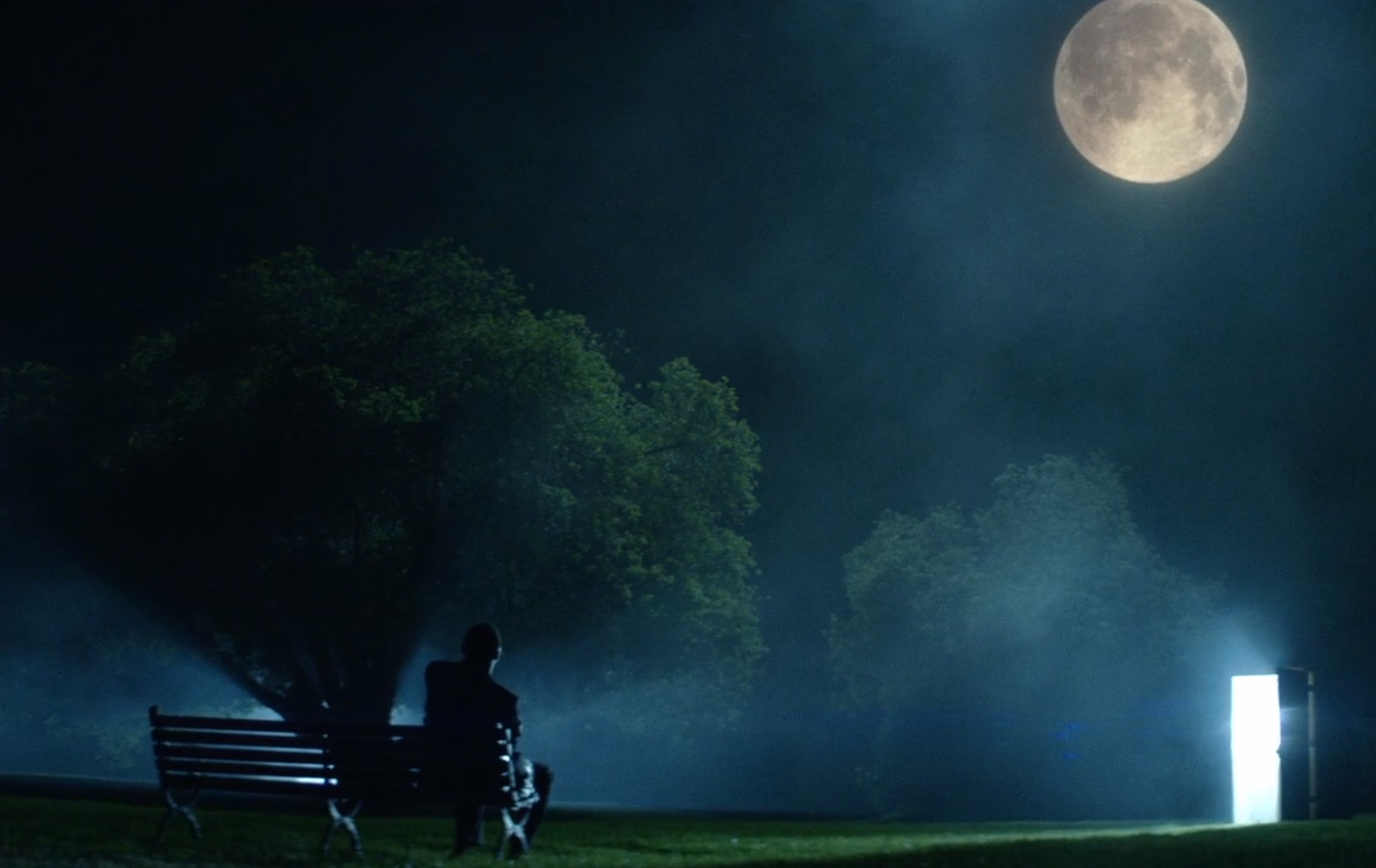 You're pretty outspoken about the lack of diversity in Hollywood. So what was it like for you to have the opportunity to not only direct this, but to do it right in your eyes?
It was really important. I mean, what a crazy opportunity! You don't get this megaphone often. And if you get that chance, I was like, well let me make it something interesting and let me make it something that I would want to watch and spark a conversation at the very least. It may not be perfect, but I'm going to work my hardest to make it at least something intriguing and something worth watching and discussing.
So yeah, it's so funny that you said "You're outspoken on the lack of diversity." I actually think we're making strides. That's kind of to me, part of the message of the video. Again, not to be prescriptive about what it means. As much as it talks about how far we have to go, it also touches on how far we've come.
We've made strides. There are some amazing shows: 'Atlanta' is amazing, 'Insecure' is amazing. There are shows that have so much integrity.
This is really insane, but there was something in the script where after the pullout where you see Hannibal [Burress] talking to Jerrod—And by the way, I'm so happy that Hannibal was in the video, I've known Hannibal for years. I was so happy to get him. But there's that scene where Hannibal talks about how bad the shot-for-shot remake of Friends is, and there used to be an additional pullout where Jerrod has his own Master of None style show where he's the creator, and I'm the director, and we talk for a little bit. But we were like, "This is too much, this is some crazy, bad Charlie Kaufman stuff. This is like a bad version of Synecdoche, New York." [laughs]. So we cut that part out.
But we wanted to mention, we wanted to convey—and I think that Hannibal stuff helps—We're making strides. We've made strides. There are some amazing shows: Atlanta is amazing, Insecure is amazing. There are shows that have so much integrity and are sort of these pure visions of these creator's voices. We're getting there. I'm not an angry, vindictive person. I'm just trying to observe the best I can.
You're a TV guy. Prior to the "Moonlight" video, had you ever worked on a music video?
First one! First music video! Pretty good one to get [laughs].
I love music, it's been a big part of my life for a long time. Since I was a little kid learning piano when I was like, six, up until I taught myself guitar and then I played in this punk rock band in the Boston area for a while. I've just been around musicians a lot. I've got a lot of friends who are musicians and DJ's and all of that stuff. Music was a really big part of Master of None too. Aziz and our music supervisors Zach Cowie just do such a great job, and I love working with those guys to get music for our show.
But in terms of actually physically directing a music video, uh, no - zero. This was my first one.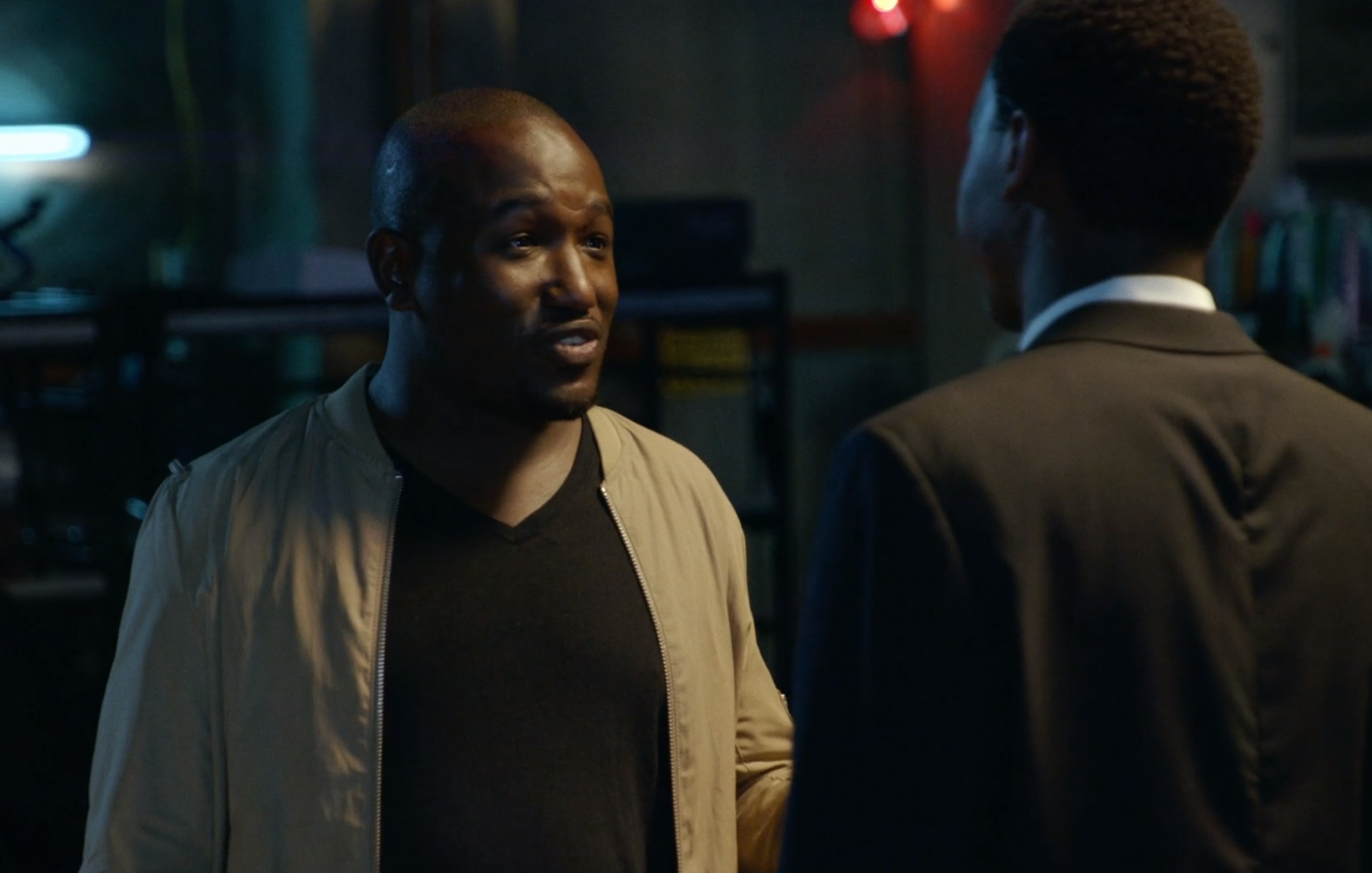 So how did you get this gig?
I was in L.A. for a little bit. I was taking some meetings for some other projects, and I was about to fly back, and I got a call from my commercial agent and he was like, "Hey, when are you going back to New York?" and I was like "I have a flight at 4 p.m. today." and he was like, "How would you like to meet Jay Z at 1 p.m.?" [laughs] "Yeah, I'd do that!'"
He happened to be next to the other meeting I was doing. He actually didn't make that first meeting because he had something come up. But I met with his manager, Chaka Pilgrim, who's really awesome. She explained this really, really secret idea which was the album that would become 4:44. She said 'We wanna do all these visuals for it, and we have this song called "Moonlight," and we'd love for you to think about ideas possibly for it.' She was like, "Have you heard the song?" and I was like "No! I haven't heard anything. I heard about this meeting like, two hours ago." So she said, "Ok, I thought you'd heard it already - let me call Guru." Guru is Jay's engineer. She called Guru up, and the first time I heard the song was on her cell phone. He played it in the studio and it was over her cell phone speaker. I was like, "I think I know what it sounds like?" It was kind of hard to hear the lyrics. But I got that the chorus was about La La Land and the song was called "Moonlight." So that came across even on that first listen.
I thought it would be really, really interesting to cast this with an all-black cast with the best young, up and coming comedic black actors.
She kind of said, 'Well, what do you think? What do you got?' and I was like 'Well can I have a little bit of time?' [laughs]. She said, 'You know, [Jay Z] was thinking that maybe it could be a sitcom or something funny. But whatever you want to do.' And so I flew back to New York and thought about it for 24 hours, and I came up with two different ideas and wrote up two different treatments and sent them over to Chaka. The one I really liked was the Friends one. It was all in that first treatment. A shot-for-shot remake of an episode of Friends, and I found the episode I wanted to do, and I watched the episode a bunch of times.
I thought it would be really, really interesting to cast this with an all-black cast with the best young, up and coming comedic black actors. I sent that one over to her and she...I wasn't sure, I think she was a little bit skeptical because she wasn't a big Friends head [laughs]. She was like, 'I don't really see the sell.' I met with her again in New York, we sat down, had a drink and I said, "Hey man, I really believe in this idea, I think it would be really cool. It's very insane, possibly illegal, but I really think it's the strongest idea." She said, "Yeah, it is interesting, I get what you're saying." So she sent it to Jay, and he really responded, man. Chaka later told me when we were deep into production, "Yeah Jay told me that after he read your first treatment, after he finished, he said 'I think I'm going to cry,'" [laughs] That's insane!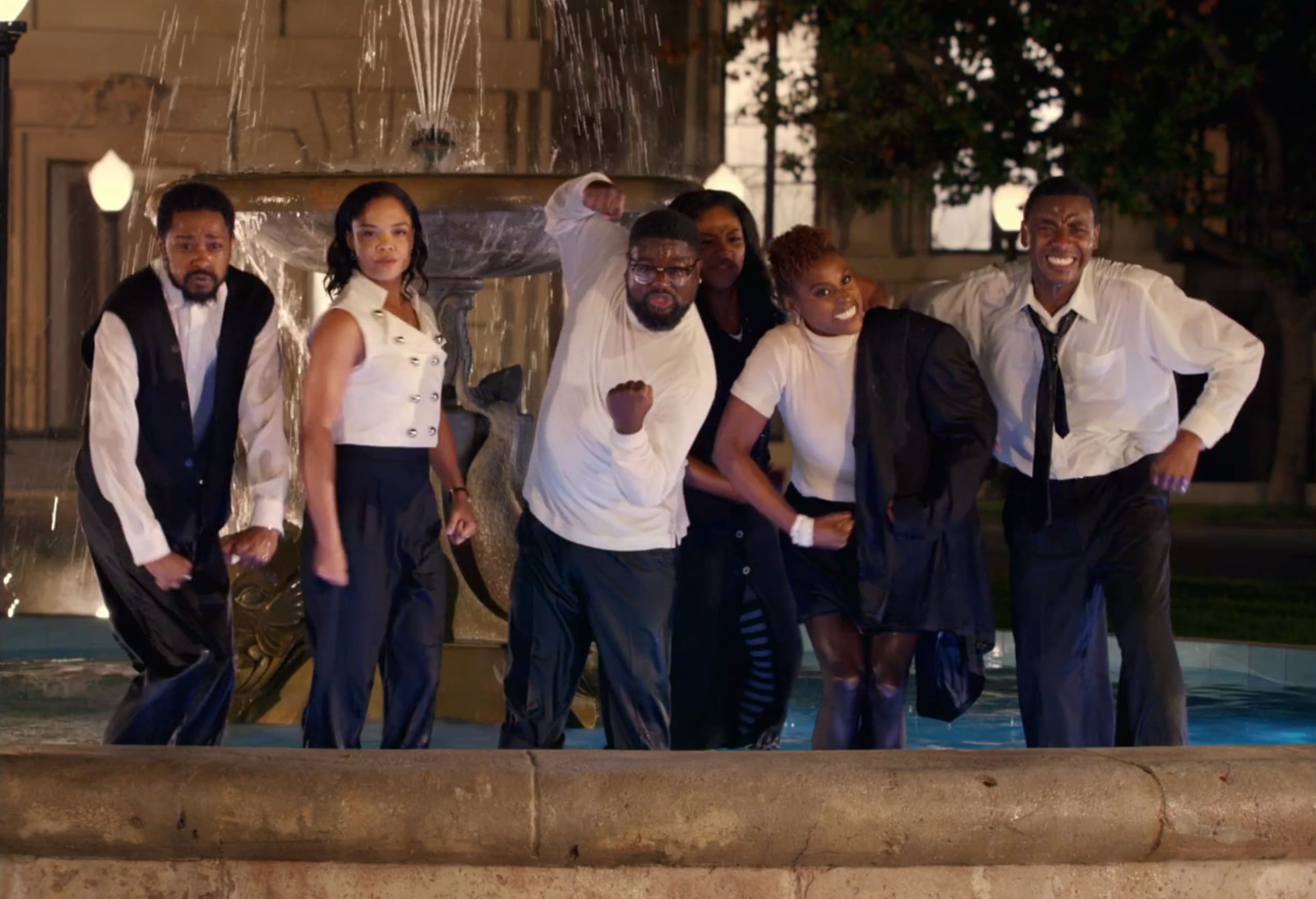 For you, what was it like incorporating Jay Z's message from "Moonlight" into the video?
It was really fun, man, it was really fun. He was so supportive. He gave notes, but he was hands off. He really trusted in me to shoot it and execute it the way I saw fit.
It was a really funny thing at the last second. We were going to shoot the video on Tuesday—we shot the whole thing in one day—and we met on Sunday night. I was going back and forth with Roc Nation a little bit, I had written the script and we whittled it down to about 15 pages. But I was like, "Let me sit down with Jay and hash out exactly what the song means to him. Let's talk about it." Because I hadn't really gotten a chance to sit down face-to-face and really get into that. So Sunday night I go by the recording studio, and I'm there for a couple of hours, and I get to meet him in this little side room. We're talking about the video and I feel like we really, really reached a point where we understood each other. I understood what he was going for with the song. I was like, "Ok great, I know how to re-write this to better serve what the song means, and better serve his vision as well." So I was really pumped and really excited.
after meeting with Jay about the video, I stayed up until like 3 a.m., and then went home and re-wrote it between like 3 a.m. and 5 a.m.
Then I was walking out of the studio, and Chaka said, "Hey, you want to hear the whole album?" and I'm like, "Of course I want to hear the whole album!" [laughs]. I hadn't heard any of it. She goes "Go in that room down the hall." So I walk down the hall, and I take a right into this big main recording room. There's like 15-20 people in there. Jay is in there, Lana Del Rey, Chris Paul, Jesse Williams and Gerard Butler. It's a real eclectic bunch in there [laughs]. And everyone is already in chairs and stuff, so I drag this chair in from the hallway.
It's very awkward like, "Hey guys, what's going on?" [laughs]. And I sit down, and it's told to us that Jay is going to play each track one-by-one, and then sort of explain what each one means to him. I was like, "Oh, that's cool." And they were like, "Oh we're also going to film this all, and you guys have to respond and tell us what you think of each song." And we're like, "Okay, we're doing that now." So I'm sitting here waiting to hear the album, and a producer runs in and says, "Hey just to let you know, this is going to take 3 or 4 hours.' And I'm checking my watch and it's like 11:30 at this point. So I'm like, "Okay, I guess I'm here for a while."
But then they started playing the songs, It's such a great album. I'm such a big fan of the album. And no one is really saying that much. Like, Gerard Butler isn't chipping in that much in the beginning [laughs]. But this guy, Kenya Barris, who created Blackish—really, really smart talented guy who I've known him for years—starts speaking up a bit. We know each other and he had a lot of great thoughts. I was like, "Well Kenya is talking, I guess I'll talk too." It ended up being really fun.
That's a long way of saying that after meeting with Jay about the video, I stayed up until like 3 a.m., and then went home and re-wrote it between like 3 a.m. and 5 a.m. I'm glad it's not crazy nonsense after that.