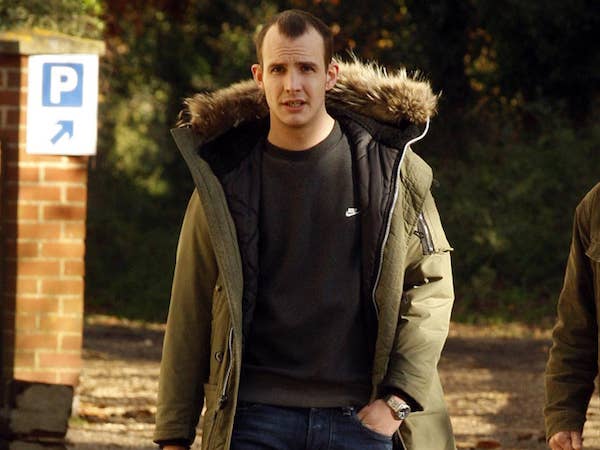 By Erika Jarvis
For the tabloid audiences, Blake Fielder-Civil—lately, just Blake Fielder—is an infamous page six villain linked inextricably to his ex-wife, the late, legendary Amy Winehouse.
It was a romance so intense that she would reframe her answers in interviews to be about what "Blakey" liked or what "Blakey" thought. She had a pocket flap tattooed just above her heart that read "Blake's," while he had "A-M-Y" behind his right ear.
They appeared like soulmates, alternately haggard or infatuated in the blinding light of paparazzi cameras. The anguish that boiled at the heart of Back to Black, Amy's star-making album, was about him. The fact he was an entirely undistinguished, albeit rakishly sexy, normal English lad made her passion for him even more intriguing.
When Amy first started to appear disheveled and scrawny in public, she was always nested under Blake's long, protective arm. It didn't help that, in 2008, Blake did an interview with News of the World admitting Amy tried heroin for the first time with him. He thought he was doing a noble thing, taking the blame off her; He thought he might save her career.
But when Amy died of alcohol poisoning in 2011—years after quitting heroin, Blake says—much of the blame was directed towards her ex-husband. Winehouse's father, Mitch, remembered him in his memoir as "the biggest low-life scumbag that God ever put breath into."
Today, Blake Fielder lives in a tower block in Leeds, a city of less than a million people, three-and-a-half hours north of London. He misses the glamour and excitement of home, but is afraid to move back there permanently. He has never been back to Camden, the neighborhood where he lived with Amy. He is afraid of what might happen if he does, including seeing the Amy superfans who come to lay flowers at the feet of her bronze statue.
Blake has been mostly out of work since Amy died. His reputation as an addict or the destroyer of "Our Amy" has plagued the ordinary tasks that make regular life possible. He is a prolific reader, which is one way to pass the time, and he has curated a lounge full of books.
He currently lives with his girlfriend, Chrissy. Since Chrissy recently lost her job, he's in a tight spot when we speak on the phone. His flat has no electricity, and he used his neighbor's phone charger to take my calls. There is no Amy money; there never was. He didn't get a cent when he divorced her, and he never asked. This is true, in spite of how reprehensible her family found him.
Blake still dreads going out, especially in new situations where he'll have to face the possibility of being recognized. It happens mostly on the street, and includes instances of being spat on. His family claims they were almost driven from their village around the time Winehouse died.
It's been five years since Amy's death. When the morbid anniversary approached, Blake received a call from The Sun, a paper that used to call him "Blake Not-So-Civil."
"It's always—'This is a great opportunity for you to reinvent yourself, Blake! To let the public know what you're really like!'" he says. "I fell for that the first time, a few years ago, which is when I said everything was my fault, and I'm the cause of all Amy's woes."
The tide of public opinion really began to turn after that interview with News of the World. He thought, by taking the blame, that he'd be helping her. He even fancied it as manly. "But it affected my life greatly," he now realizes.
Blake was 17 when he left the family home, in the village of Bourne, for London. It was 2001. His parents separated when he was a baby, and he felt the relationship with his stepfather turn toxic around the time the first of his two younger brothers were born.
Blake was ten at the time. A decade older than his brothers, tall and lean, he always felt slightly out of place in his new family, even though he was a gifted student, particularly in English. He wrote poetry. He began hurting himself around the same time.
Once in London, Blake slept on friends' sofas or on the street. He once hopped a train home, but felt strongly that there was no room for him there. He says his family only started visiting him in London once Amy got famous.
Blake met Amy in a pub called The Good Mixer in 2005. He was working in video production—for Lily Allen, Kasabian, and commercials—and he noticed her straight away. She was bigger then—"juicy," he says she called it—wearing tapered jeans, white moccasins, and a Pink Ladies bowling jacket, from Grease. "She was cool," Blake says wistfully.
Amy told him she was a musician. "Everyone in fucking Camden is a musician," he remembered thinking. When they went back to Amy's flat, she said she was going to sing him a song. He distinctly remembers cringing. "I really fancied her and I didn't want to have pretend I liked it," he says. But as soon as she sung that first note—a cover of "Round Midnight"—he says, "I think I, at that moment, fell in love with her."
At this stage, Amy had released her first album, Frank. Although it had done well, her iconic pinup look had not yet crystallized, and she could still walk down the street without being recognized. The fame whirlwind only descended in late 2006, when Amy released Back to Black.
Blake and Amy had been dating on and off by then, and the album was mostly about the torture the twenty-somethings had put each other through. Blake says Amy would sleep with his friends to hurt him; he had his own side chicks who proved useful for getting revenge, which inspired several songs.
In 2007, they got married on an impulse in Florida. She wore a white anchor-print shift dress, he wore a J. Lindeberg suit. One of the things Blake misses most from that time are the suits (someone threw them out of Amy's flat while he was in jail). They used to be invited to designer showrooms, where Blake could pick out any suit that he liked. They hung effortlessly on his tall, thin frame. If there's one thing the media could never say about Blake, it is that he was a sloppy dresser.
But Blake said he didn't really take advantage of this period the way he should have. He was always too focused on acting aloof or cool, because he was actually very shy. He has fond memories of the time, like having a drink and an excellent conversation with Bruce Willis, or exchanging text messages with David Schwimmer, who he says would jokingly sign off as "the Schwim."
More than anything, however, Blake was so, so proud to be by Amy's side. One of their favorite movies was Diner, with Mickey Rourke. He felt like the man in the final scene, whose friend gets up to wow the diner with his impromptu piano playing. "You know, like, 'That's my buddy!'" Blake says.
---
He never got over the sheer awe of hearing her sing, even in the shower (or the bath, if they were home in Camden). Dita Von Teese once came to their flat with her family—Amy played her guitar and brought everyone to tears.
It was during this period that Amy used heroin with Blake for the first time, in January 2007. He said they did it very sparsely, despite a reputation to the contrary. They spent a lot of time in America that year, and they never did the drug there.
The habit only became a full-blown addiction around September. Blake is bitter about a photo that appeared of them both, him with scratches on his face, she with blood on her ballet pumps, as they were overwhelmed by paparazzi while leaving the hotel room to get cigarettes. They had had a massive fight, and after hiding out for days and "being delivered massive amounts of drugs," they ended up putting each other in such agony that they cut themselves with broken bottles.
The tabloids speculated that the blood on Amy's ballet slippers was from where Blake had injected her between her toes. He was disgusted. According to Blake, Amy never injected heroin in her life: "Never did, never would," he says. According to Blake, Amy used to snort it.
In June 2007, Blake was pulled into a friend's argument with a pub landlord. The landlord was left with a broken cheekbone and needed surgery. Two friends of Blake's, James Kennedy and Anthony Kelly, were trying to sell the CCTV footage of the assault to the tabloids. But the papers were uninterested, knowing it would be available for free after the trial. Kennedy and Kelly then approached a reporter from the Daily Mirror, Stephen Moyes, with a tip that Blake and Brown were going to pay the landlord 200,000 pounds not to show up in court. Blake claims it was the landlord's idea.
But Moyes took the tip to police, thus getting the scoop on Blake's arrest for himself. On November 8, 2007, Blake was charged with conspiracy to pervert the course of justice and was eventually sentenced to 27 months in prison. He served 12, but it was difficult. Prisoners knew they could get money deposited in their commissaries by calling up the tabloids from the prison phones and selling tidbits on how he was doing.
The worst was the rumor that someone was planning to corner Blake in a cell and pour boiling water on him unless Amy deposited money into their account. He had two choices: to either go into protective custody with the rapists and pedophiles, or segregation. He chose six months in solitary confinement. It was the time he needed Amy the most, but she seldom came to visit. Occasionally, someone would push a tabloid under his door, with stories about Amy with other men.
At that stage, the pressure was on from both Blake and Amy's families to divorce. Blake says they only agreed to separate to get everyone off their backs. They were going to get back together, once this prison nonsense was over. But when the actual divorce papers arrived, in jail, Blake claims it was not Amy's signature, and for a few months, he said, she had not realized she was actually divorced.
---
Blake was released from prison in November 2008. Two months later, Amy went to Saint Lucia and kicked heroin, to Blake's knowledge, for good. By this time Blake was with a new girlfriend and the mother-to-be of his two children, Sarah Aspin, a recovering addict whom he'd met in rehab. She only met Amy once. It was very friendly, Blake said. Amy had come to visit them in London, and told Sarah that she would be sleeping in Blake's bed. Sarah agreed. "So I guess that showed that she felt that Amy was my wife, still," says Blake.
In spite of a brief clean period, Blake was using again in 2011. He owed his drug dealer around a thousand pounds, and agreed to a ride-along as a favor. The dealer drove to a home, broke in, and stole some laptops. Both he and Blake were arrested when police pulled them over for stolen license plates. In June, Blake was back in jail.
Amy died a month later. Blake was allowed the dignity of a small ceremony in the prison chapel. Because Amy was Jewish, they brought in a rabbi. The rabbi went over the blessings and prayers they'd be saying over Amy's body; Blake remembers it as his only way of feeling close to her. No matter what anyone says, they were each other's best friend. Afterwards, he went to look for his last letter from Amy, to re-read it, but it was gone from his cell. He later heard that his former cellmate had it up for sale.
If Amy had not been famous, they would have been just another toxic junkie couple, a whirling dervish of youthful stupidity and inexperience, driven to self-medicate by the miserable, pedestrian cause of childhood trauma. By the same logic that Blake was blamed, one could—in theory—have shamed her then-boyfriend, film director Reg Traviss, for letting Amy drink herself to death.
But this narrative did not fit the tragic angel persona attributed to Amy after she died. It was far more tidy to pin it on the ravishing young villain, Blake. Tabloids who'd called her "Amy Declinehouse" and made fun of her shambolic appearance all of a sudden changed tune, remembering her as their lost national sweetheart.
Addiction still looms. When Blake got out of prison the second time, in 2012, he turned his phone on for the first time in a year. A clip of old text messages came in from "Jem"—his nickname for Amy. "Hello Sailor," they said, and congratulated him on his newborn son. As was his habit when sadness became too much, Blake relapsed. He got so high that Sarah found him on the floor of their bedroom, choking on his own vomit. He suffered multiple organ failure and was put into a medically induced coma.
Now Blake is clean, but feels on edge. He was toying with the idea of going back into a methadone program when we spoke, where a daily syrup could take the harsh edge off of everyday life. He admits to relapsing last April, when his birth father died in tragic circumstances.
But things might be turning around. During our last call, I learned that he had started a new job. It's through a temp agency, and they know all about his spotty past. He'll be doing different things every week, which pleases him. He says he was only recognized once, when someone walked past and said, "You're Blake."
The previous weekend, Blake and Chrissy had a big fight. Around 11 P.M. New York time, 4 A.M. in the U.K., I pocket dialed his number in my bag by accident, twice. Chrissy wanted to know why I was calling at such an hour. Was I one of these women who would write to Blake, one of Amy's fans who had developed a crush on the ex-husband? Blake said that it can be hard on his partners, who also must live in the great Amy Winehouse's shadow.
In the middle of the argument Chrissy said to him, "If Amy were still alive, you and I wouldn't be together." Even in their nastiest stories, the media painted Blake and Amy as soulmates, albeit of the doomed variety.
There was one time, while he was in prison, he said, when they were talking about getting back together. On the phone, she said, "I'm still in love with you, and I'm going to visit you." Amy's therapist had told her to see him. She even told her boyfriend, Reg.
But soon after, Amy changed her mind. On the next phone call, she told Blake she was going to be "a one-man woman" and stay with Reg. Blake had said, "That's fine, that's great. You know, darling, I'll always love ya, I just don't want to lose you." And he meant it.
She responded, saying, "You'll never lose me, Blake." And that was the last time he ever spoke to her.