1.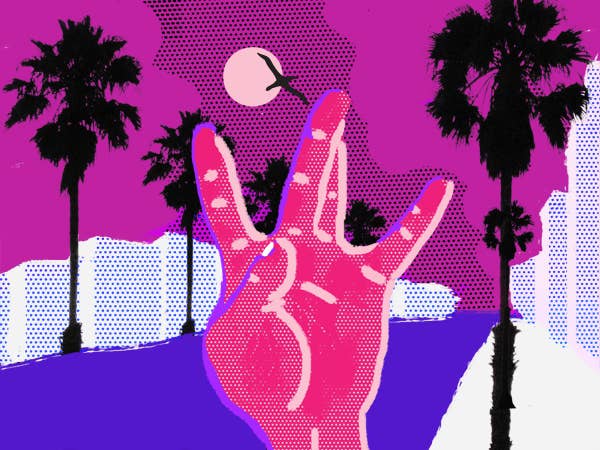 2.
Digital Underground – Sex Packets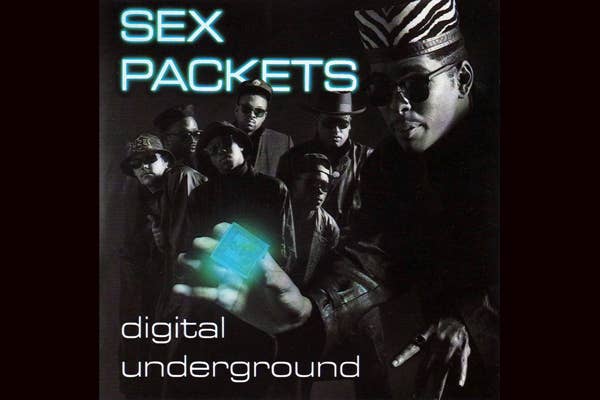 The West Coast's fixation on Parliament-Funkadelic is well-documented—sort of strange, considering the band came from New Jersey via Detroit. But Oakland's Digital Underground were the Cali group who really seemed like they could be P-Funk. The pieces were in place: they had tons of members, sounded like vintage black rock (sampling "Who Knows" by Jimi Hendrix, off the 1970 album Band of Gypsys—a forerunner of Funkadelic), and inhabited different, weird characters on their albums, the insides of which were decorated with cartoons about their origins. All of this makes it seem like George Clinton invented them in a laboratory.
A case could be made for any one of Digital Underground's half-dozen albums, but the biggest moment they enjoyed will always be their 1990 debut Sex Packets. It starts with the obvious elephant in the room, "The Humpty Dance." A quarter-century removed, we take it for granted, but when it exploded onto cable airwaves, it's appeal was universal. Who was this dude in the suit, glasses and fake nose? What was he saying when it was bleeped? (We imagined thing way worse than "a Burger King bathroom.") Best of all, he spent the last verse telling you how to do the Humpty Dance. If it came out today, there'd be a jillion Vine videos of kids doing it.
To this day, some people still cannot accept that Digital Underground's leader Shock G and Humpty Hump are the same person. I have a friend who was only finally satisfied on this when I showed him a CD I had autographed by Shock G at Logan Square Auditorium on which he signed his name over his picture and the name Humpty Hump over Humpty Hump's picture.
The rest of the album sprawled out from "The Humpty Dance," likely startling people sucked in by the novelty hit. On the second song alone, DU describes its sound: "The bass drum will hit but won't be lingerin' on" and, "Triple-slippin' MCs will get verbally raped." Later comes the woozy "Underwater Rimes," which samples "Aqua Boogie" by Parliament (surprised?).
The album even has a throwback track, "A Tribute to the Early Days," that could have sucked (see their backup dancer 2Pac's "Old School" for an example of this idea gone wrong) but gets over on its convincing authenticity. The album is a dense, long affair, best heard on cassette, which has three extra tracks and the eight-minute version of "Gutfest '89" (a fictional music festival that has, among many other things, Miles Davis opening for Digital Underground).
3.
The Pharcyde – Labcabincalifornia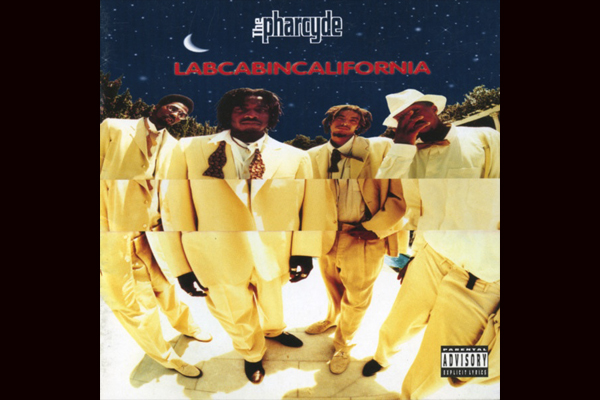 Since J Dilla died a decade ago, one of the most tired trends in hip-hop has become releases boasting a track produced by him. Please, just let the man rest in peace. The music he made while he was alive speaks for himself, and some rapper today fucking around over one of his previously unreleased beats serves no one.
But you wanna know who was way, way, way ahead of that trend? The Pharcyde. Their 1992 debut album had shattered minds, advanced the genre, etc., but when it was time to follow that up three years later, they switched up to more sophisticated production; much of it courtesy of Dilla. And this was before A Tribe Called Quest, De La Soul, and Busta Rhymes picked up on him; before Slum Village existed; years before his solo debut. Pharcyde fans who bought Labcabincalifornia maybe just noted that some guy named Jay Dee had credits on seven tracks.
This was also the last album on which the Pharcyde was actually the Pharcyde. Fatlip was gone by 2000's Plain Rap, and Slimkid3 was gone by 2004's Humboldt Beginnings, which is their last album to date. So Labcabincalifornia signifies both rebirth and death, but at least it sounds lush and grooves in the process.
Great examples of this are the album's first two singles. "Drop" boasted a fun Ad-Rock sample and Spike Jonze-directed video that had the whole group miming the song forwards and backwards, and the reversed nature of the beat itself paired perfectly with the group's spaced-out, wandering vocals. "Runnin'" was built around a gorgeous, Spanish-guitar-tinged beat and the uncharacteristically melancholy hook, "Can't keep runnin' away..." Forgotten R&B songstress Mya lifted the whole thing for a single eight years later.
"Y?" is probably the most forceful Pharcyde track on the thing. Co-produced by Jay Dee and group member Bootie Brown, it just lines up the four members and has them rap, only interrupted by a simple chorus asking, "Tell me why." Fatlip steals the show—as always—by relating an anecdote of a young friend who moves to L.A., quickly falls in with a gang lifestyle, and is killed. He also produces a song late in album, "Devil Music," the hook of which is him ranting, "Every time I step to the microphone I put my soul on two-inch reels that I don't even own." It's as insightful as it is quixotic. And it shows that with J-Swift long gone (into crack addiction, reportedly brought on by the group's squabbles, demonstrating their lack of appreciation of his work), Fatlip was the mad genius of the Pharcyde.
4.
The Shape Shifters – Adopted By Aliens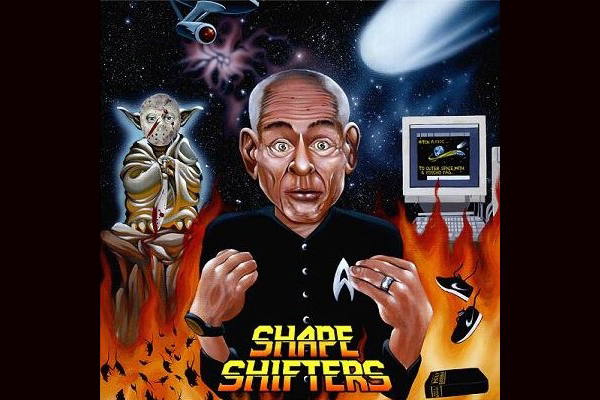 In the history of L.A. hip-hop, Shapeshifters are admittedly a marginal footnote. They came up in the late '90s, and disappeared by the mid-'00s as mysteriously as they'd appeared. Their biggest, most legitimate release was this, 2000's Adopted By Aliens, and it still sounded like it was recorded in a basement (probably was). This was a difficult-to-nail-down affair; the CD booklet shows a picture of nine dudes in the woods, most of them white.
Doesn't matter. The point is, the Shape Shifters were brimming with talent and were super-weird. The opening track, "Who's Got Presents?," is a tour de force with eight MCs on one track. A verse from someone listed as 2Mex veers straight from Spanish to the bizarre pronouncement, "Your Church of Scientology owes me an apology, cuz L. Ron Hubbard is in the cupboard." Distaste with California cults seems to be a theme; Adopted By Aliens' cover shows Heaven's Gate leader Marshall Applewhite next to a computer monitor inviting listeners to, "Hitch a ride to outer space with a psycho fag." This mood is pushed further on "Prevail," on which a member raps, "They say lightning never strikes in the same place twice, but look me in the eyes and tell me that statement's right." Lightning conspiracy theories!
"Brainfish Reanimated," meanwhile, is a Greek chorus of dudes narrating a stream-of-consciousness ramble ("When I woke up there was a 99 cent store superstore that I had never seen before; what a perfect place to pick up this CD"—and today people are asking for as high as $172 dollars for it on Amazon, as it's not on iTunes or Spotify). The album's packaging lists the production credit on this track to L.A. Jay (of the Pharcyde's "Otha Fish" fame), and yet this is impossible to verify.
There's more to the Shape Shifters' legend. At that time, their DJ had just passed away from non-Hodgkins lymphoma, but comes back from the dead here on "Rob One Mixtape Megamix," an all-over-the-map two-minute collage that harkens back to the origins of the entire genre. Another flooring throwback, "Strange Birds," is built on an old school thumping drum pattern, scratches and disco flourishes, but is still as lyrically modern as any Shape Shifters track. Lewdachris, the group's most charismatic MC, repeats, "Wise old owl sat on an oak. The more he heard, the less he spoke. The less he spoke, the more he heard. Why can't we all be like that wise old bird?"
A less deep but just as impactful quote comes on "Triple Threat" when a group member declares, "Underground West Coast hip-hop is the greatest." West Coast hip-hop at that time wasn't getting much attention but clearly the Shape Shifters, operating at its fringes, still thought it topped everything—admirable pride in their region.
Adopted By Aliens stretches its legs on its last two tracks, "Wake Up Dead" and "Korn Bizkit," which occupy the last 15 minutes of the disc. The former is a demented duet between the closest the Shape Shifters ever had to a breakout star, Awol One, and (fellow L.A. underground hip-hop collective) Freestyle Fellowship's most out-there member Mikah 9. The latter morphs a parody of the then-problematic rap-rock scene into the nastiest posse cut ever heard.
---
6.
Souls of Mischief – '93 'til Infinity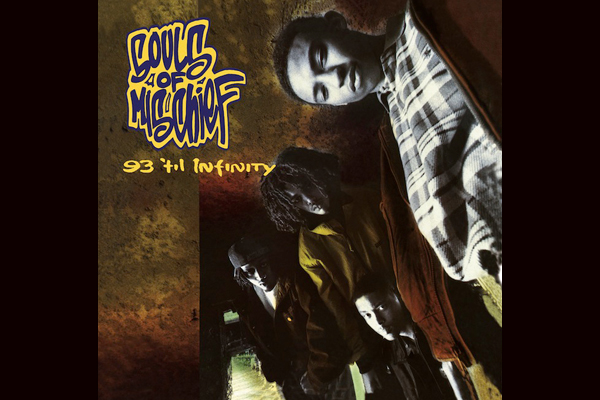 DJ Shadow once said that—even after all his years of crate digging—few thrills in hip-hop fandom were equal to dropping needle on "'93 'til Infinity." Certainly true, but sliding the album of the same name on cassette into a Walkman or car stereo felt just as huge. The group's debut made it clear Hieroglyphics were the West Coast's best answer to Native Tongues (they even they made an album with Prince Paul 16 years later). The album is filled with acoustic piano samples and horn loops over thick bass. The Del the Funky Homosapien co-sign certainly helped, but wasn't essential to Souls' explosion all over Yo! MTV Raps, Rap City and college radio.
The monster here is, of course, the title track. Over a blissful sample of "Heather" by Billy Cobham, Souls of Mischief's four MCs weave in and out of each other at dizzying speed through eleven verses, yet still establish distinct identities: Opio the smirking scamp; A-Plus the shit-talker; Tajai the architectural force; Phesto the wild card. Almost as huge was "Never No More," the album's second single. With its ancient trumpet and twinkly keyboards providing the perfect foundation for endless rapping, it makes you really believe the quartet was, as they proclaim here, "the best from the West."
7.
Del the Funky Homosapien – No Need For Alarm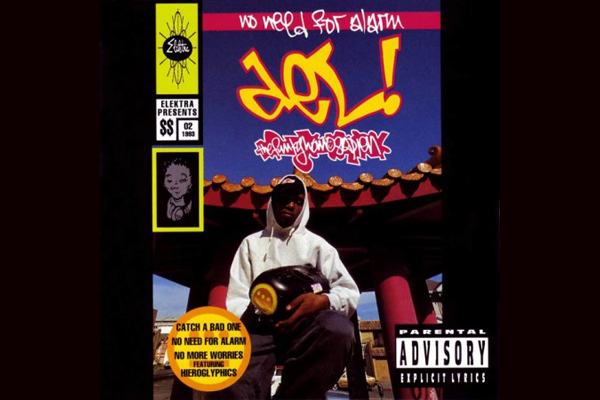 The thrust of Del the Funky Homosapien's 1991 debut was pretty simple: Ice Cube was his cousin and he was really into Parliament Funkadelic. Nothing wrong with this, but at the time it was a crowded market. So it was smart that by the time the Oakland-based MC re-emerged two years later, it was as the central figure in a whole new crew (Hieropglyphics) with a brand-new, modern sound—and Ice Cube nowhere in sight. With production mostly handled by Hiero itself, No Need For Alarm, released two months after '93 Til Infinity, was the capper of an insanely fertile year for West Coast rap and a breath of fresh air at the same time.
Both in selecting beats and his work on the mic, Del kept things a bit more aggressive than his Hiero crew mates. His central message here, as it's been on almost everything he's recorded since, is, "All other rappers suck." That may sound one-note, but he sure comes up with endless permutations over crisp drum loops and deep-crate-dug samples.
You're never quite sure how conscious this guy wants to be. On the title track, Del makes his sexual, racial politics clear by rapping, "If your titties is pink then you are white and I'm not the right man," then brags of donating to science. Del's stance on women in general is extreme: At the time, Snoop Dogg was famous for slyly declaring, "We don't love them hoes!" Del just goes, "Boo boo head, boo boo head, boo boo head. I want you dead." Elsewhere Del raps, "Damn, I hate cops! Always getting' props for the niggas they pop"—a sentiment relevant then and today.
One of the most undeniable moments here is when Hieroglyphics' A-Plus, Casual, Del and Snupe jump on a ridiculously funky beat by Domino on "No More Worries"—you momentarily forget this is supposed to be just one guy's album. But it is, and it climaxes on the last couple tracks. "Check it Ooout" has Del declaring, "My attitude's miserable!" over a deliriously discordant beat, and then the album ends with the nimble, irresistibly repetitive "Thank Youse."
8.
Mac Dre – Tha Best of Mac Dre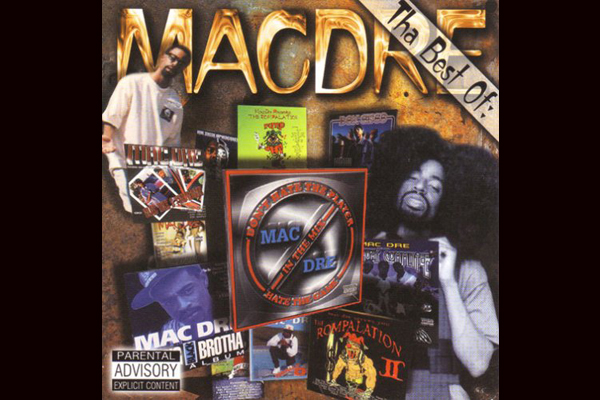 Picking one of the 15 albums Vallejo rapper Mac Dre released in his lifetime is difficult, as his formula was fairly consistent and generally irresistible. Even his best-ofs don't make things much easier; he's put out five, and they're all double-disc affairs (which probably means his whole catalog has now been re-sequenced out of chronological order but whatever).
If you want to get into Mac Dre (which you should), take it easy on yourself and start with the 2002 compilation Tha Best of Mac Dre. It cherry-picks 32 tracks from Mac Dre; some relative hits, some obscurities. But they all capture his relentless, deceptively casually delivered and almost always double-tracked vocals, coupled with appealingly cheap, sample-light production.
Dre was sentenced to five years in prison in 1992 on robbery charges, which put his career on hold. He reflects on this with characteristic humor to open the second disc of Tha Best of Mac Dre, "I've Been Down." Mac recounts his day-to-day life in prison and plans out how to pass time during a count; "Might even do a little masturbatin'."
Mac Dre was released from prison in 1996 and shot dead eight years later. But his legacy lives on; Drake's catch-phrase-launching hit "The Motto," released seven years after Dre's death, saw Drake rapping, "Rest in peace Mac Dre, I'mma do it for the Bay, OK." This is perhaps further evidence of Drake being "a bit of a vulture," as Earl Sweatshirt put it last year, but still—at least someone was talking about Mac Dre on the radio long after he could speak for himself.
9.
Cypress Hill – Cypress Hill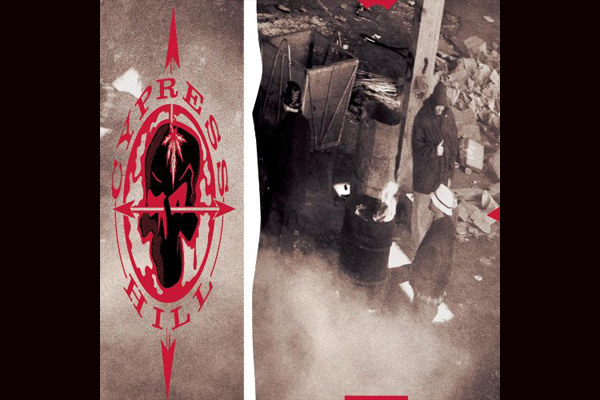 Cypress Hill, despite their relative lack of Parliament-Funkadelic samples and any sort of N.W.A affiliation, are as L.A. as they come, given that B-Real is Mexican-Cuban, Sen Dog is Cuban-African-American, and they're backed by DJ Muggs, an Italian who moved from NYC to California with his adoptive parents and made good on his own terms.
It was this last element that probably allowed them to transcend coastal boundaries, simply because they sounded of a time and place but were also competitive with the entire rap scene of the era. Cypress Hill was closely hewn to their local culture via their two MCs, while Muggs' deep crate-digging gave NYC's Native Tongues a run for their money in unearthing great soul, funk and R&B obscurities.
Their sophomore effort Black Sunday garnered the most attention almost solely off "Insane in the Brain," but the best place to catch them is on their more rough-around-the-edges 1991 solo debut. From track one, it's already kind of crazy; B-Real inventories every kind of cop he hates on "Pigs." This is quickly followed by "How I Could Just Kill a Man" over a sample of "Tramp" by Lowell Fulsom; a mid-tempo groove that De La Soul had flipped the previous spring, albeit without declaration of homicidal impulses. Then came the sample of Gene Chandler's 1962 hit "Duke of Earl" on "Hand on the Pump," a favored pool party novelty when school started that fall. It was like listening to the oldies station with your parents except with rapping about murder.
The album goes deeper and deeper into this pattern; an envious collection of samples percolating as B-Real is unrepentantly criminal, stoned, and verbose—occasionally breaking into Spanglish—and Sen Dog plays a competent foil. "The Phunky Feel One" recalls the Bomb Squad with its perpetually shifting textures and nice interplay between the two MCs. On "Stoned is the Way of the Walk," Cypress Hill bump up against an iconic Native Tongues sample again, this time beating A Tribe Called Quest to "Down Here on the Ground" by Grant Green by a month. Hieroglyphics and The Pharcyde are often cited as the West Coast response to Native Tongues, but—sonically at least—Cypress Hill were neck-and-neck with the whole crew.
10.
DJ Quik – The Book of David
DJ Quik has been producing great hip-hop since 1991. "Tonite," off his debut, is one of the most potent tours of daily life in Compton ever recorded, and his "Niggaz Still Trippin'," released a year later, switches up rappers, beats and hooks so frequently it has to be heard to be believed. But his eighth album—and at the time, his first in six years—The Book of David, was where Quik forcefully demonstrated he's a legacy artist not to be second-guessed.
Quik starts the whole album by declaring, "I don't give a fuck about you, you, her, him, that bitch, that nigga, y'all, them," making it clear a lot of scores would be settled here. A highlight is "Ghetto Rendezvous," in which Quik addresses his hostile relationship with his mentally ill sister; a situation that resulted in him losing, by his account, a small fortune and serving jail time. He tells her, "I hate you so much it just shows. I hate you more than Michael hated Joe. And your son looks like an Al-Qaeda, 'bout to call him wop-daddy cuz his hair goes to the side, yo." Disses piled one on top of disses.
Throughout, Quik infuses the proceedings with killer cameos and a classic R&B feel that continually surprises; he even unearths P-Funk alum Garry Shider for the album closer in what was probably his final appearance on record (he died before it was released). On The Book of David, Quik commands, "Stop comparing me to Dre." Seems strange that anyone was, given that Quik managed another album since—the superb The Midnight Life—before Dre bothered to put out Compton. Quik says he's done after he puts out his next, tenth album. Few would begrudge him the right to bow out.
11.
Daz Dillinger – Retaliation, Revenge and Get Back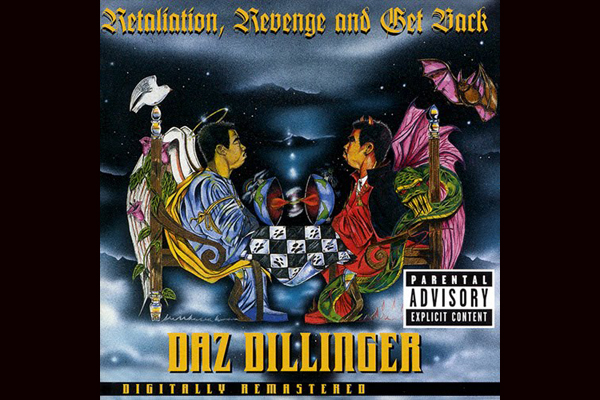 Albums don't get more definitively end-of-an-era than Daz Dillinger's 1998 solo debut. He put this out under siege. Daz was interim head of Death Row Records while Suge Knight was in jail; Dre was long gone; and Snoop and Kurupt were about to jump ship. Retaliation, Revenge and Get Back was the last album on Death Row with G-funk production. As such, it makes sense that the cover is a homage to Marvin Gaye's last album for Motown, In Our Lifetime. This was gangsta rap declaring, "That's all folks!"
Given this, it's impressive that Daz was able to put together a monster featuring a whole host of West Coast rap luminaries like Snoop, Nate Dogg, Kurupt, MC Eiht, Too $hort, and even the then-recently deceased 2Pac.
And it's not the wake for gangsta rap it could have been—Daz keeps it as crippy as ever. A typical hook here goes, "Oh no! Niggaz just wanna get killed tonight. Tripping on you, the way I feel tonight. Nigga better pack your guns." Sigh. I miss the '90s.
A favorite track is "Baby Mama Drama," on which is Daz filed on for child support and reacts with incredulousness, while not denying the kid is his. His affection for his child presented right next to his complete disdain for the mother of said child is perhaps typical, but still remarkable when expressed in song. Daz goes for a positive closer, "Thank God For My Life," ruminating over the meaning of existence and even attempting a sung outro before collapsing into two-minutes of shout-outs.
12.
Paris – The Devil Made Me Do It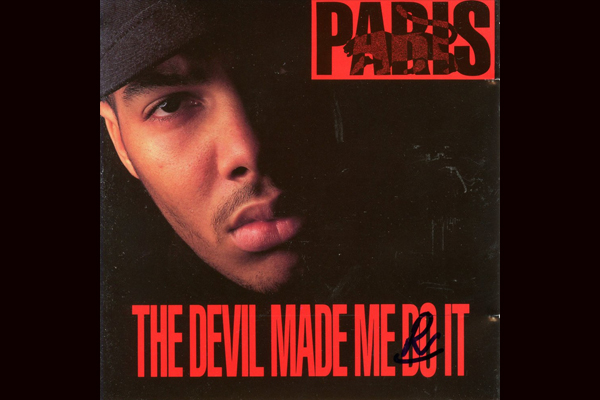 Paris came out of nowhere in 1990—a black, nationalist rapper out of San Francisco. I'm not saying any artist recording out of anywhere needs to fit the patterns he or she sees around them at the time, but in hip-hop, such things can be significant barriers. N.W.A had been recording politically charged material for a couple years before him, but that was mixed with more base concerns.
Ice-T was getting more and more political—most notably on The Iceberg/Freedom of Speech... Just Watch What You Say!—but, again, not to the point where it dominated his material. At the time, Paris' closest competitor as a West Coast rapper going political over East Coast production was Ice Cube, and the two were pretty much neck and neck.
All in all, Paris sounds like Rakim if his voice rose to audible anger at times, and he had a dirtier edge to his beats. Which is not to say that Paris doesn't rep Cali; he'll drop a metaphor like, "Come through sicker than an L.A. drive-by," or reference the LAPD's notorious batterram (for explanation of what that is, check Toddy Tee's 1986 cut "Batterram" or the first scene in Straight Outta Compton).
Regardless of which coast it seems to come from, The Devil Made Me Do It is a great album front to back. "Warning" depicts a bad encounter with a cop that explodes within the track's one-minute running time. "Ebony" surprises with "strong words of peace and unity" over a way-more-chill beat than any other on the album. It even has an awesome, electro hip-hop moment on "I Call Him Mad." But the big highlight is probably the title track, which boasts a dirty assemblage of samples including "Hihache" by Lafayette Afro Rock Band.
13.
Da Lench Mob – Guerillas In The Mist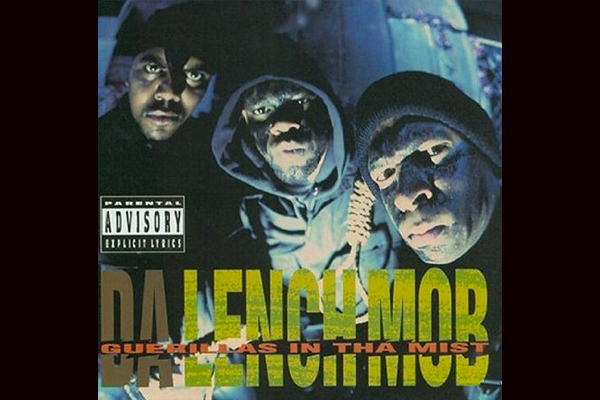 Da Lench Mob was Ice Cube's crew post-N.W.A, appearing on his solo debut AmeriKKKa's Most Wanted. Their debut album beat Cube's sophomore album to market by a little over a month; obviously intended as a tie-in. Ice Cube gets an executive producer credit and is all over the album; the CD jewel case's spine is the same Army-green color as Death Certificate, and one of its songs reappeared on Death Certificate as the background of a skit.
This coordinated push is all the more remarkable looking back now, as from the perspective of history it feels like the group was placed on a garbage scow and shoved out into the Pacific Ocean after this. Of Da Lench Mob's three members—J-Dee, Shorty and T-Bone—J-Dee was convicted of murder and sentenced to life in prison the year after this came out. The remaining members recruited a replacement for one album, but the group disintegrated shortly thereafter.
So what we're left with is this, Guerillas in the Mist, one of the angriest, most racially charged albums ever released. It boasts thick, then-current production as a foundation for the Mob's rappers. Highlights include "You and Your Heroes," which rips apart every famous white person of the era ("Madonna! You motherfuckin' slut! You can show your butt and Jimmy still won't get up!"); the Cube-featuring "All on My Nut Sac" that depicts an argument between a neighborhood drug dealer and someone more socially minded; "Ankle Blues," a look around Da Lench Mob's hellish neighborhood life that has a Yoko Ono diss shoved in out of nowhere; and "Lord Have Mercy," which sees a complaint about something as tame as an in-grown toenail. Guess it wasn't all police harassment and drive-bys.
14.
Too $hort – Life Is… Too $hort
Too $hort turns 50 years old in April, and he'll do it as a West Coast hip-hop legend. When UGK had him on their 2007 victory lap of an album Underground Kingz, it made perfect sense; Too $hort and Pimp C represent similar spaces on their respective coasts. A lot of rappers surpassed him in speed, but that's like comparing a sports car to a locomotive. The question on Too $hort was when, and if, he'd ever stop rapping in that steady, even tone.
He's put out a lot of music, but Too $hort's highest-selling disc is his second; 1989's Life Is... Too Short. The title's meaning could double for a lot of things, but as he says on the title track, "Life is to some people unbearable. Commitin' suicide and that's terrible. Was it much too much, or nothin' big? If you live my life, you'll be fightin' to live." Dismissive of the reality of depression, sure, but at least he tried! And sounded funky doing so, as he does through "Rhymes," the low-toned "I Ain't Trippin'," and the casually assured "Nobody Does It Better."
But the best moment comes when Short Dog brings in female vocals and vocoder for a portrait of his city, "Oakland." The funkier "City of Dope" is honest about the day-to-day routines of and how the passage of time affects those engaged in the drug trade.
The cover of Life Is... Too Short has the rapper crouched over a tombstone that says, "JOHN SUCKER MC DOI BORN ON STAGE DIED ON WAX REST IN PEACE." He never seemed like much of a battle rapper, but the image feels earned.
15.
E-40 – My Ghetto Report Card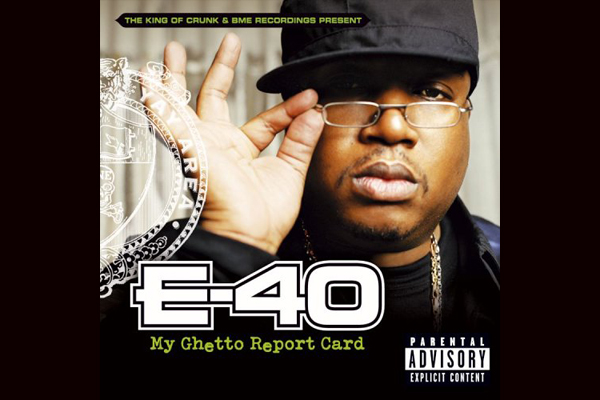 For the first 13 years of his career, E-40 was a solid, quick-tongued gangsta rapper on his steady stream of albums. Then he switched to the data-dump approach; taking the mixtape model and applying it to his actual releases (see his four-part Revenue Retrievin' series, followed by his six-part The Block Brochure: Welcome to the Soil series).
But 2006 was the flashpoint when E-40 went from career rapper to elder statesman. The match that set it all aflame was "Tell Me When to Go," an infectious single featuring Keak Da Sneak that captured the Bay-area hyphy scene; both in the track and its accompanying video. Suddenly a lot of people knew not only what hyphy was, but also what it meant to "ghost-ride the whip" and "put your stunna shades on." E-40 was still himself throughout the proceedings, bragging about multiple trips to the liquor store.
More remarkable, though, was that beyond co-opting hyphy, E-40 had his fingers in pies across the nation. On the opening track, "Yay Area," he loops the start of Brooklynites Digable Planets' breakthrough hit "Rebirth of Slick (Cool Like Dat)" into a hypnotic beat. He's also grabbing from NYC with a cameo from Dipset's Juelz Santana; from the South with a cameo from the venerated UGK; from the Houston scene with a cameo from Mike Jones; from Tennessee with a cameo from 8-Ball—he even has T-Pain on this thing.
But it doesn't end up sounding like a lame movie soundtrack; it's E-40 through and through. He may have abandoned quality control thereafter; choosing instead to let the new audience he'd courted sort through everything he records and find their favorites, but at the time, he was boasting a Ghetto Report Card of straight A's.
16.
K-Dee – Ass, Gas or Cash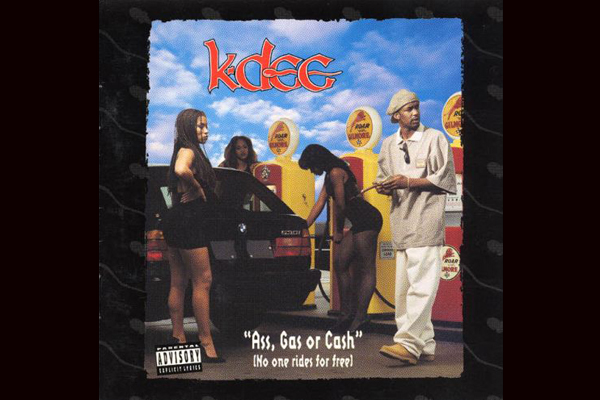 With Da Lench Mob, Ice Cube established his own politically minded crew. Three years later, he needed his own pimp figure, and this was K-Dee, who had appeared on Cube's Lethal Injection album track, "Make It Ruff, Make It Smooth," the year prior. Cube executive produces and has 10 songwriting credits on K-Dee's 1994 album—his first and, to date, last release, on Lench Mob Records.
"Ass, Gas or Cash (No One Rides For Free)" is a solid slab of state-of-the-art G-funk. Despite the rules he lays down with his album title, K-Dee displays an enviously lax work ethic from the jump; "I'm stayin' in your house for free, K-Dee. I don't have a J-O-B" (I would kick this guy out before the "Intro" was over).
The cameos here are sparse but bonkers. Two from P-Funk legend Bootsy Collins, a no-brainer from Cube himself, but then Morris Day and Snow(?!). The best track here is probably "The Freshest MC in the World," built off a sublime sample of Deniece Williams' "Free," which was produced by Earth, Wind and Fire's Charles Stepney and Maurice White. The track's video is fittingly ostentatious: K-Dee alternates between playing poker with Dr. Dre and Mack 10 and sipping cognac around a grand piano (that he clearly has no idea how to play), as girls sing and dance around him.
17.
Arabian Prince – Innovative Life: The Anthology 1984-1989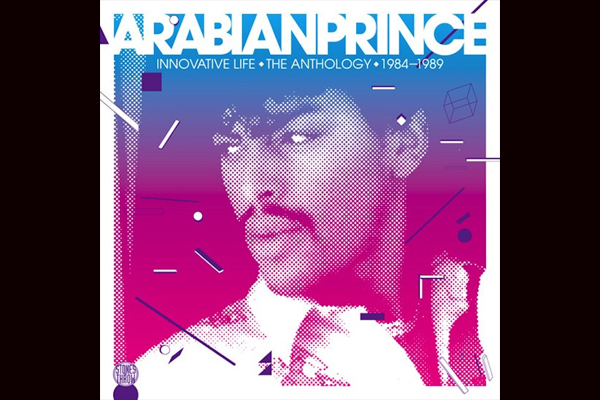 The Straight Outta Compton movie insinuated that there were three guys in N.W.A—Eazy-E, Dr. Dre and Ice Cube. In reality, there were like 12, at least initially (check the cover of N.W.A and the Posse).
One of the strangest of these dudes was Arabian Prince, who trafficked exclusively in electro hip-hop, marrying Prince to Zapp via drum machine. The sound was very L.A., and disappeared once gangsta rap came to prominence. But we still have Exhibit A in the form of "Panic Zone"—a bonkers track in which Arabian Prince has N.W.A serve as his backup chorus.
In 2008, Stones Throw Records did the world a tremendous favor by compiling all of this metronomic insanity on one disc, Innovative Life, so we can all conveniently access princely wisdom like, "Don't let society get you down. Live a strange life like me."