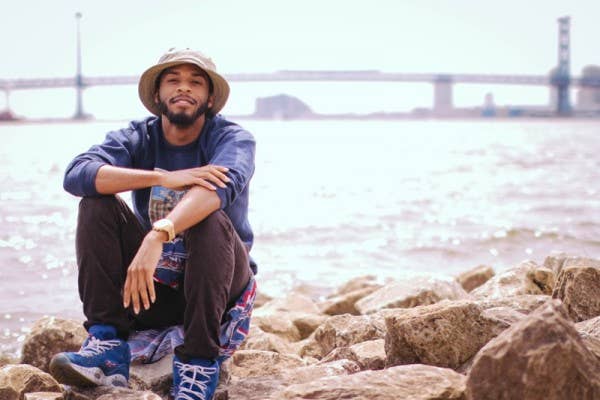 Daily Discovery is a feature that will highlight a new or recently discovered artist who we're excited about. See the rest of our Daily Discoveries here.
---
When the final episode of The Fresh Prince of Bel-Air was broadcast on American television in 1996, a young Philadelphian lyricist by the name of Armani White was already taking steps towards becoming the next big thing to emerge from the United States' fifth most populous city. Although he was one at the time, so they were, quite literally, baby steps.
Also the hometown of The Roots' Black Thought, Beanie Sigel, Eve and Schooly D, it's now nearly twenty years later and Armani White is all grown up, ready to join the area's rap alumnus. Evidenced on the all-too-short "Stick Up," 20 year-old White demonstrates his verbal dexterity by delivering at a blisteringly fast pace.
Unlike many rappers, you won't find Armani writing verses about dabbling in drink and drugs. Instead, girls often are the focus for his lyrical talent ("Picture Perfect," "Call Out My Name"), while anything from conversations with friends to considering what it'd be like if the Disney Channel decided to engage in battle with Cartoon Network can become a song's subject matter.
What's more, his sincerity is something that shines through, not only in the content of his music, but in the responses he gave us when we asked about his current projects, future aspirations, and what he had for breakfast this morning. Don't worry, we're asking the hard questions so you don't have to.
---
You recently released a track called 'Stick Up' with an accompanying video. Could you talk a bit about the context for both?

Well as far the song goes, I found the beat when I was brushing my teeth sometime last year. I remember trying to gargle Listerine and flow on the beat at the same time! There was a situation that took place a few months ago at the studio between me and the engineer so (knowing that it'd be my last session there) I figured I knock out as many quick songs as I possibly could. While scrolling through my laptop's "BEATS" folder I ran back into that beat and wrote those bars a few hours before the session.
I've always wanted to make a one shot video of me walking down my street so it was an immediate necessity to bring that visual to life in what would be my first actual video. I wrote the treatment up, spoke to my homie Earl who has a camera and we made it happen. Then I spent the next week skipping class to edit the video, then sending it to different people I know in the cinematography world for feedback.
So what are you working on currently?

Currently I'm writing out the full vision and path for this project Indian Giver. Deciding on what I'm going to do with this one EP TOLL that's basically done, and finishing up these collaborations and features that are currently flooding my email!
I also wrote a book out of boredom and it's pretty awesome but I don't know how the hell I'm going to present it! I've been in and out of a lot of meetings, so just about every other day something new is added to the 'To Do List'. You guys will definitely hear some sneak previews soon.
I read in a previous interview that it was your mother who introduced you to Eminem, who in turn was a huge source of inspiration in deciding to pursue rapping, but that you later discovered Sam Cooke which then set you off on another tangent of musical exploration. Which other music since then has given you goosebumps? And, assuming you started at the beginning of Eminem's catalog, what did you think when you first heard Infinite?

I wouldn't necessarily say she introduced me to him because she snapped when she got back in the car and heard what was playing haha, but she definitely assisted me in stumbling into my passion.
Songs that give me that shaky feel as of right now? Hmm… The auto tune solo on Kanye's "Runaway," "Tea & Coffee" by Majid Jordan, "A Place with No Name" by Michael Jackson, the entire Massacre album by 50 Cent, The Love Below half of the OutKast project, 808's & Heartbreak by Kanye, all of The Golden Age by Woodkid, the majority of Janelle Monae's catalogue. That new Kendrick, the new Bronson, Jon Bellion's "Simple and Sweet" and "Luxury" are so fucking hard! "Clarao da Lua" with Roseaux and Aloe Blacc, Chris McClenney's "More Love," JMR "Closer." So many.
I've been playing Wet since this morning and I'm hooked on whoever their lead singer is. But my favorite rapper right now, other than Eminem, is definitely Kevin Gates… Do not ask why, I don't have an answer to why I love this man's catalogue so much; it just happened!
And, "AYO WHO THE FUCK PASSED YOU THE MIC?!" was my exact thought after listening to Infinite haha. That project was so dope because it was like no hold's barred, there was no limits or specific topics he felt obligated to cover—it was just raw talent and dynamic output from an overlooked artist. Man, you making me wanna play Infinite right now…. fuck it, I'm boutta tear my basement up and look for that burned CD haha.
You've also expressed a love/hate relationship with your hometown Philadelphia. If money were no object, would you stay in Philly or pack up shop?

I'd pack up and never look back! I love the city, don't get me wrong. It groomed me to be who I am today. But I honestly feel like I've gained everything that I possibly can from this city already. I want to give back but I want to see more than this William Penn statue and Cracked brass bell.
---
What was the last show you went to? And (with a potentially different answer) what was the last show you thoroughly enjoyed?

The last show/festival I went to was Made In America festival last year. I was going so hard, all of the drunk white kids were asking if I was on molly and I was completely sober. I started all the moshpits, broke my phone, Harlem shaked and fell on top of a crowd of people at Pharrell's set.. Man it was so live!
But the last show I thoroughly enjoyed to the max was Janelle Monae. That, to this day, was the greatest concert ever! I was in the crowd soul clapping and church stepping. The music just felt so good, goddamn! I felt like I was the one performing.
Which non-musicians would you say you draw the most inspiration from?

I have an advisor named "Greg Goals" who's like an eagle eye over my career. And if he catches me slacking he'll call me and give me a 40 minute indirect lecture about how I'm fucking up, but it's super helpful.
This city consists of a lot of crabs in the bucket so I'm thankful for the people like him and my big cousin who've steered me in the right direction. And that move to California was a huge inspiration. Most mornings and every day before a studio session I binge watch Eric Thomas (ET the hip-hop preacher) and get myself motivated. There's others who I just come across every day who inspire me in so many ways. Like my TOLL project was inspired by Anne Frank. All of my EPs were inspired by Egyptian culture in one way or the other. I do a lot of reading when I get a chance to.
Am I correct in believing you don't smoke or drink? And has that always been the case?

You are correct. I've never smoked, neither cigarettes nor weed. I used to drink until summer of 10th grade. I moved to central California. I lost beer pong to some devoted and skillful players who didn't speak English and didn't miss one shot. I passed out and woke up on Mexican guy's couch with a turtle crawling on me and my pants draped on the TV with a used condom hanging out of them. After that I was just about done with alcohol…
I never actually asked what happened that night.
What are your main goals between now and the end of the year?

Definitely a festival or two with *MEMORABLE* sets. Getting on Pigeons & Planes was one of the top priorities on my list but we can scratch that off now!
I've been trying to perfect the Booker T Spinaroonie since 12th grade so I'm going to focus on mastering that. I wanna get to London before the year is over. Top Billboard's Rising Artist charts. I want this semester to be my last semester in college ever! I want my Twitter followers to be 5 digits so I can feel cool as hell with a "K" by the numbers. I want to get back to the West Coast and have romantic candle lit dinners with my Macbook. I want to utilize the full potential of my brain, there's so many processed ideas thriving in my head and I want to get out as much of those as possible in these allotted remaining quarters of the year. I want to collab with with Soulection and fully learn the trumpet.
The primary goal is, by the end of the year, to have a solid enough catalog of songs released so I can do two back to back shows and not have to recycle the same songs over and over. Content is soooo primary. And the number one objective is to bring to life and embody the meaning "LegendBound."
And finally: What did you eat for breakfast?

Dude, funny that you ask! Wawa has 2 for $3 sizzli's for the rest of the month. They're these amazing breakfast sandwiches! If you ever come on east coast and hit Philly, forget the Cheesesteak – YOU HAVE TO HIT WAWA! It's like a 5 star corner store/bodega/deli. That's gonna be my breakfast until May, with a possible exception of Chick-Fil-A haha.