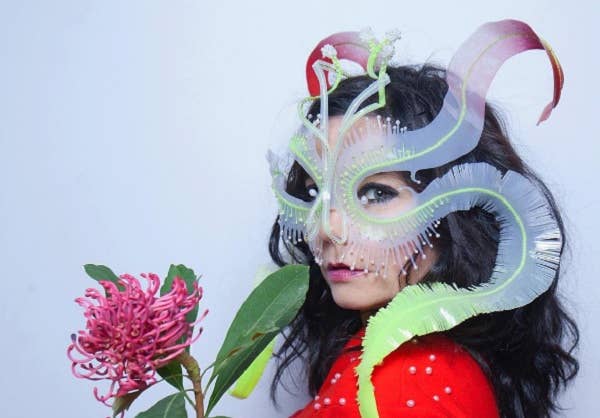 Last week, Bjork performed a DJ set at the Day For Night Festival in Houston. Following her set, some reports surfaced which stated critics thought she was "not 'performing' and 'hiding' behind desks." Now a few days later, Bjork has penned an open letter (via Facebook), in which she responds to these criticisms.
"as you know the majority of my career i havent moaned about sexism and just got on w it," she opens. "i am aware of that it is less [than] a year since i started djing publicly so this is something people are still getting used to and my fans have been incredibly welcoming to me sharing my musical journey and letting me be me...but some media could not get their head around that i was not "performing" and "hiding" behind desks . and my male counterparts not . and i think this is sexism," she explains.
Bjork goes on to write how she feels the public want to box female artists into writing about one thing, men and love, and how they reject anything that diverges from that one thing. "Women in music are allowed to be singer songwriters singing about their boyfriends . if they change the subject matter to atoms , galaxies , activism , nerdy math beat editing or anything else than being performers singing about their loved ones they get criticized : journalists feel there is just something missing ... as if our only lingo is emo," she states.
"men are allowed to go from subject to subject , do sci fi , period pieces , be slapstick and humorous , be music nerds getting lost in sculpting soundscapes but not women . if we dont cut our chest open and bleed about the men and children in our lives we are cheating our audience," Bjork writes. 
Read the whole letter below.