1.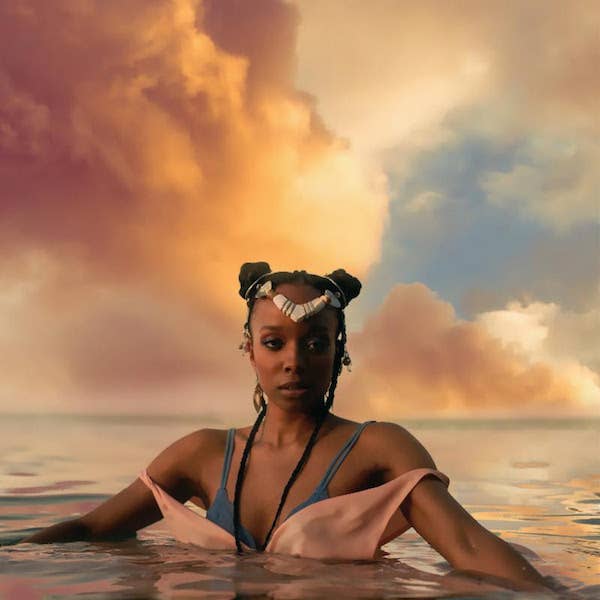 Amidst the terrifying events that have been happening across the country these past couple of weeks, Chicago activist, singer, songwriter, and poet Jamila Woods fittingly shares her debut album, Heavn. The album is 13-track collection of songs written in hopes of "[encouraging] listeners to love themselves and others"—and ultimately, to help us heal.
Enlisting fellow Chicagoans Chance The Rapper (whose Coloring Book song "Blessings" features Woods), Donnie Trumpet, and Saba for Heavn, the project features soulful, euphoric production that acts as the perfect backdrop for Woods' poetic lyrics, challenging listeners to respect one another and pushing for the creation of a more just society. Whether or not intentional, the arrival Heavn is incredibly timely.
Says Woods about her debut album: "HEAVN is about black girlhood, about Chicago, about the people we miss who have gone on to prepare a place for us somewhere else, about the city/world we aspire to live in. I hope this album encourages listeners to love themselves and love each other. For black and brown people, caring for ourselves and each other is not a neutral act. It is a necessary and radical part of the struggle to create a more just society. Our healing and survival are essential to the fight."
Listen to Heavn below.
---
---
Tracklist:

BUBBLES prod. Ayanna Woods and Dee Lilly

VRY BLK prod. oddCouple and Kweku Collins

LONELY LONELY ft. Lorine Chia prod. Carter Lang and Peter Cottontale

HEAVN

IN MY NAME prod. Nate Fox and Loshendrix

BLK GIRL SOLDIER prod. Jus Cuz and Saba

LSD ft. Chance the Rapper prod. oddCouple

EMERALD ST. ft. Saba prod. Peter Cottontale

LATELY prod. Carter Lang

BREADCRUMBS ft. Donnie Trumpet prod. oddCouple

STELLAR prod. JusLove

HOLY prod. Peter Cottontale

WAY UP prod. oddCouple