1.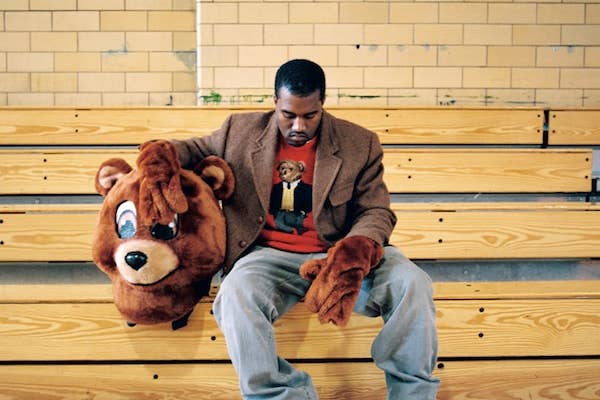 The bear imagery that was a big part of Kanye West's early aesthetic started with the album art for his debut studio album, The College Dropout, and now, footage from the shoot that produced the photo used on the album cover has emerged.
TheNewKanye posted about 30 seconds of never-before-seen footage of Kanye posing with the mascot head while sitting on the bleachers in a pose similar to the photo above, which would be widely used as a promotional image. The clip also shows Kanye wearing the bear head and goofing around to the camera.
It turns out that the mascot costume that inspired Kanye's image during the formative years of his career wasn't even a planned part of the shoot, according to Kanye's then-manager Plain Pat, who said, "The bear just happened to be at the school where Def Jam had booked the photo shoot for the album. I don't think the bear was [premeditated]. I don't remember us bringing a bear, I don't remember him asking for a bear either."
Eric Duvauchelle, who was the art director for the cover, also previously said of working on the art, "By the time I got the project, the photo shoot of the bear suit had already taken place, so I was handed a binder full of images to pick from. I quickly gravitated towards him sitting alone on the bleachers in the mascot suit. It was interesting to me as the Dropout Bear is meant to be the most popular representation of a school, yet in the cover, it shows Kanye in the mascot suit/head, all alone sitting on bleachers."
Watch the video here.
---