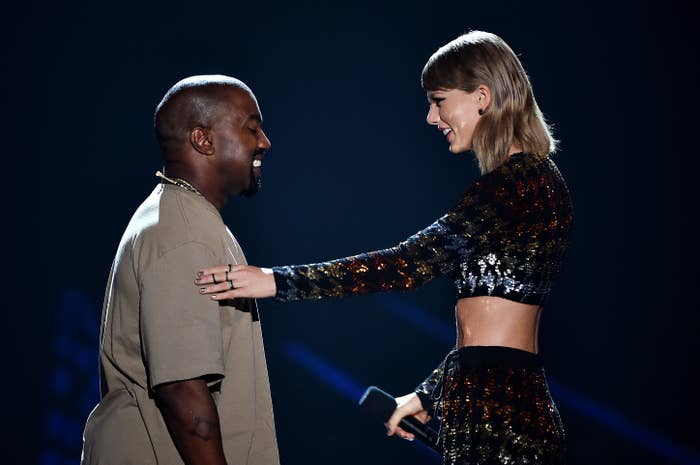 Taylor Swift's ongoing rivalry with Kanye West has spilled over into the lyrics of her new album, Reputation. 
Swift's lead single and accompanying video for "Look What You Made Me Do" were laced with thinly veiled criticisms of West and Kim Kardashian. Among other references throughout the album, she also seems to call out his notorious ego on "I Did Something Bad" when she sings: "I never trust a narcissist / But they love me / So I play 'em like a violin."
If you look at her word choices throughout the album, Swift might actually be more of a self-centered songwriter than West, however. I dug into the lyrics of Reputation and found out that she references herself more than Kanye West has ever rapped about himself on any of his solo records.
Reputation statistics:
Total words: 6,700
Total self-references: 678
Words per reference: 9.88
Percentage of album as self-reference: 10.12%
I: 368
Me: 179
Mine: 6
My: 123
Third Person: 2
Percentage of self-references on Reputation compared to Kanye West's solo discography: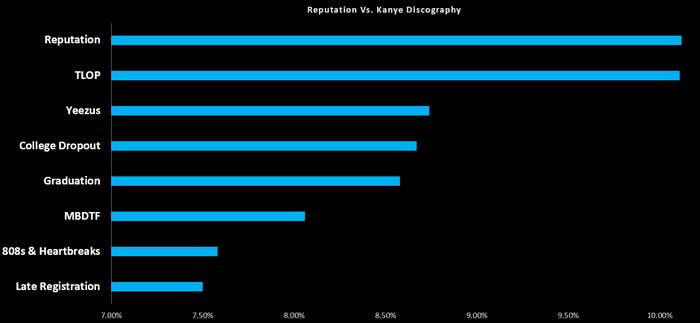 A few months back, I published a breakdown of how often West mentions himself compared to contemporaries like Nicki Minaj and Jay Z. 8.5% of his solo discography was devoted to self-reference. Here are the statistics of his individual albums: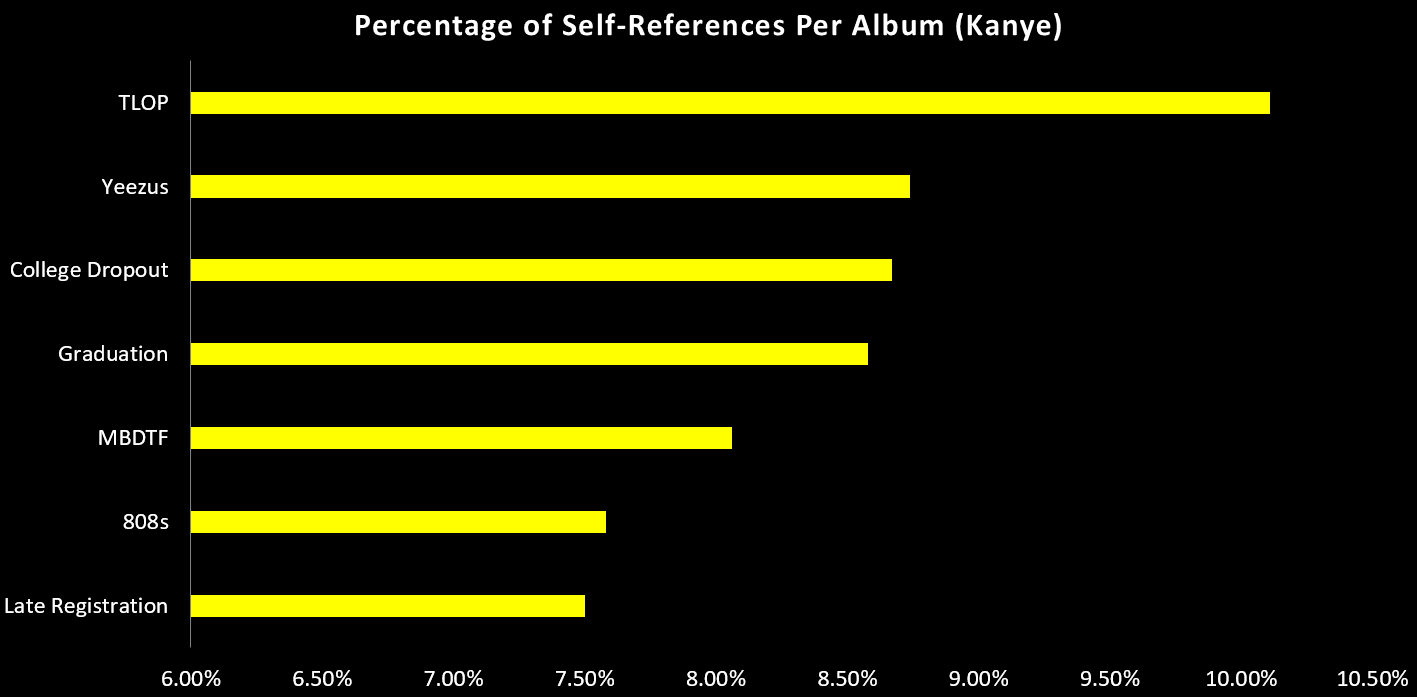 The Life of Pablo is Swift's closest competition. 10.11% of that album was devoted to self-reference, compared to reputation's 10.12%. TLOP also had "I Love Kanye", the skit in which he name-checks himself 39 times in 136 words, or 28.68% of the track. 
Compared to other rappers:
Now, let's compare these stats to the amount of times 11 popular rappers reference themselves on their solo albums. On Reputation, Swift self-references more often than Big Sean, Kid Cudi, Jay Z, Kendrick Lamar, J. Cole, Future, Drake, A$AP Rocky and Chance The Rapper. Only Nicki Minaj refers to herself more often than Taylor did on Reputation.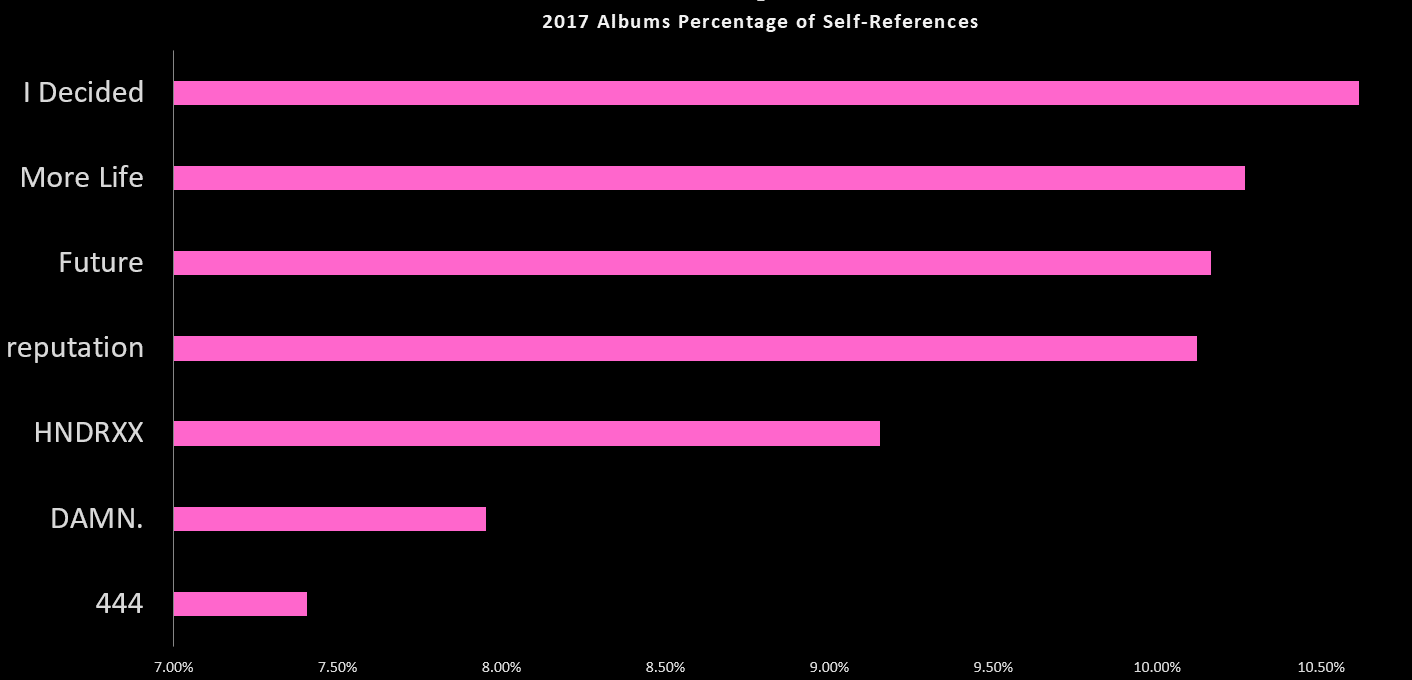 Reputation is not the most self-obsessed album of 2017, however. From the dataset in the original article, Big Sean's I Decided features slightly more self-references than Swift's record, as does More Life by Drake and Future by Future. 
Breaking down Reputation's self-references song by song: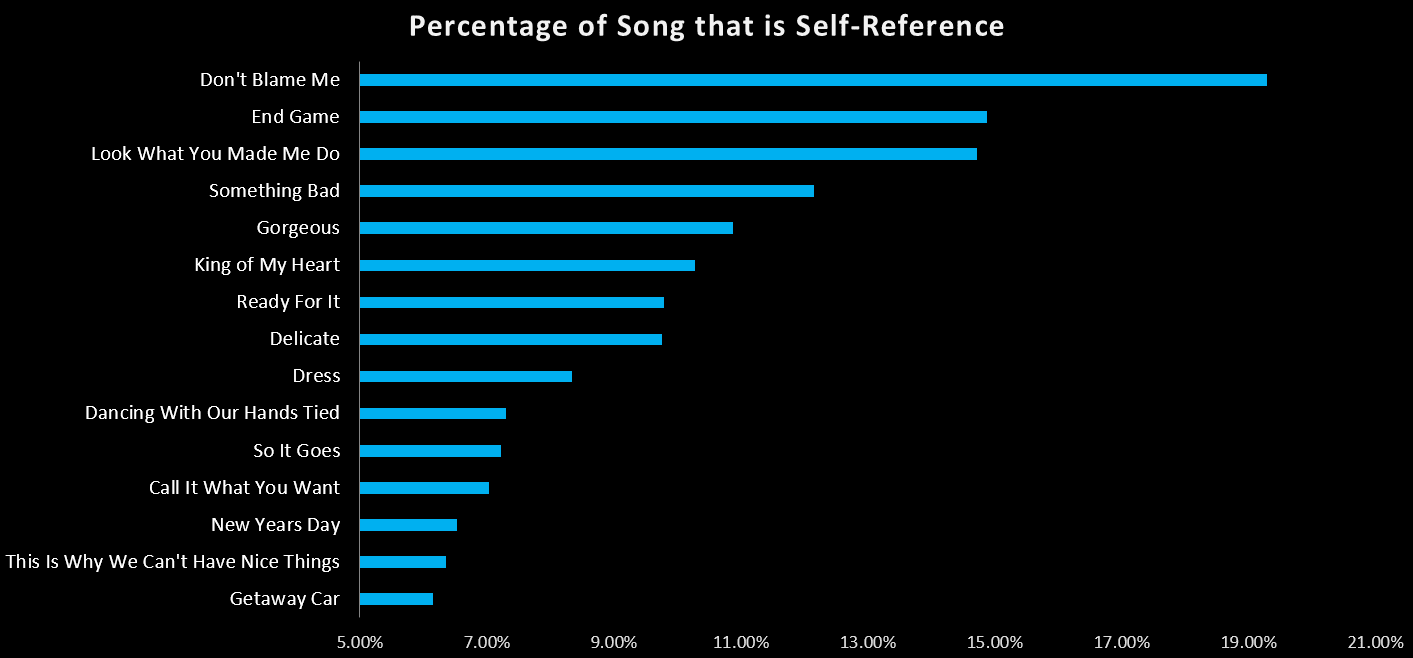 19.29% of "Don't Blame Me" is devoted to Swift. She says "I" 25 times, "me" 30 times, and "my" 25 times. 
"Getaway Car" features the least self-references at 6.15%. There are only two third-person references on the entire record, both during "Look What You Made Me Do," when "Taylor" can't come to the phone because "she's" dead.
Reputation's most used words, outside of self-references: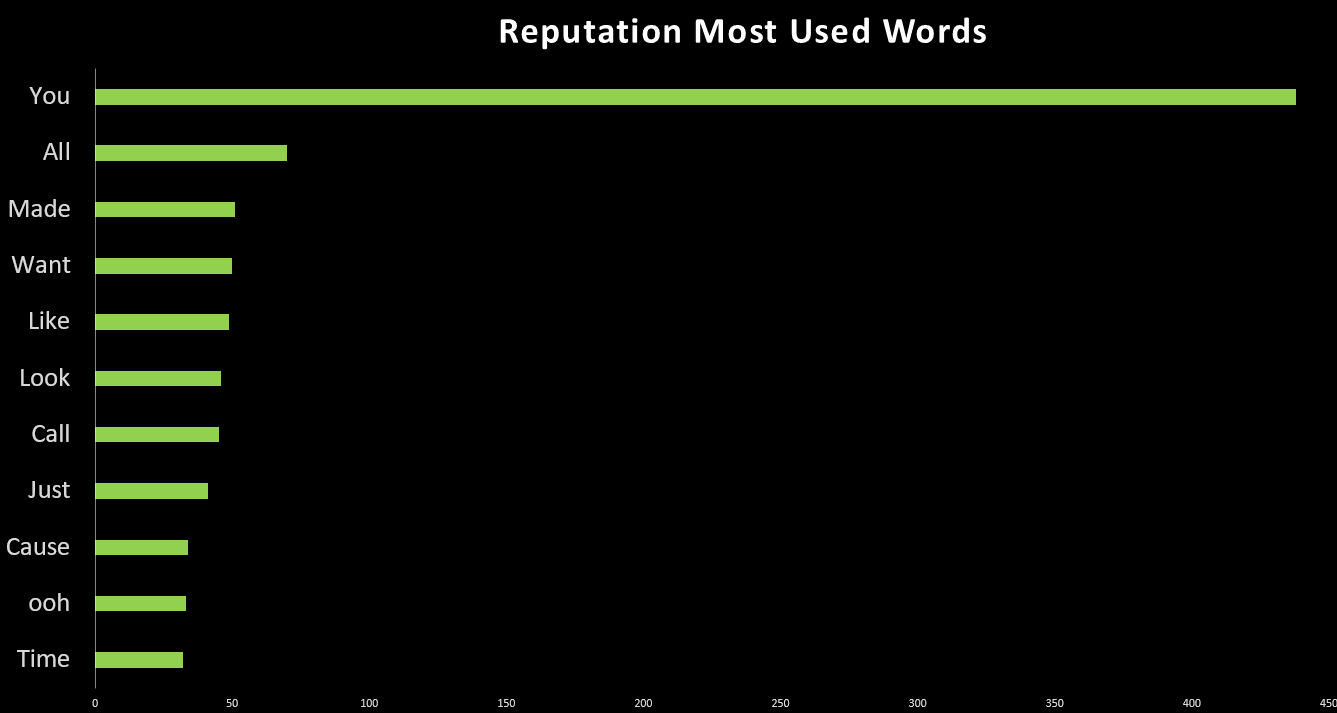 Finally, when it comes to Swift's lyrical choices outside of self-references on Reputation, the word "you" is easily her most used word, with 438 total mentions.
---
Ben Carter digs into the data behind your favorite artists. You can see more of his work at Ben's Big Blog.