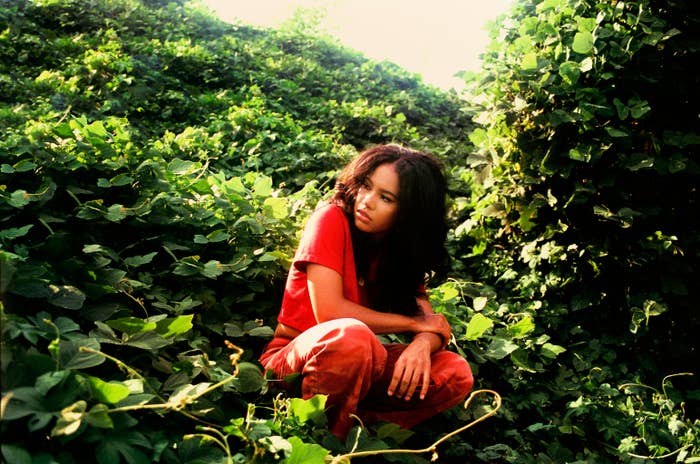 "I always knew I was on some deeper, soulful shit," Baby Rose tells me outside of a quaint cafe in downtown Atlanta.
Her debut album, To Myself  is out today, August 22, introducing the world to a singer with a timeless voice and a lot of emotion to share. Although she's released projects before, this body of work was inspired by one thing—a breakup—and created with close friends rather than big-name producers. Throughout, she keeps us intrigued with the mysterious texture of her voice and the depth of her lyrics. 
The singer, songwriter and producer was born in Washington D.C. and raised in Fayetteville, NC. Now, she bounces back and forth between LA and ATL, where she feels the most inspired. "Everyone I know on the scene is so multidimensional," she says. "We can listen to trap, but in the same breath we can listen to Miles Davis or Nina Simone and all of this other rich, high art."
Since the release of her From Dusk til Dawn project in 2017, the new artist has racked up co-signs from talents such as SZA, Kehlani, and J. Cole and featured on projects like Matt Martian's The Last Party, Big K.R.I.T.'s K.R.I.T. IZ HERE, and Dreamville's recent Revenge of the Dreamers III compilation. Still, she's chosen to deliver her debut album with no features. 
In person, the singer's rugged, low-key charm is as refreshing as her sultry singing voice. Ready to discuss the new project, she ties back her untamed hair and leans over her scuffed, loosely-tied sneakers
You've been on the road recently. How was opening on Ari Lennox's 'Shea Butter Baby' tour?
It was amazing, an unreal experience. Ari is already a friend of mine, so the energy was very much like family. Between her, all of the openers, and all of the crew it was a lot of fun. And you know, being able to go across the U.S. and see the different energy in different places was really cool.
Let's talk about your album. You've had other projects in the past. What differentiates this and makes this your debut album?
Number one, these are all original compositions. There aren't any samples. The growth from this is something that I'm very proud of. All of these emotions from my break up are pouring through in real time. It's something that I've always admired about artist that I look up to like Nina Simone, Carole King, Donnie Hathaway, and Stevie Wonder. They were very present and were able to articulate the mundane in a way that was captivating. Not just sing about, "Oh I love this person," "Oh I hate this person," but take the specific space and time that they're in and really expound upon it.
I think that I'm walking in that direction. And I'm doing it with my homies in Atlanta and in LA. I didn't go for a big name producer or things of that nature. I built with people who were beside me, like my homegirls. These are my friends so there was no ego involved, we were all vessels.
As well as your own album you just appeared on the Dreamville compilation, Revenge of The Dreamers III. How did you wind up on the track "Self Love"?
Soo… I snuck into the Revenge of The Dreamers sessions when I found out about the golden ticket! One of my friends got invited by another friend that was invited. He was like, "Alight, just drop me off… but come inside with me." This was Tim, he also executive produced my album. When I got there, I walked right in and I saw all my other homies that I work with in Atlanta and was like, "Yo waddup! Cousin!" I found the live room, and just did what I do.
What does it feel like to work on such a big project with so many talented artists?
It feels amazing, firstly because the project itself was such an incredible body of work. And secondly, I lived in Fayetteville, NC for most of my childhood, from 11 to 18 years old. My formative years I lived in Fayetteville. So to see this happening is a huge moment for me in layers, you know? I'm just blessed to be a part of it.
Obviously you knew you were working with talented people, but did you expect the project to be as successful as it was?
First of all I did not know that I was going to make the album until the very last moments, and that was crazy. But the reactions that I've been getting from everyone, from the covers and the dance videos to all of the stuff that im tagged in, to the artwork. I get paragraphs and DMs from people telling me about how much they relate to this song. When we were writing it, it only took about an hour from the conception of it to the cutting of everything. It was just such a raw thing that we were all going through.
You've done a lot of other cool collaborations recently, do you have a favorite?
I would have to go with "Self Love" but I love all of them. Being on Matt Martians' project was lit because you know, that's my homie. And then, having LeBron listening to [Big K.R.I.T.'s] "Everytime" I was just like, "What the hell, what is going on?"
Him singing and knowing the words was crazy. For me the song meant one thing, but with him attaining all of his success, the words probably mean a whole different thing. I'm just coming from a place of, "This is what I want, this is what I'm dreaming of." It's just incredible.
Back to your album, what's the process leading up to this moment of releasing the album been like? Has it been stressful?
Oh my God, yes! There were so many moments where we lost sessions. It was a very unconventional way of creating an album. It was also built off of a lot favors. We would lose sessions all the time, shit just happens like that. Then the mixing and finishing process was not easy. 
But me and Tim would be there during the whole process just ironing it. Some of the sessions I engineered myself, so everything wasn't traditional. Like "Mortal," that was something that I engineered myself. It had a certain character to it so I didn't want to lose in the polishing process. 
Overall it wasn't easy. But you learn to relax, just breathe it in. The stress, the meeting at 8 a.m., the "Okay hurry, we have to finish this," and everyone coming together to have the same frantic energy, that shit is fun as hell. Even touring, it's just so much fun.
So we know that this album is the result of a breakup and comes from a place of pain. Is this a story about one person, or is it a mixture of things you've been through in the past?
Nah this was just one person. [Laughs] He was my first real boyfriend and I was his first girlfriend. This was a long term relationship and my first "meet my family, travel the world and grow together" type of relationship. From the first date I showed him my music and told him what my aspirations were. So it was just shocking to me that as all of these amazing things are unfolding, and all of the things I've ever dreamt of are coming true.. that you just want to leave? 
But God has a way... I don't know, I just see God all through it.
Is it hard sharing something so personal?
No, I think it's actually easier to put it in my music than to talk about it, just because everybody has their own perceptions of what is what. I'm sure he and his friends think of this in a whole different way. So talking about it is kind of like beating a dead horse, everyone has their own opinion about shit. It's easy for me to just express it through my art.
Having shared a few singles already, are you anxious to see how the public will react to the full project?
No, I think because I dropped a few singles and they reacted in the way the have, that alone has made me feel like I was right about betting on myself. I'm just glad that it's being received. My first show sold out, my first headlining show broke capacity at the damn venue. I remember performing at that venue and only 15 people being there. It's really gratifying.
So what does To Myself as an album title represent about you as an artist?
To Myself reminds me that even though this is something that came from a breakup, this is less about him and more about my growth through this. It's about new things that I'm realizing. I still have to keep the same energy everyday and remind myself with every choice I make.
I had all bets in being a housewife with this guy, and not even thinking about music as my first go to, even though I knew this was my purpose. That shit was swept from underneath my feet in the worst of ways. He deleted my music, he deleted my Dropbox and all my email while I was at the Revenge[Of The Dreamers III] album sessions. To this day I don't understand why things went this way. I also understand that I'm the type of person that sometimes things like this have to happen for me to really realize, "It's time...."
Time to do a 180?
You know? And rather than trying to fit myself into a mold that's going to work in this person's life, why don't I just bet on something that I know I'll never lose, which is who I am and my gift? I think that's a real coming of age thing. 
Even though the album is definitely a back and forth of, "I'm in love with you, but I have to move on," it's a reminder that things are always going to feel like that in a way. Whether it be a relationship, whether it be a career, whether it be my family and my friends, trying to fit into all these compartments is always going to be a push and pull. So I have to remind myself to just find a balance and remember what I'm doing and who I am.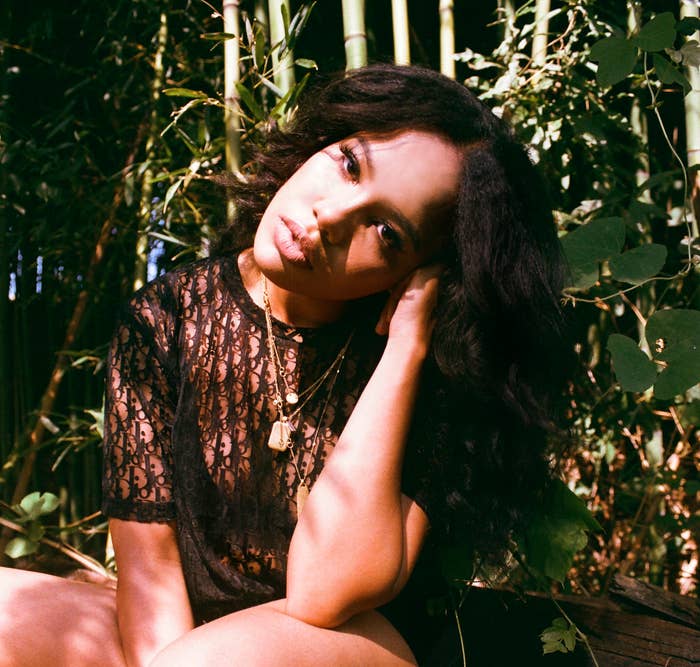 I know you're also a producer. How much of To Myself is your production work?
There are a few songs that I didn't produce, like "Mortal," "Borderline," and also "Ragrets." But the other ones I would be in the studio from the time the concept was thought of. There was a lot of collaboration. "In Your Arms" is an old beat I did on Logic in my crib. My laptop was stolen on tour, but I used to make hella beats. I look at production, writing, engineering as all a part of the narrative. It explains how the song is going to get across.
I'm very interested to know what your recording process is like—is there anything specific that fuels your creativity?
It varies. It definitely varies. A major key is that I come in with an empty slate. I just let my energy flow and try to go with my first instinct. I had to for this project. It was mainly time constraints that made that what it was, but having three hour sessions and having to do the most with that made me into somebody who trusted my first answer. My first gut feeling. Everybody around me is very talented, they all play instruments. That's a major key too. Like, I play the piano. But having real instruments involved in the process makes it real to me.
I remember moving to Atlanta and making a lot of music that was very similar to what I do now, but being kind of ashamed and not feeling like it would work. I don't know why I had so much insecurity.
You have a very unique voice. What was the process of finding your sound like? Was there a defining moment when you decided what type of music you wanted to make?
I remember moving to Atlanta and making a lot of music that was very similar to what I do now, but being kind of ashamed and not feeling like it would work. I don't know why I had so much insecurity about it, but I think what changed my life is when my mom got cancer and she was in the hospital for months. 
At that point I had kind of given up. I was just taking a hiatus from music. When I almost lost her it made it very clear that I'm not just a writer, I'm not just an artist that can do anything a producer tells me to do. I'm my own producer in my own right, I know what I want to do, I know what I want to hear, I know my vision. Instead of running away from that because it doesn't make sense from people I said "no."
So that's when I did From Dusk til Dawn. I gained confidence from that point on.
I know you probably hear how different your voice is all the time. Was your sound always received this way?
It's always been received that way, but at the beginning it was very negative. When I was a kid, I was bullied for my voice and the way I talk. So, that was hard. But as soon as I learned that I can carry a tune and started doing talent shows in high school, all that shit stopped! I was doing original songs at the talent shows, and that's when I realized that this is my purpose and this is what I have to do with my life.
Being bullied because you're different is something a lot of people can identify with. What do you want the girl who's feeling the way you once felt to take from your music?
I just want anyone to know, if they're bullied because they don't fit in, fuck that shit. Be unique, be weird, be kind, and still keep the same energy. When you're in your 20s, that's the shit that makes you cool. All of this "fitting in?" Thats lame. 
And even if you're in your 20s or beyond, still be true to yourself. I know a lot of adults who are still coming to terms with who they are, and still going back and forth with that. And all I have to say is: Life is short, it's extremely short. You have to be who you are.