Myke Bogan is a father and rapper based between Los Angeles and Portland. He started making music in college, around the same time he became a dad. The resulting balancing act between fatherhood and artistry has defined his professional and personal life. Now signed to Portland-based label EYRST, Bogan is proving daily that raising a family and building a career aren't mutually exclusive. His most recent album, 'Cult Beauty,' was released last week.
It all started in Vermillion, South Dakota, when I started freestyling to 9th Wonder instrumentals in front of my teammates. I was still playing college football, and had just started to write my first lines. And I already had a kid at the age of 21.
The mother of my child, her parents do not fuck with black people. So it was very hard for me, being a 21-year-old myself, having a son while taking classes at the University of South Dakota. I was halfway across the country from any family. And then I had my second son two years later, around the same time I graduated college.
During my senior year of playing football, I let everybody know that after school I wanted to do music seriously. My baby mom was in the punk scene, and the hardcore scene—that's where she grew up. That's the type of music she was into. And she had friends that were already touring and had been touring for years. She was one of the first ones to let me know that if you take music seriously, you have to do shows.
At my college graduation party, my mom, dad, grandma, grandpa, aunts, uncles, and cousins all gathered. My mom stood up, and made this huge speech about how she's so proud of me for graduating college. About how she has job interviews lined up for me, and people that she wanted me to meet. Right then and there, I had to let her know. I said, "Mom I graduated college for you, and I appreciate everything you've ever done for me, but I'm going to be a rapper."
"Mom I graduated college for you, and I appreciate everything you've ever done for me, but I'm going to be a rapper."
That shit did not go well. It made for an awkward night. She said, "We will talk about it when you move back to California," and that's when I told her I wasn't moving back to California. I moved to Rapid City, South Dakota with my kids and their mom. I would drive five hours to my friend's studio in Billings, Montana to record. The two boys were 1 and 3 at that time, and I was still Party Myke. I had just graduated from college, and still drinking and messing around with pills. But watching my sons progression made me clean up. They made me realize it's important that I'm here, and that I set a good example—and that I get after it with music. I realized that they're what I'm putting into society. 
Eventually, things started really happening with my music. We'd always had a plan to move to Portland once we got our music shit figured out. Tim Slusarczyk got set there, and I made the move and couch-surfed as I finished Pretty Hesh and Monkeys On The Beach. I remember when I first moved to Portland, I would have a backpack full of CDs, and I would just ride the bus at 2:30. All the high school kids that would get on there, I would just give them my CDs. Tim became my videographer, and before you know it, I started booking my own shows in Portland. More and more people came out to support, and it took off.
I moved to Portland and it led to the deal with my label EYRST. I've been with them ever since. It's been amazing, but in that time, my baby mom and my kids moved to California, to where my parents live. I live there too and now, it's like I'm a rapper in Portland for 10 days, I'm all in, I'm smoking weed, I'm making music and it's super fun. Then I get off a plane in LA, and I'm checking homework, and doing football practice, and making study guides and flash cards, and cooking dinners.
My day in L.A. usually goes like this: I wake up, I make breakfast for my children. I take them to school, I come home, I try to write, or I try to create, I try to do anything I can. Before you know it, 2:15 p.m. is here. I pick my kids up, I feed them, we do homework, we go to football or baseball. Come home, finish homework and it's baths, showers, and bed. Then I listen to some instrumentals. Then do it all over again. And it's very hard man, because one of the more difficult things is that you can't schedule creativity.
"It's very hard, because one of the more difficult things is that you can't schedule creativity."
An idea can hit while we're at football practice, and I can't sit down and do it. Something could hit me while we're studying for a spelling test, I can't do it. I could have the urge to write first thing in the morning, but I can't. I have to get cereal going, bowls and snacks, and pack backpacks. But I can't make excuses. This is the life I chose.
But my family is also a huge source of my creativity. I've always included little scenarios about my family, but I feel like now, I'm just being really honest in my music. This project that just came out, Cult Beauty, was amazing for me, because I had a lot of shit going on. My relationship with the mother of my children has hit the fan now. She's attacked me in every way, from the court system, to just personal shit. She has her own place. I have my own place, and I won my custody battle. I have my kids every day, every day. I'm the school parent. And the music is just a reflection of this grind.
I love the Nipsey Hussle quote where he says, "I'm not going to tell you I've been given this ultimate poise, it's just that I never quit." No matter what the circumstance, or no matter what the disadvantages are, I feel like things are definitely turning in the right direction. And I feel like the universe drops little gems, that say, "Yo, keep going." Cult Beauty was definitely one of those, the reactions and responses, some of the new opportunities that are coming around. It's just letting me know that I can't stop.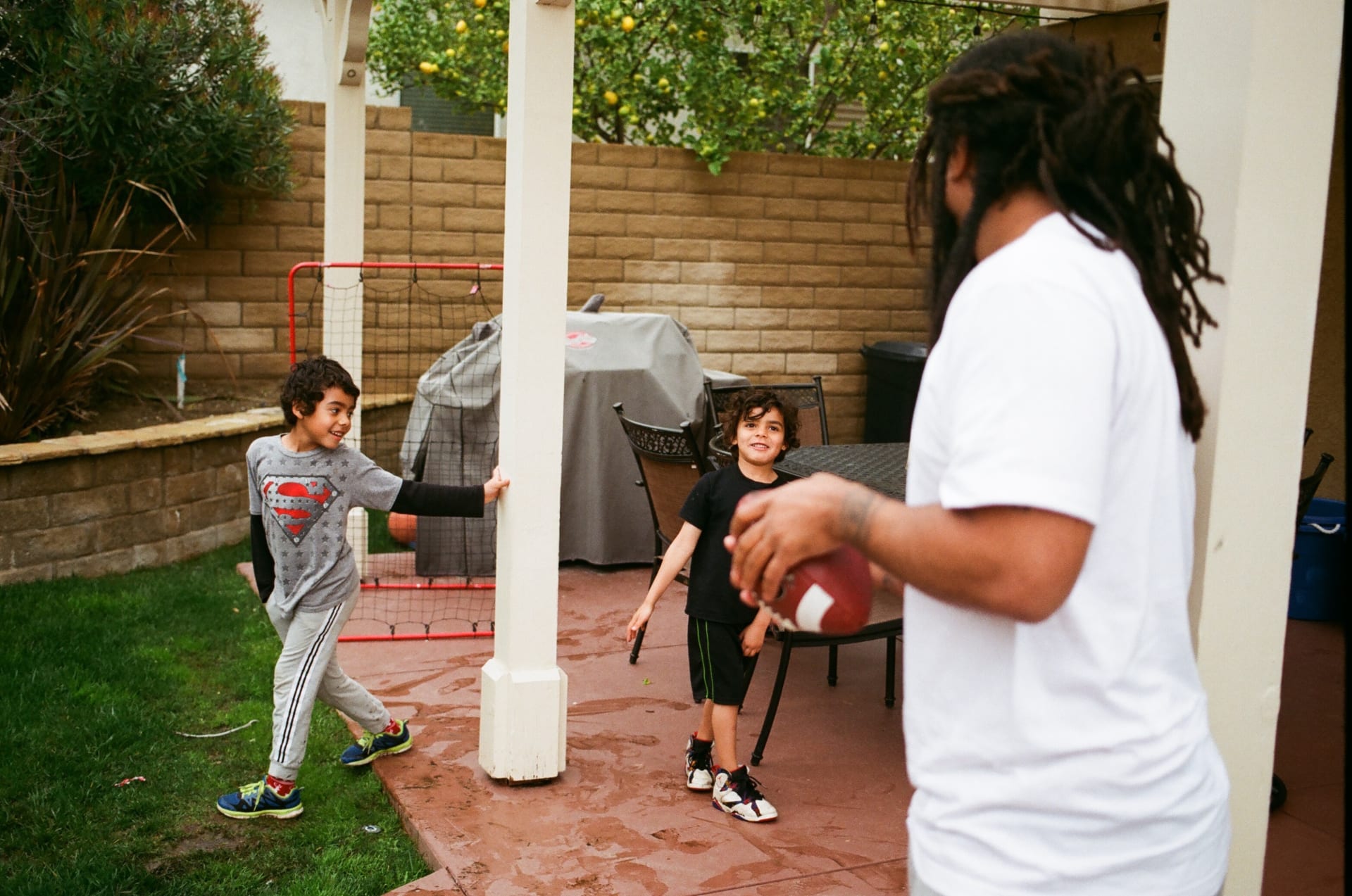 Now, with the kids, we're at the point where instead of the diapers, it's practice, it's school projects, it's homework. It's kind of different, but in a sense it hasn't changed. They're 8 and 10 now. It's still like being two people, dad and rapper. But it's also work, and it does provide for my kids. I look at it like that. So instead of the dad that goes to work 9 to 5, 365, I'm the dad that goes on a 72 hour shift once a month.
There are some misconceptions I encounter about being a parent and an artist. They think that we're not as good at parenting. Or that we don't have the time to actually be there for our kids. But that's not true. A lot of artists are very active parents, and they're making time just like I am.
I tell people that it goes back to having balance. Right now, I'm on tour for three weeks, but after that, I'll be the young father that gets to take their kids to school every day, pick them up every day, go to every practice, every game, you know what I mean? Every concert, or assembly, or reward ceremony, I get to do that. And when I am gone, I FaceTime my kids every night. Besides this three weeks touring, I don't miss anything. 
Maybe they'll look back someday and be like, "Yo, when I was 10 listening to Dad's music, he was like on tours." They'll have that other side of me. I want them to know that their father was real and I didn't conform to any rules or sugarcoat anything. I feel like it's a reflection of how I raise them. I raised my kids the same exact way.
"It's the same thing I tell my kids every day before school: go as hard as you can with whatever you choose to do."
One of my son's favorite rappers is Young M.A., and he had some questions after he had seen the music video for "Petty Wap."  He was kind of confused about her being a male or female. I had to break the whole thing down and we had a conversation where I explained, "Bob, she likes girls, and that's okay." Thanks to hip-hop, I got to have a cool conversation with my son about not judging anybody, not being judgmental, and being open-minded.
Kids are also really expensive, and that's kind of goes back to being on the road. I have to get on the road in October to get things for Christmas. That's why every ticket that's sold means something. I need to sell out on merch, too, I can't go back home with T-shirts. I need to go home with a bag full of money, and that's it, even if have to sell the clothes off my back, you know? 
I am still the grind mode man. Most parents, when they have some free time they'll read a book or whatever, but I'm like, "No, fuck that, there's some rappers out there that got to fucking do this all day." I feel behind, I feel like I got to catch up. Because it's the same thing I tell my kids every day before school: go as hard as you can with whatever you choose to do. And be a good person when nobody's watching.