ComplexCon returns to Long Beach Nov. 6 - 7 with hosts J. Balvin and Kristen Noel Crawley, performances by A$AP Rocky and Turnstile, and more shopping and drops.
Secure your spot while tickets last!
If you're having trouble wrapping your head around Lil Uzi Vert's weird Instagram posts this week, you're not alone. One post says his password was written on the bathroom wall of a tiny brothel, and now over 20 people have his log-in information. Another captures a police raid in real time. Later, his SoundCloud page started leaking unreleased music with the caption: "hahahahahahahahhahahahaa!"
What's happening? Is this all a marketing tactic? Or is it for real?
Over the last couple days, I spent way too many hours attempting to get a handle on what the hell is going on. Here goes...
Let's start at the beginning. Just a few days ago, Uzi's Instagram started acting strange—even for him. It began with a post that looked like it came from one of his friends. The caption reads, "Posted from @mean.w phone. Uzi is currently working on the best music in his and your life so he does not have a phone. New music soon. PS this is my phone Uzi had 2 white iPhone X... He will be back in a few weeks maybe he says."
With a little digging, I saw that @mean.w is "Mean," the founder of Mean Management, who manages producer Maaly Raw. You might recognize Maaly Raw as the producer of "I Do What I Want" other Uzi gems. So, Mean and Maaly seem to be a part of Uzi's extended camp.
From there, the posts get weirder.
For the next 24 hours, the account uploaded three different times. All of the photos allude to the fact that Uzi's Instagram had been hacked. The first caption tries to explain why:
"Dude like 20 people has to have Uzi Instagram. He wrote his login name password and iCloud in a tiny bathroom at a massage room/Brothel. I wanna @ myself so bad dude but I don't want anybody to know I attend that type of activity."
A couple things about this post seem strange. Why would someone who hacked Uzi's Instagram not change anything? His bio, profile photos, old photos—everything remained perfectly intact. The post also includes a photo of Uzi that perfectly fits the aesthetic of his profile. Why would the 20+ people who allegedly have his info not touch the profile, except to share a photo that Uzi himself would post?
Then, the next two posts get really weird. This guy starts talking about his roommate walking around naked with a sword:
Then, while filming, he gets raided by police.
Honestly, this is exactly the kind of character who you'd expect would find Lil Uzi Vert's social media information scrawled on a bathroom wall in a random brothel. But it does seem pretty unlikely that someone would happen to be raided by police right after hacking a famous rappers' Instagram, keep the camera rolling during the raid, then manage to still upload the footage after the fact. 
The main question is—even if all of this is real—who is the guy in these videos?  
There are no indicators in the video itself, but I took a few minutes (okay a lot of minutes) to scroll through the comments and one name kept popping up over and over: Lyle. So I searched the internet for Lil Uzi Vert and Lyle in the same article. Sure enough, a producer I had never heard of fits the description. His name is Lyle LeDuff. Look familiar?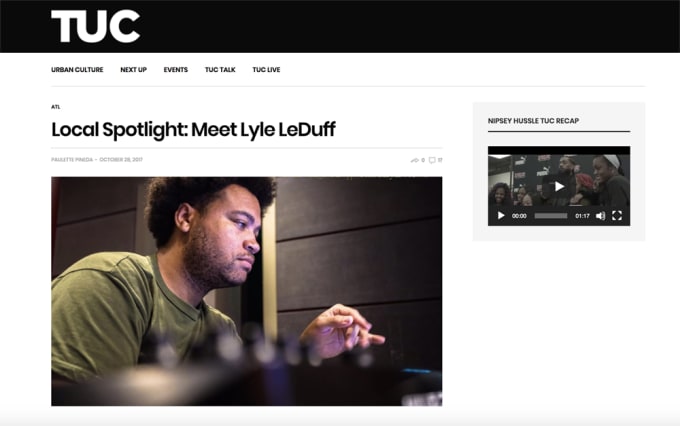 Uzi doesn't follow Lyle on Instagram or Twitter, but a quick look at Lyle's Instagram confirms that he's part of Uzi's camp. In fact, Leduff produced on Luv is Rage 2 and posted about the album going platinum. He's responsible for A$AP Rocky's "Brand New Guy" and other Uzi records.
Lyle also re-tweeted a message about the hacked account.
If you're interested in how Lyle first got connected with Uzi's camp, this video gives some nice background. It seems as though Lyle knew Don Cannon's cousin and fellow producer Keef Boyd. When he felt comfortable as a producer, he asked Boyd to share his music with Cannon and thus made a connection with one half of Uzi's management duo.
At this point, it isn't clear if the person who hacked Uzi is actually Lyle Leduff or if he's just one piece of the puzzle. The posts have since shifted from videos of Lyle, to a leaked Uzi song, then a video of what looks like a homeless man. There was even a since-deleted moment where someone claiming to be Nicki Minaj posted on Uzi's account to promote her new single "Chun-Li." Nothing about this story quite adds up.
The most obvious explanation is that this is all a marketing tactic by Uzi's label—carried out by people who are already connected with Uzi. But Others believe that this neither a publicity stunt or a true hack. Uzi's SoundCloud is currently "teaming up" with his Instagram and leaking his music in a newlycreated playlist. So fans are theorizing that it's a hack directed by Uzi himself. Frustrated with his label, could this be how he's finally winning the war? By having a friend of his, namely Lyle, leak his music?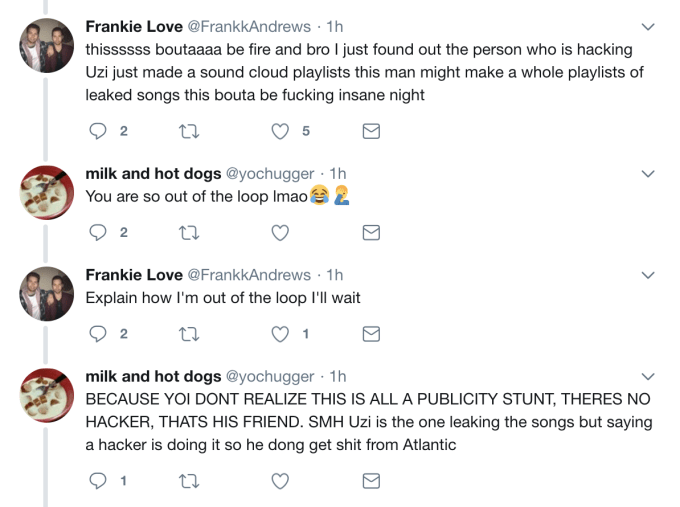 Whether this is all a complicated marketing tactic or a legitimate hack, it sure has been entertaining to watch—and it's brought new Lil Uzi music to the surface. We can't complain. 
Keep watching Uzi's Instagram here for more developments, and watch a video I made about the whole thing on my YouTube channel (or below) for more details.