Truly proud, truly biblical, truly exciting, truly complete. An endearing penchant for using the word truly is just one of a few ways Lauren Auder's earnest perspective on the world becomes clear. Remarkably eloquent and sincere for his nineteen years, when we meet to chat over a pint in a sun-lit pub, the singer, songwriter, and producer is dressed in an oversized leather jacket paired with earrings with chipped black nail varnish and long, slightly disheveled hair. 
When he was six, Auder moved with his family from Watford to a quiet village in southwest France. After being educated at a strict catholic boarding school, he's now been back in London for over a year, couch surfing and staying with friends until recently settling in a north London flat.
Lauren Auder's debut EP Who Carry's You has just been released via True Panther Sounds, the New York label also home to King Krule, Abra, and Kelsey Lu. His relationship with the label started whilst he was at high school, when he had to sneak out for late night for phone calls across the pond to label head Dean Bein. 
"He was just curious about me and my music," Auder explains. "We didn't discuss record deals or any of that daunting shit. It was daunting for me as someone who'd never really considered music as a profession as this point, but he just wanted to talk about what my music meant to me and where I wanted to go with it." Bein's genuine interest and understanding in Auder's craft—business aside—was one of the most important factors in the two beginning to work together. "After hearing all these horror stories about labels, I'm blessed that it's been very straightforward, they've let me have complete artistic freedom."
Heavily influenced by classical music and with his feet firmly planted in France's vibrant rap and experimental scenes, Lauren Auder's sound is a mish-mash of styles and influences—in his own words, he makes "experimental pop with a lot of orchestration." Who Carry's You spans soaring melodies, ambient synths, gentle keys, organ, and brass progressions, harsher noise elements and off-kilter hip-hop beats. Cinematic textures lay the foundations for his baritone vocal with lyrics that set out to convey absolute sincerity.
Explaining why the cover for the record is an intimate close-up of his face, Auder tells me that he wanted to strip the twee and the tongue-in-cheek from pop to make something entirely true. "There's a plea for honesty within this record," he says. "Heartbreak doesn't feel the way it's represented in music sometimes. It's presented with this grandeur. True heartbreak, especially in your teenage years, is truly devastating and truly biblical."
Who Carry's You is the first body of work Lauren Auder has released that he feels proud of from beginning to end. Of past music, he explains, "I was limited by so many things. I am proud of my previous work to an extent but not as a full, definitive and worthwhile piece." Something that Auder is keen to get across about his latest project is that it's one cohesive composition rather than a collection of separate tracks, and it's a format he intends to stick to. "I want to keep to this ethos of having five tracks per EP. It feels concise, and I want to start a legacy, so my art will be consistent from now until the end."
Who Carry's You has a clear narrative, with the intention and the purpose of each track existing before the music itself. As you listen, the record unfurls and blossoms but remains true to the opening track, "Choices," which sets the scene, introducing all the musical elements that appear later. "I wanted it to be like, 'welcome, take a seat, this is what you're in for'," Auder says, before walking me through the rest of the EP. 
The final track he wrote, "The Baptist," was written as a ballad, timeless in its traditional piano but with the noise elements adding a contemporary twist. Rather than a centerpiece, third track "Ouroboros" acts as an interlude. "I wanted a rest in the middle, a calm ocean before something harsher, longer and more wearing," he explains. On "These Broken Limbs Again Into One Body," which was originally written a few years ago, Auder's roots in hip-hop and French experimental electronica really shine. It was this track that served as a platform for the concept of Who Carry's You as a whole. The closing track, Auder explains, "defines my music for now, summarizing everything I want to say in the last few moments of the record."
Sending tracks from one bedroom in France to another in London, Lauren Auder has worked closely with Dviance on this project. "We work together as a unit, chopping up ambient samples and writing melodies," he explains. "I tend to come up with the basic idea, but really it's just a lot of sending files back and forth." Other collaborators on Who Carry's You include U.S. based producer and cellist Mmph, who worked on the last David Byrne record, and Allison Chanic, whose usual sonic sits in a more techno-oriented landscape.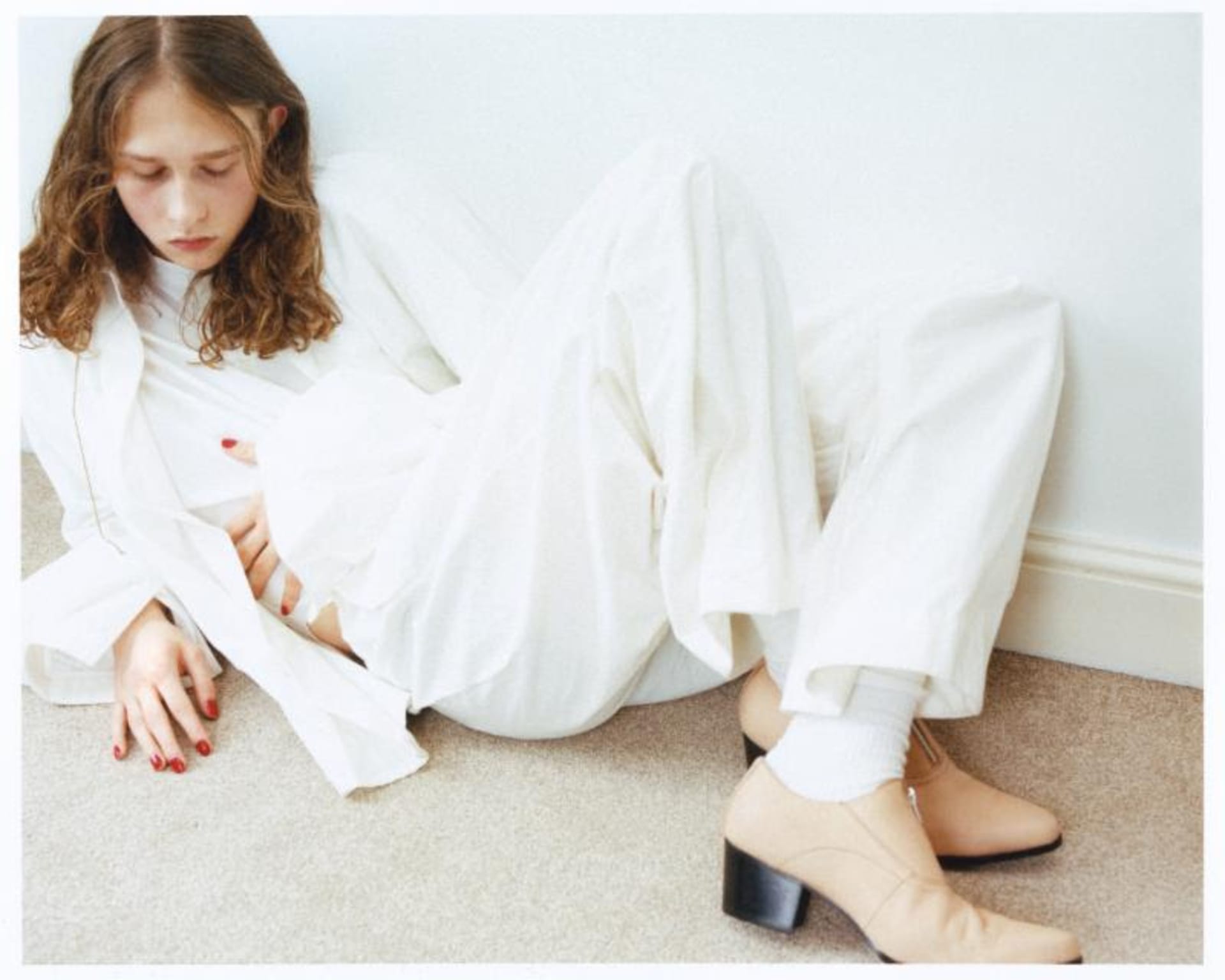 Throughout our conversation it's clear that Lauren inspires and is inspired by the musicians that he surrounds himself with. He and British rapper slowthai have been friends for years after forging a relationship over SoundCloud. Fast forward to today and they are hanging out immediately after our interview. "We were the only two fuckers that cared about each other's music back then," Auder laughs. "You know, when there's thirteen people listening to your tracks you can't help but communicate with them!"  
Speaking of surrounding himself with like-minded creatives, Auder bubbles with excitement as we talk about France's music scene. He raves about burgeoning underground hip-hop, naming Retro X, JORRDEE, and Timothée Joly as standouts before waxing lyrical about the experimental electronica that's emerging, with artists like Coucou Chloe attracting attention internationally. His recently played encompasses a cocktail of styles—Westside Gunn, Sorry, LUH, Fiona Apple, Neil Young, and Tay-K are all mentioned.
Although he lights up when he talks about French music, in previous interviews Auder has talked about how he spent much of his time in France feeling like a foreigner. "It's tough feeling that way when you're young, but now I see it as a strength—I experience more," he says.
As Lauren Auder establishes himself as an artist with a record that is more complex and considered than you might expect of his nineteen years, what advice would he give to his younger self? "It's kind of dark," he hesitates, "but I think it's really important to know that your art might not be for everyone. Just because you don't succeed doesn't mean you are making worthless art. Not everything is for everyone."
Lauren Auder plays his debut London show in south London venue Rye Wax on Wednesday March 28 with his close friends Ethan P. Flynn and Jeshi joining him on the bill. With such an intense and personal project, Rye Wax's dark basement space will play the perfect host to his performance. "It will be an amazing sharing experience" Auder says excitedly. "It might not be music you can vibe too, but it demands attention—for better or for worse.