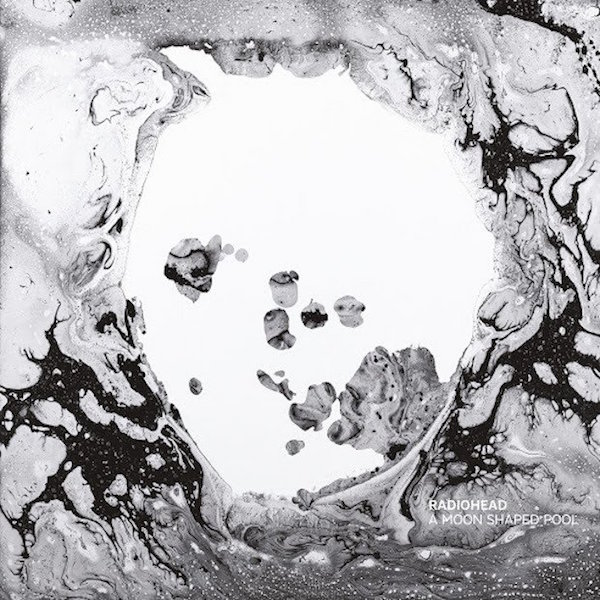 A song hasn't made me cry since the last scene of Armageddon (and all subsequent viewings of that Aerosmith video; please don't press me), but the wondrous climax of Radiohead's "Daydreaming," the second track off their new album A Moon Shaped Pool, set me off last week while staring at the skyline from the Brooklyn Promenade.
Radiohead knows how to do this. They can make any afternoon on a bench feel like a defining moment. They are master architects of standalone musical worlds, which, while sonically intense and emotionally manipulative, leave context and interpretation up to the listener. For over twenty years now, the band has provided its audience with the sonic tools to narrativize their own lives.
A Moon Shaped Pool is the ninth studio album from Radiohead, and it is probably a masterpiece. (Ask me in a month!) In the fractured, niche-catering world of 2016, it would be near-impossible to achieve the combination of genre and generation-defining innovation provided by OK Computer (1997) and Kid A (2000), but damn if this isn't Radiohead's most gorgeously produced and orchestrated album, their best since 2001's Amnesiac.
The band's meticulous labor and attention to detail have yet again resulted in a magnificent statement, In Rainbows' pristine songcraft and The King Of Limbs' nocturnal textures combined into a record that feels both self-referential and timeless.
In addition to some of Thom Yorke's most impassioned vocals, A Moon Shaped Pool features MVP performances from the brothers Greenwood. Jonny, who has spent the last decade in BBC composition residencies, scoring Paul Thomas Anderson films, and exploring Indian music with Shye Ben Tzur and The Rajasthan Express, takes the keys on tracks like "Tinker Tailor Soldier Sailor Rich Man Poor Man Beggar Man Thief." What begins as a brooding vamp replete with wet drum hits and ghostly piano stabs turns into a showcase for his collaborative work with the London Contemporary Orchestra, their swirling cosmos doing the melodic lifting, injecting blood into the band's austere soundscape.
---
All too often, string sections are empty adornment in pop songwriting—a spice to cover a bland track or a hollow emotional cue telling you how to feel. But Radiohead tends to explode this binary. "Burn The Witch" is psychedelic rock without guitars. Amplified strings are replaced with orchestral ones striking in militant pizzicato, quantized and electronically filtered as if each stab was slotted into a sequencer.
"Glass Eyes," immediately apparent as one the more beautiful compositions in Radiohead's catalog, takes the dramatic heightening of previous album closers like "Motion Picture Soundtrack" and "Videotape" to a breathless emotional peak. Here, Greenwood's arrangement unfurls naturally from Yorke's soulful vocals, its swelling whitewash hissing from his falling waves. The arrangement dramatizes Yorke's lyrics, his best on the album, a story of deboarding a train, anxiously grazing society, and immediately wanting to return to safer environs.
In two instances, the band uses an operatic coda to administer a punch to the gut. "The Numbers"—a shaggy Neil Young nod in its acoustic riffage, a little Sea Change in its orchestration—climaxes with a monsoon of a crescendo, a leap of thrilling volume and texture. "We call upon people," sings Yorke, nodding toward the universal and political. "People have this power."
"True Love Waits," a white whale in the Radiohead discography since 1995, does the opposite. Its final piano chord lingers as long as "A Day In The Life," but without the preceding fanfare. It's muted and insular, a private moment pleading with a lover one last time before fading out.
---
As the mid and high-ends on songs like the glacial "Decks Dark" seem to hover note-by-note, employing a compositional pointillism rather than traditional chords, it's Colin Greenwood that glues it all together at the bottom. His bass—at turns funky, at others, as on the Can-meets-the-club epic "Ful Stop," pulsating like an unforgiving machine—is a secret weapon hiding in plain sight.
The pastoral drone folk of "Desert Island Disk" reminds me of "Vittorio E.," the great closer on Spoon's 2003 album Kill The Moonlight, while "Present Tense" augments the rhythms of In Rainbows' "Reckoner" into a lovelorn samba. At first blush, both leave little room for bass, yet Greenwood dominates the second half of each track, his cascading figures providing an anchor which grounds these songs in the organic rather than letting them float away.
Which brings me back to "Daydreaming." Why did I get all misty last week? The climax led to a recollection of illegally buying Hail To The Thief at Subterranean Records in Greenwich Village a week before its street date, and listening to it in the same exact spot on the Brooklyn Promenade, thinking both my life and the world around me were crumbling. The Iraq War had commenced that spring; the Twin Towers were still a pile of rubble. I was in town for an ill-fated music festival, one of many botched attempts to make an East Coast Coachella. It rained all day, and the girl I'd traveled with abandoned me. Radiohead scored all of it, and it made my existence and experiences feel more meaningful than they actually were.
That's their unique power. By providing the framework to see majestic worlds in our in everyday mundanity, Radiohead's music leads us through our own novels. They provide the soundtrack; we provide the material.
---
Radiohead's A Moon Shaped Pool is out now.