When Young Thug first came out, a lot of people said he was ripping off Lil Wayne. Thug responded by saying that Lil Wayne was his favorite rapper. He then went and dropped and album called Barter 6 before Lil Wayne could drop his long-awaited Tha Carter 6.
They say imitation is the sincerest form of flattery, but Wayne didn't appreciate the sentiment. He even went so far as to instruct his fans not to listen to Young Thug.
Now the tables have turned. There's a young rapper from New Orleans who goes by the name Kyng, and he has a lot in common with Young Thug. He sounds like him, he looks like him, he dresses like him, and now he's threatening to drop a project called Slime Season 3 before Young Thug does. Thug has been promising Slime Season 3 for months now, but Kyng says he might go ahead and drop it on April 1.
According to Kyng, he's just doing to Thug what Thug did to Wayne. "DEY KOMEPARED KOBE TU JORDAN," he says in another Instagram post. "KOBE FINISHED WIT 5RINGZ… HATERS GON HATE DOE!"
All of this would be easily ignored if not for one fact: Kyng's music is starting to make an impact, and the "BLOODAZ" video is racking up views quickly.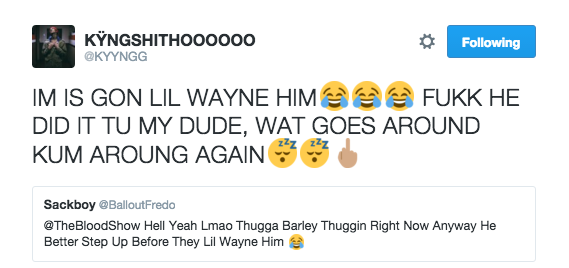 ---
---
---
---
---
---