At this year's American Music Awards, Justin Bieber appeared on the red carpet wearing a Nirvana T-shirt from Fear of God (which costs $1,500). The shirt featured a variation of the design from the "Heart-Shaped Box" single, and it pissed off some Nirvana fans who believed that Kurt Cobain wouldn't be happy to have Bieber's support.
---
In an interview with Esquire, Bieber's stylist Karla Welch comments on the reactions: "Actually, it's not the first time he's worn a Nirvana tee. We just have a nice collection of vintage tees, and then the tee he wore yesterday was actually Jerry Lorenzo's from Fear of God. Jerry takes vintage tees and re-cuts them. But yeah, of course he's a fan of Nirvana. I think it's so funny that all these people are up in arms. I'm sure Kurt Cobain would be like—I mean I can't speak for him, obviously—but I don't think he was so snotty or that he would diss anyone who appreciated his music. I think he understood that that is like the antithesis of music appreciation."
---
One person who isn't mad: Courtney Love. After the AMAs, she tweeted to show her support.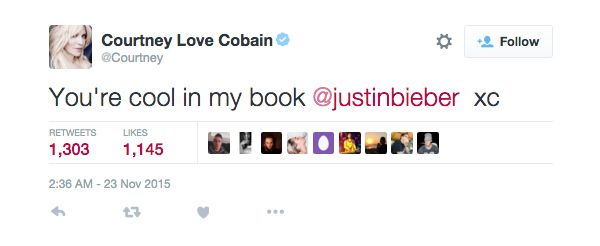 Related: An Autopsy of Nirvana's Posthumous Career