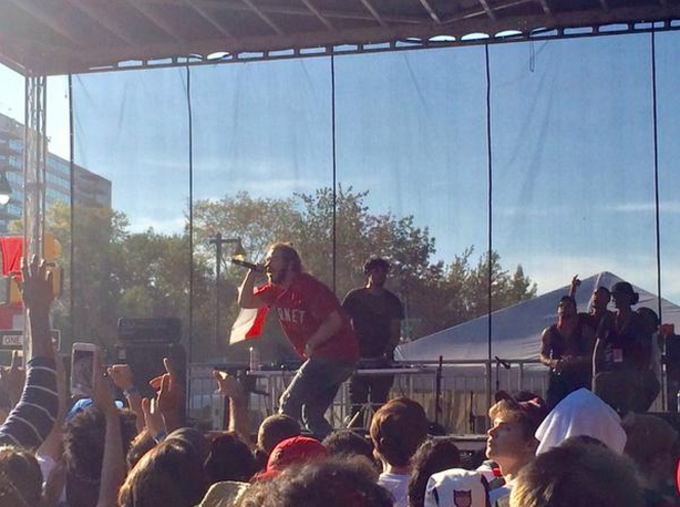 It was 3:50 p.m. on the second day of Made In America. I was in the crowd for Santigold, standing directly under the sun. In front of me were three drunk girls who couldn't have been more than 20. I know they weren't 21 because none of them had wristbands for the bars. They were swaying side to side, one minute yelling, "Who is this!?" and the next screaming, "Wait I think I know this song!" (Spoiler alert: they did not know the song). One of them stumbled, and in the process spilled the beer I had just bought for $12. If there's such a place as hell, I was in it.
This is what the music festival experience has become to me, and as a result, I have started to hate music festivals. They're overcrowded, it's always hot, and beers are overpriced. Plus, you're on your feet all day and it's exhausting. I don't know. Maybe I'm just getting old. Maybe I'm just becoming boring.
When I was asked to attend Made In America I said yes for one reason and one reason only: Beyoncé was headlining. I have no shame in admitting this. Beyoncé is an unparalleled performer. If you get the chance to see her live, you take it, no questions asked.
---
It's a weird feeling to have when you go into an event as big as Made In America with such few expectations. In a way it can be a blessing. You don't have the pressure of trying to control all the external factors. The downside  is that it makes you indifferent. And when it comes to being a music fan, indifference is the worst.
With the exception of Beyonce's performance, I was indifferent throughout day one. There were a lot of solid acts—Earl Sweatshirt, Vic Mensa, Meek Mill, Death Cab For Cutie—but I let little things cloud my ability to enjoy these sets. I was so hot during Earl's show. It was so crowded at Meek Mill's. The girl next to me at Death Cab For Cutie's set kept screaming to her friend, "I think this was Modest Mouse." 16-year-old me cried hearing that.
But by 3:50 p.m. on day two, after my beer hit the pavement, I was starting to feel more than indifferent. I was starting to feel entirely over it.
The next person I wanted to see was Post Malone. He was on at 4:30 p.m. at the other end of the festival on one of two smaller stages at the event. My friend and I decided to leave Santigold (and the three drunk girls) and make our way over to his area early enough where we'd get a good spot. But as soon as we got near the stage, we encountered a wall of people. I'm talking kids spilling over into the sidewalks crowded. None of them were there to see the band on at the time. They were lining up for Post Malone.
The scene shouldn't have surprised me as much as it did. Post Malone has had a massive year. His syrupy, sedated flow has struck a chord with listeners in a way that only feels possible in 2015. Thanks to artists like Drake, Fetty Wap, and Future who've capitalized on having a sing-song cadence, Post Malone's style is the perfect addition to the evolving realm of what constitutes hip-hop today.
But if I thought that the sheer volume of the crowd was going to be the most unforeseen part of his performance, I was wrong. Because once he started playing through his set—"White Iverson" (both his opening and closing choice), "Too Young," "Tear$," "What's Up," and a few others—it hit me: these kids weren't just here because they'd maybe heard "White Iverson" once or twice. They knew every single word to each of his songs, and they were singing along at the top of their lungs.
For the first time that weekend, I forgot how crowded it was around me. For the first time, I forgot how hot and sweaty I was. For the first time, I forgot that my feet hurt or that the bro next to me was bumping into me every other word. Instead, Post Malone's set made me remember. It made me remember what it was like to be a music fan despite all this.
People that flock to festivals do so knowing the conditions aren't going to be favorable. Their love of music overrides all that. As a blogger, someone who mostly digests new songs and artists alone and from behind a computer, I needed to be reminded of that. I needed to be reminded of how electrifying it is to see a diverse crowd vibe out to a new artist, especially when they could've chosen a more established one. Those are the moments that make festivals powerful. And to be able to continue to experience that firsthand, I'd gladly pay $12 for a beer.
---