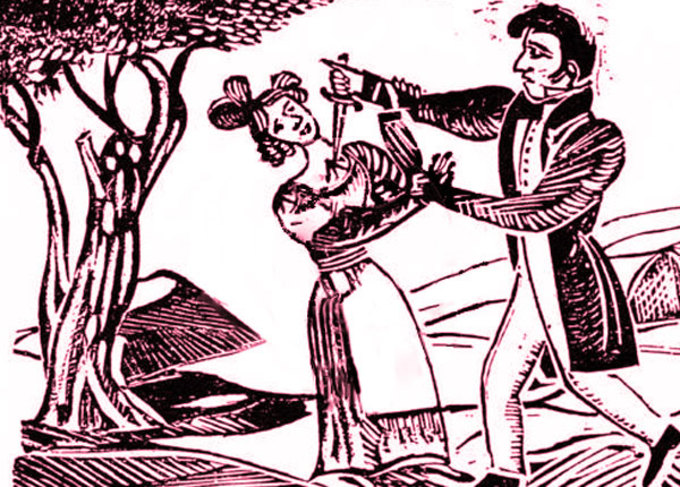 If you've never been into country, folk, or any other kind of American roots music before, consider this a good (and slightly odd) place to start. Non-country fans might associate words like "corny" and "hokey" with the state of popular modern country music, but these types of generalizations are grossly ignoring the fact that country and folk can get really badass.
Murder ballads have been around for a long, long time as a traditional form of poetry that exists to tell the story of a murder. First found in Europe a few hundred years ago, these poems and songs have since become heavily associated with traditional American music from the South. In modern music, murder ballads are a mainstay in country and folk, although the form has been played to not always fit the traditional ballad structure. It's given rise to a subgenre of original songwriting, covers and reinterpretations, and if you've listened to enough Johnny Cash or Leadbelly (on Kurt Cobain's recommendation), you should know at least few murder ballads well.
These are all murder stories. They're interesting, brutal and sad, each in their own way; what more can you ask for in narrative music? Check out our picks for the 10 Best Murder Ballads below.
Hit "next" or click the picture to read on…
10. "The Two Sisters"
One of the original murder ballads, this song can be traced back to 1656 and it's spawned a huge range of variants, continuations and elaborations through the years as it spread. The basic story has never changed, though, from two sisters going down to the water and the older drowning the younger. Whether she intentionally drowned her sister or just pushed her in and refused to help her out is one source of debate, as is the motive; sexual jealousy or a shared suitor is the most common theme to come out of the various versions of this song, and occasionally it won't be mentioned at all. When the drowned body surfaces, the bones are used to make a harp with the hair for the strings, which can then be used to play this song. Circle of life.
Tom Waits – "Two Sisters"
9. "Hey Joe"
Made famous by Jimi Hendrix, "Hey Joe" was a song written by Billy Roberts about a man who heads to Mexico after killing his wife. The most chilling part of the song, especially in the Hendrix version, is the matter-of-fact nature of stating the intentions here: "I'm goin' down to shoot my old lady. You know, I caught her messin' around with another man."
Jimi Hendrix – "Hey Joe"
8. "The Long Black Veil"
As a style that's arguably predicated more by covers, reinterpretations and variations on standards than original songs, murder ballads like "The Long Black Veil" are a perfect example of the form. Written in 1956 and heavily influenced by a series of a few different murder ballads, this one provided an interesting twist. A man stands accused of a murder he did not commit, but his alibi is sleeping with his best friend's wife. Rather than tell the truth and lose his sense of honor, he faces the gallows and keeps the secret. The veil is a reference to his lover, and her visits to his grave after the execution.
The song was originally performed by Lefty Frizell, but ended up being one of the many murder ballads eventually owned by Johnny Cash for his charismatic performance of the song.
Johnny Cash – "The Long Black Veil"
7. "Mack The Knife"
Originally a German opera song, "Mack The Knife" made the jump to American roots music in 1956 when Louis Armstrong performed his own take on it. The song truly took on a life of it's own when sung by Bobby Darin, giving the jackknife-wielding protagonist a suave, confident makeover, backed by a big band and making killing sound really fucking cool.
Bobby Darin – "Mack The Knife"
6. "Nebraska"
It was fitting for Bruce Springsteen's Nebraska, often considered his best full-length, to include a take on the American murder ballad, considering his role as a quintessentially American rockstar. Based on the true story of serial killer Charles Starkweather, it set the tone for the album; a bleak, cynical look at the country's heartland. Apparently heavily influenced by Flannery O'Connor, it's one of Springsteen's best written songs, setting off an album of stripped down solo demos that ranks as one of Springsteen's essential songs and a strong entry into murder music canon.
Bruce Springsteen – "Nebraska"
5. "Cocaine Blues"
The average singer is going to be hard-pressed to come up with an opening couplet to top "Early one morning while making the rounds/I took a shot of cocaine and I shot my woman down."
Starting the story at its end, lesser-known folk songwriter Red Arnall kicked off his classic murder ballad in style, working away from the murder rather than towards it. The song continues to tell of the murderer fleeing the country, subsequent arrest and a more traditional end setting of tortured mind in prison. Part of what makes it such a classic is another turn by Johnny Cash, who let "Cocaine Blues" loose in his iconic Folsom Prison performance.
Johnny Cash – "Cocaine Blues"
4. "Frankie & Johnny"
A time-tested classic, "Frankie & Johnny" is one of many murder ballads to take its subject matter from true events. The most story the song is reportedly occurred when Allen Britt won a slow-dancing competition in St. Louis, 1899. The problem was that he won it with a woman that wasn't Frankie Baker, his girlfriend, and she was waiting for him when he got home in the early hours of the morning. Frankie shot Albert in the stomach, and he died four days later from the injuries. After her trial, the song "Frankie & Johnny" was composed.
The song is one of the most widely distributed traditional songs in folk music because of how many great American artists have covered it in one way or another over the years. Elvis Presley, Johnny Cash, Bob Dylan have all taken it on, as well as instrumental versions from Louis Armstrong and Duke Ellington. The best version, however, belongs to Leadbelly.
Leadbelly – "Frankie & Albert"
3. "Ballad of Hollis Brown"
When he politicized the murder ballad in the deft manner he included politics and society into everything he created in the early '60s, Bob Dylan provided a new, affecting twist to an old form. The murder in "Hollis Brown" is by man who, before taking his own life, shoots his wife and children. Dylan's addition to the form is the man's motive; he's a farmer crushed by poverty and hardship, driven to his shotgun as a means to escape. Dylan wrote 11 verses for the song and created a classic that, when included on his society-spurring The Times They Are A-Changin' album, very nearly eclipsed the career-defining title track.
Bob Dylan – "Ballad of Hollis Brown"
2. "Where Did You Sleep Last Night?"
Leadbelly, or Huddie William Leadbetter, had a career steeped in murder ballads. It's interesting to see which he penned himself and which were covers, as a few of his best weren't traditionals that he refined and recorded, but his own take on the established, dramatic style. "Where Did You Sleep Tonight," or "In The Pines," or "Black Girl," is best known – and rightfully so – as a Nirvana song. Kurt Cobain covered it in the band's MTV Unplugged set in 1993 and the song has been undeniably his ever since—its performance footage remains one of the most powerful moments in modern music history.
Nirvana – "Where Did You Sleep Last Night?"
1. "Delia's Gone"
A heart-wrenching American classic, "Delia's Gone" is the chilling, first-person account of a brutal murder from a haunted, jailed man. A man who loved Delia goes to visit her, and when she opens the door he ties her to a chair before shooting her, twice, when the first bullet to her side only puts her in agony. Despite entries from Bob Dylan and Pete Seeger, the most famous take on the story belongs to Johnny Cash, it's one of his songs that never quite lets go of you.
What's worst about "Delia's Gone" is that it's firmly based in fact. Delia Green was a 14 year-old African-American girl who was murdered on Christmas Eve, 1900, by her suspected lover, the 15 year-old (white) Mose Houston in Georgia. He served 12 years for the crime before receiving a pardon, while Delia was buried in an unmarked grave in Savannah, Georgia.
Johnny Cash – "Delia's Gone"