Everything We Know About Rihanna's New Album
Rihanna's reggae-inspired 9th studio album is on the way. From a 2019 release date to guest features, here's everything you need to know.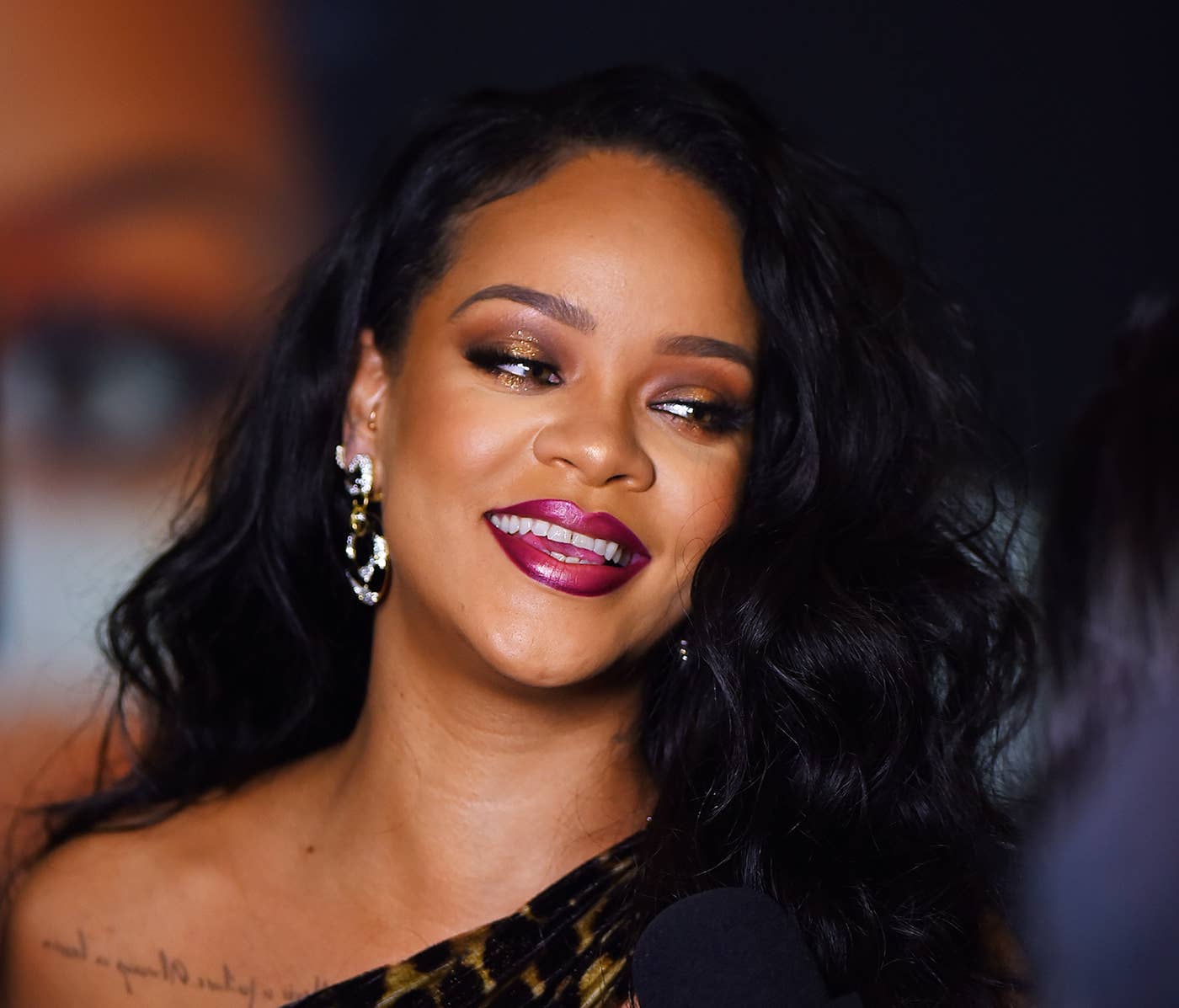 Getty
Image via Getty/Robert Kamau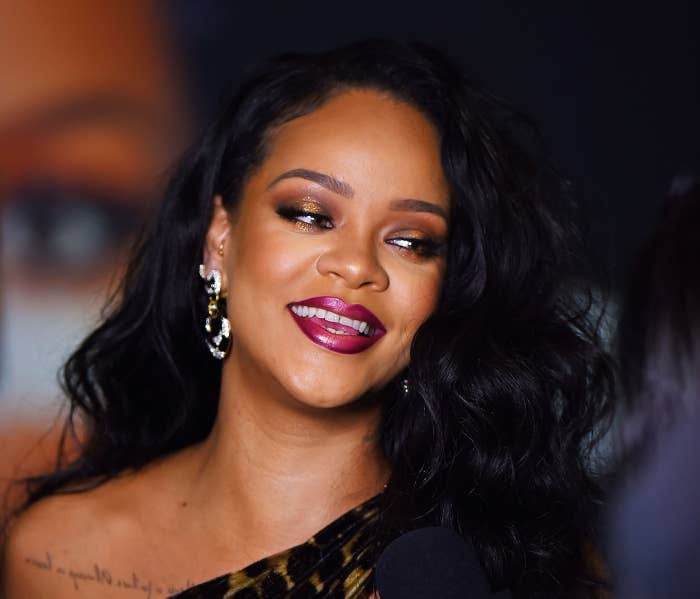 It's been nearly four years since Rihanna dropped her last full-length studio album, ANTI, in January 2016. Since then, she's been busy launching makeup (Fenty Beauty) and lingerie (Savage x Fenty) lines, starring in movies (2018's Ocean's 8 and 2019's Guava Island), and continuing her Fenty Puma fashion collab. And yet, she's still finding time to work on her next album.
Since she announced her ninth studio album in a June 2018 Vogue cover story, Rihanna has spent the past year and a half teasing the project in interviews and on socialmedia. In October, fans were blessed with the latest update, as Rihanna confirmed to Vogue that the album is still happening, and it is still inspired by reggae.
With emerging details pointing to its imminent arrival, here is everything we know about Rihanna's next album. 
The album is inspired by reggae
Rihanna mentioned the possibility of releasing a reggae-centric album during a Vogue profile in June 2018, revealing that the follow-up to 2016's ANTI would be influenced by Bob Marley and it would feature the talents of producer Supa Dups, known for his work with Beenie Man and Sean Paul. In her 2019 Vogue cover story, Rihanna confirmed she's still heading in the same direction, but it won't be what fans might typically expect of the genre.
"I like to look at it as a reggae-inspired or reggae-infused album," she explained. "It's not gonna be typical of what you know as reggae. But you're going to feel the elements in all of the tracks. Reggae always feels right to me. It's in my blood. It doesn't matter how far or long removed I am from that culture, or my environment that I grew up in; it never leaves. It's always the same high. Even though I've explored other genres of music, it was time to go back to something that I haven't really homed in on completely for a body of work."
Rihanna has been calling it 'R9'
In an interview with T Magazine last May, Rihanna joked that her forthcoming LP will be titled R9, a name her fans had given it ,since it will be her ninth studio album. "I'm about to call it that probably, 'cause they have haunted me with this, 'R9, R9, when is R9 coming out?'" she said. "How will I accept another name after that's been burned into my skull?"
It's expected to drop before the end of the year
In December 2018, Rihanna confirmed on Instagram that the album will be released in 2019. "But when is the album dropping Robyn? Can we have a release date for that?" an Instagram user asked on a promotional photo for a new shade of lipstick from her Fenty beauty line. "2019," Rihanna replied, sending fans into a frenzy.
Alas, no further details about a release date emerged until September 8, when Universal Music France held its annual "Open Session" where it unveiled a lineup for new music slated to come out this fall. Multiple reporters who were covering the event and the label confirmed that they heard the singer will be releasing her ninth studio album during the final quarter of the year. 
She has collected hundreds of records with dozens of dancehall producers 
In July 2018, Rolling Stone confirmed that the singer was busy recording a dancehall reggae album, with the assistance of several legendary producers. 
"Every artist, every producer, every songwriter in Jamaica or of Jamaican descent has been working on [Rihanna's album] and has little snippets of publishing or production credits on it," a source close to the project said. "I think they've got eight songs," he continued, "but her A&R is still asking for records." A third source with knowledge of the album-making process added, "They're looking for one more [song]."
Sources told Rolling Stone that Rihanna had collected hundreds of demos in preparation for the recording process. "[Rihanna's team] have, no lie, 500 records for this project [from] different producers and writers," explained one dancehall producer who asked to remain anonymous. "They're only choosing 10 records. They've been having writing camps and trying to keep them quiet for almost a year and a half now. I've been flying to Miami, flying to L.A., cutting records nonstop for this project."
Rumored recent collaborators include Lil Nas X, PARTYNEXTDOOR, and The-Dream
Beyond revealing which artists are on her wish-list of collaborators, Rihanna has kept details under wraps regarding the guests that may appear on R9. Even so, that hasn't stopped rumors from swirling. In Rihanna's November Vogue cover story, writer Abby Aguirre hinted at a potential Rih-Lil Nas X collaboration. "She also has a forthcoming collaboration with Lil Nas X," Aguirre wrote. "She can't disclose details but says it "may not even be with music."
Back in March, PartyNextDoor took to Snapchat to preview an unreleased track that fans believed was a Rihanna collaboration. Considering PND is credited as a co-writer on ANTI standouts "Work" and "Sex With Me," it would be hardly surprising if he showed up on R9. 
If any artist is a sure bet to land on Rihanna's next album, it's her long-time collaborator The-Dream. While speaking with Hollywood Life in September, the producer confirmed that he is "definitely" working with her on the album.
Don't expect an appearance from long-time collaborator Drake
During her interview with T Magazine in May, Rihanna confirmed that her former collaborator (and rumored ex-boyfriend) Drake will not be featuring on the album. "Not anytime soon, I don't see it happening," she said. "Not on this album, that's for sure." 
Rihanna might be working on two albums at once
In July 2018, sources told Rolling Stone that Rihanna was working on two records: a dancehall album and a pop album. The dancehall record was said to have some of the biggest producers and singers in the genre attached to it, with the likes of R. City (Rihanna, Beyoncé), Stephen "Di Genius" McGregor (Vybz Kartel, Sean Paul), Linton "TJ Records" White (Serani, Vybz Kartel), Kranium, Chronixx, and more submitting material, while producers Skrillex and Boi-1da had been involved in sessions for the pop album. 
She's already thinking about her 10th Album
According to Vogue's Abby Aguirre, Rihanna is already in the "discovery stage" for her 10th album. "We always went into the music this time around saying that we were going to do two different pieces of art," Rihanna explained. "One was gonna be inspired by the music that I grew up listening to. And one was gonna be the evolution of where I'm going next with music."