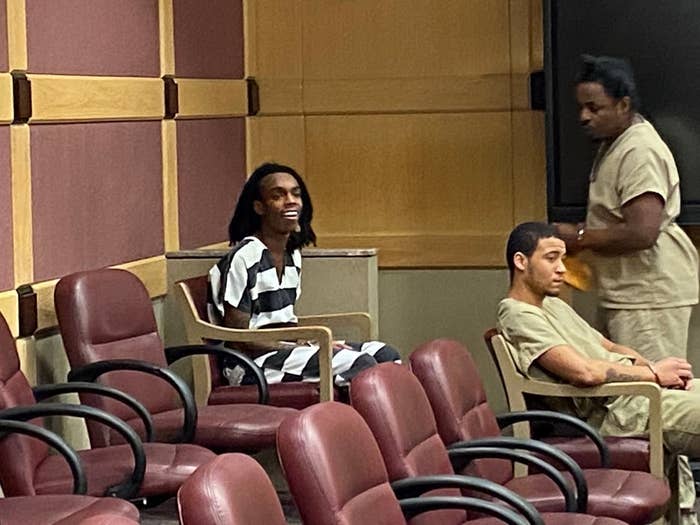 Florida rappers Jamell Demons, 20, and Cortlen Malik Henry, 21, more widely known as YNW Melly and YNW Bortlen, appeared in a Fort Lauderdale courtroom on Wednesday morning, shackled in black-and-white jumpsuits. A team of lawyers updated the judge on a murder case that alleges Demons and Henry killed two of their friends.
There seemed to be little progress toward Demons' release and lawyers are continuing to prepare for trial with a raft of depositions. Though lead attorney Stuart Adelstein declined to comment, another one of his lawyers Raven Ramona Liberty, who also represented Florida rapper Kodak Black, alluded to the cryptic (and now deleted) "3/13" post that appeared on Demons' Instagram account earlier this week.
"Big things are going to happen tomorrow," she said, perhaps alluding to the release of a new collaboration with Juice WRLD. 
Liberty also noted Demons and the other inmates at the Broward County detention center where he's been held have been in the dark about the coronavirus pandemic as recently as Saturday. 
"They know nothing, and there isn't any sanitizer, anything," she added.
"The proof against Mr. Henry isn't that strong. My client is not guilty, period." - attorney Fred Haddad
Demons seemed happy throughout the hearing, flashing smiles to his mother, younger brother, rapper YNW BSlime, his grandfather, and group of friends who were almost all wearing iced out Cuban link chains, holding up the same diamond-encrusted bubble font YNW logo that has become familiar to so many fans. Henry seemed unfazed as well, bouncing in his seat to an inaudible beat and silently mouthing bars.
Bailiffs eventually tired of the silent communication between Demons and his support group of about 10, and kicked them out of the courtroom right after the hearing wrapped.
Outside, Adelstein hinted at the seriousness of the case and warned his mother Donte Taylor to think carefully about everything she said in person, over the phone, and on social media.
"They are watching you like a hawk," he was overheard saying.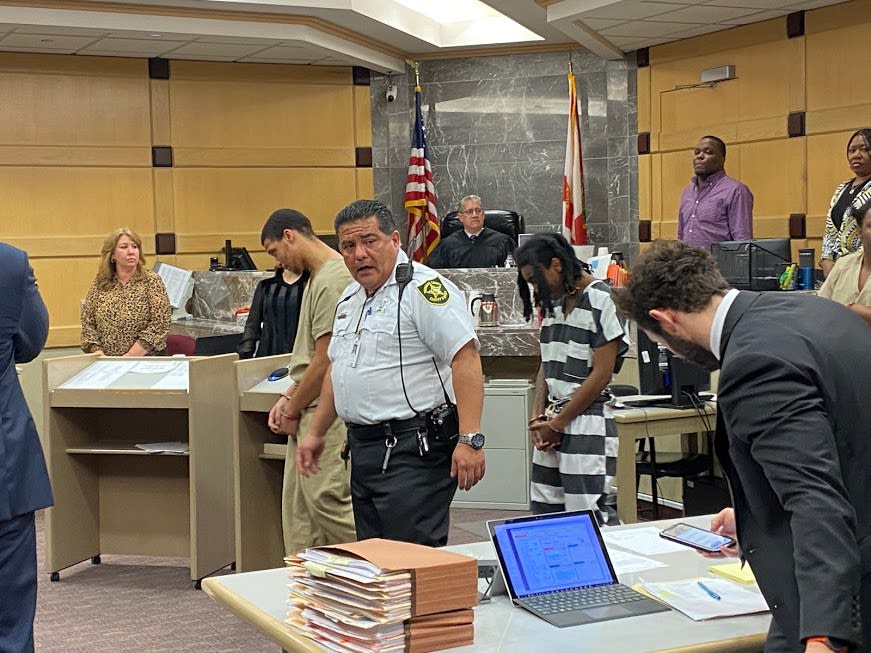 Henry, on the other hand, seems poised for release following a bond hearing last week.
"The proof against Mr. Henry isn't that strong," his attorney Fred Haddad told Complex ahead of Wednesday's hearing. "My client is not guilty, period."
Yet the release itself was slowed after prosecutors claimed that one of Demons' attorneys controlled the Miami apartment proposed to be Henry's home while out on bond. The arrangement would violate a "no contact" order that prevents Henry and Demons from communicating and would have to be changed, said Judge Andrew L. Siegel of Florida's 17th Judicial Circuit.
The pair have been held in custody since early 2019. Demons is charged with two counts of first degree murder while Henry faces the same, in addition to two counts of accessory after the fact.
Henry arrived at the emergency room of Memorial Miramar hospital near Fort Lauderdale around 4:35 a.m. on October 26, 2018 with the bloodied, bullet-riddled bodies Anthony "YNW Sakchaser" Williams and Christopher "YNW Juvy" Thomas Jr. Both were pronounced dead shortly after arrival. The group was at a recording studio before the shooting took place. The two were featured prominently in a 20-minute YouTube documentary revealing the struggles of growing up in the small Florida town of Gifford about 150 miles north of Miami. In it, Demons spoke of living with constant fear and carrying a gun since the fourth grade.
In 2015, Demons served several months in jail after he was convicted of aggravated battery, discharging a firearm in public, and two counts of aggravated assault for shooting into a group of students near Vero Beach High School.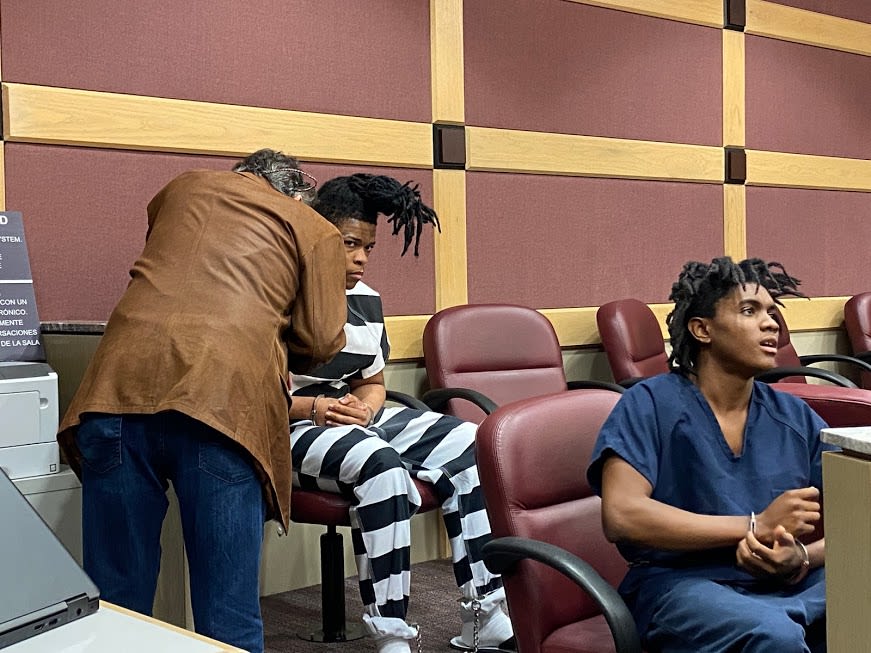 A police detective in a sworn affidavit argued that forensic evidence showed Cortlen and Demons murdered Thomas and Williams, and staged the car to look like it was a drive-by shooting. The close-knit group grew up together, all seeking to achieve the same level of success as Demons and a slew of other South Florida-based rappers like Lil Pump, who exploded after being discovered on SoundCloud. Demons and Kanye West released "Mixed Personalities" on YouTube in January 2019 and the video has racked up more than 106 million views.
Demons took to Twitter the day after their killings, writing, "They Took My Brothers From Me Over Jealousy I know y'all watching over me … and after, they wanna see me break down and stop or in jail or a box..."
Following the indictment, federal marshals arrested someone who appeared to look like Demons at one of his Washington, D.C. shows, prompting the rapper to fly back to Florida and turn himself in.
"If he wanted to run he would have ran when learning of the misidentification of the other individual," his lawyers argued in court documents seeking his release. "There has been no murder weapon, no witness placing a gun in Mr. Demon's hand, no witness placing Mr. Demons in the actual vehicle at the time of the alleged shooting. There is no DNA that would implicate Jamell, there is no indication of a motive. There is also no evidence that if Jamell was present in the vehicle, that he had anything to do with the killing of his two best friends."

Since his arrest, Melly has continued to release new music, including his studio album Melly vs. Melvin.